Transcending Boundaries: Laxmi Narayan Tripathi on Championing Transgender Rights
One of India's leading transgender rights activists shares her life story and highlights the third gender's constant fight for dignity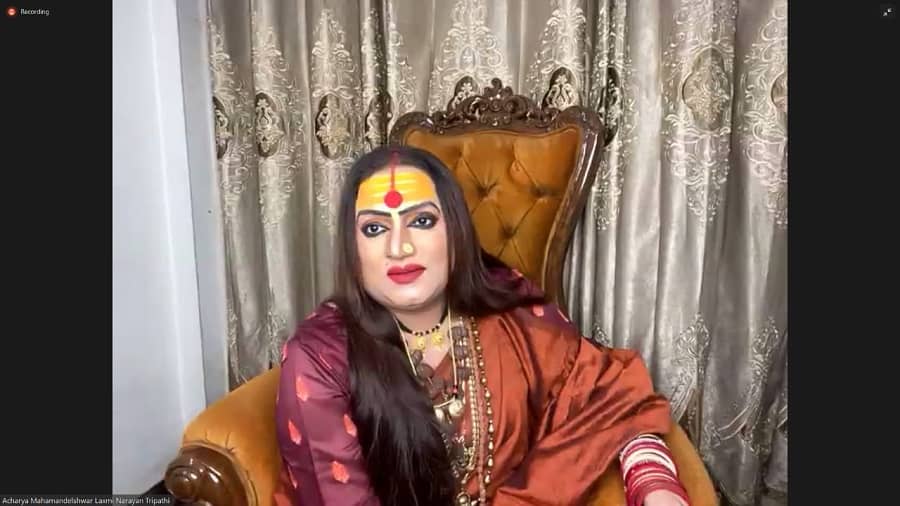 Laxmi Narayan Tripathi
Telegraph Picture
---
Published 21.06.21, 12:50 PM
|
---
Even though the Constitution of India contains the provision for a third gender, Indian society as a whole is yet to embrace the existence of transgenders, whether as a biological fact or as a part of our socio-cultural reality.
To shed light on the struggle of transgenders and the need to sensitise Indian society on the same, Kalam Vishesh, an initiative of Prabha Khaitan Foundation, organised a virtual interaction with Acharya Mahamandaleshwar Laxmi Narayan Tripathi. A transgender rights activist who has worn many hats, Laxmi has been an author, actress, Bharatnatyam dancer, choreographer, and motivational speaker. In 2008, she became the first transgender individual to represent Asia Pacific at the United Nations. Featured in several documentaries over the years, Laxmi was also a part of the popular reality show Big Boss in 2011. Conversing with Laxmi on a range of issues affecting transgenders in India was Apra Kuchhal, Ehsaas Woman of Jaipur. Kuchhal kick-started the discussion by contextualising the fight for the recognition of transgenders: "This is a fight that has to be fought at three levels, first with the self, then with one's loved ones, and finally with society...Laxmi is someone who has kept fighting this fight without bending or stopping at any stage."
Talking about how she did not consider herself a boy (the gender assigned to her at birth) while growing up, Laxmi recounted that "it was society that kept reminding me at every stage that I was different. I never felt I was different from society. I wanted to do normal things, live life normally, but people would not let me." It was such a pleasure to watch and listen to Laxmi Narayan Tripathi ji. It reminded me of my meeting with her in person for Kalam Bangalore.
- Anil Kathotia from Bangalore
Shifting the discussion to her writing, Kuchhal asked Laxmi about the motivation behind the autobiographical book, Red Lipstick, which addresses the relationship Laxmi has shared with the most important men in her life, including her father. "My life has always been an open book, so I thought I might as well write a real book on it! I wanted to tell my story as it is, for I have done nothing wrong," responded Laxmi.
During the next part of the conversation, Laxmi brought up the nefarious impact of colonisation on the perception of transgenders in India. She argued how "the British, with their Victorian morality, could not understand the nuances of Indian lifestyle and culture. They were the ones who began the process of denigrating transgenders by spreading rumours about the community, such as how transgenders are prone to kidnapping children." Concluding her thoughts on her journey, Laxmi recounted her mother's advice: "My mother always told me that society can take away everything from you, but it cannot take away your character. For me, the most important tool of empowerment is to believe in oneself and to fight for one's own dignity."
At the end of the interaction between Laxmi and Kuchhal, Laxmi fielded a number of questions from the audience, including how the title of Mahamandaleshwar has affected her identity and what she thinks is the biggest strength of the transgender movement in India. It was an extremely knowledgeable and heartwarming session which emphasised how human beings cannot be discriminated against on the basis of gender.
- Deepa Mishra, from Lucknow
"Since I became Mahamandaleshwar, I have become more patient, more Indian in my outlook than Western, and I have started to comprehend myself better...to make sense of who I really am…. As for the transgender movement, we are the youngest civil rights movement in India and we have already accomplished a number of things. But there is still a long way to go, and I am confident we will achieve complete dignity and equality, for that is the belief that keeps us going, that is the belief that keeps us united," emphasised Laxmi.