Toddler reunites with parents after 17 days
The toddler had been in the care of her paternal grandmother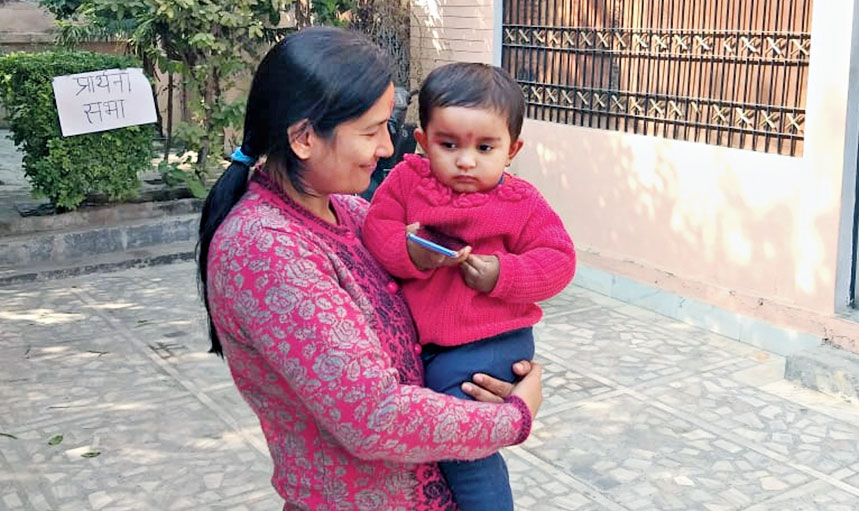 ---
Lucknow
|
Published 02.01.20, 09:10 PM
|
---
Little Champak finally got to meet her parents on Thursday, after being forced to live without them for 17 days as the couple were in jail in Varanasi for protesting against the Citizenship (Amendment) Act.
Ekta Shekhar, 14-month-old Champak's mother, was released from Varanasi central jail around 9.45am, although the bail order had arrived on Wednesday afternoon. The jail superintendent had said the bail order had reached "seven minutes" late, forcing Ekta to spend an extra day in prison.
Ekta's husband Ravi Shekhar, who too had been arrested during the December 19 protest, was released a few hours after his wife, after his bail order reached the jail on Thursday morning.
"Champak kept crying all these days for no fault of her or her parents. They were arrested just because the state government didn't want anybody to express their discontent at its communal polices," said Shashikant Tiwari, Ravi's elder brother.
The toddler had been in the care of her grandmother, Ravi's mother.
Ekta and Ravi, who run a pro-environment NGO called Air for Care, could not be contacted after they reached home. Repeated calls to Ekta's phone went unanswered.
Sarvesh Kumar Pandey, the additional district judge, had ordered the couple's release along with 67 others after they furnished bail bonds of Rs 25,000 each.
Shashikant said the couple would move Allahabad High Court for quashing of the cases against them.
"They were arrested for breaking prohibitory orders imposed under Section 144 of the CrPC. Additional charges such as rioting and preventing public servants from executing their duties were added later," Shashikant said.
The arrest of Ekta and Ravi, residents of Adarsh Nagar colony in Mahmoorganj area of Varanasi, Prime Minister Narendra Modi's parliamentary constituency, had angered local people. They used to gather almost every day at the gate of the prison to register their protest.
Over 200 students of Banaras Hindu University who were arrested on December 19 for participating in a procession against the CAA are still in jail.