The trauma Ravi Shankar went through as a child
Anoushka speaks about sexual abuse described in biography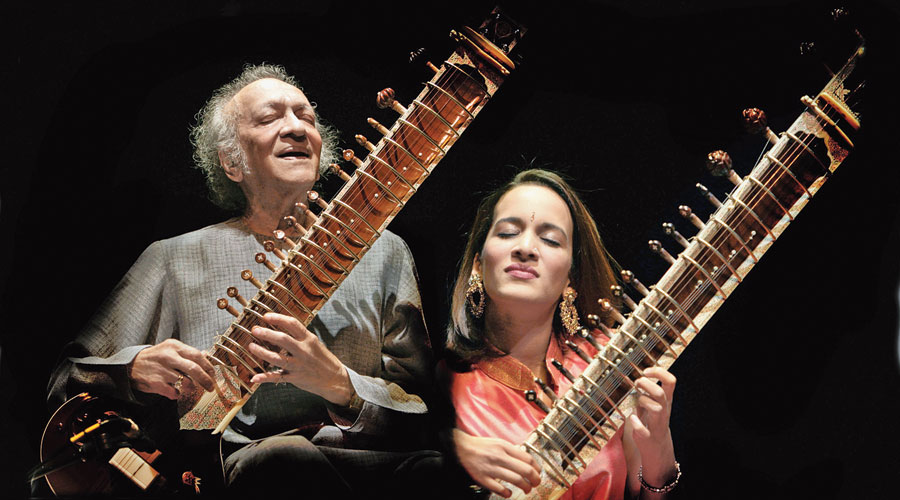 Ravi Shankar with daughter Anoushka Shankar.
File picture
---
London
|
Published 02.09.20, 02:22 AM
|
---
Anoushka Shankar has spoken candidly about how her father, Ravi Shankar, was sexually abused as a child.
Anoushka, who will be reinterpreting some of her father's music when she performs at the Proms at the Royal Albert Hall on Friday, said she had discussed with her mother, Sukanya, the abuse her father had suffered, before deciding it was important not to brush the issue under the carpet.
Anoushka was talking to The Times, London, which referred to Oliver Craske's "biography of Ravi, Indian Sun, which uncovered for the first time the sexual abuse that he suffered during his Bengali childhood. Craske discloses that the seven-year-old Ravi was raped by an 'uncle', and that the abuse carried on until his teens — something Ravi only revealed to his second wife, Sukanya, when he was in his seventies".
Anoushka did not shy away from discussing what her father had gone through.
"My mum and I did go back and forward over whether to talk about it," she told The Times. "Ultimately, though, it felt like such an important part of his story. I think it's important to lift the veil on this stuff a bit more. It's hard enough for an Indian woman to speak about abuse and assault. An Indian man? That you never hear about."
The sitar maestro died, aged 92, on December 11, 2012. Since he was born on April 7, 1920, there were plans to mark the centenary of his birth with a gala ceremony this year but this has been postponed because of the pandemic until April 7, 2021.
The newspaper suggested that the abuse he had suffered as a child perhaps "sheds new light on Ravi's extraordinary need for affection in his adult life: his liaisons with hundreds of women".
Anoushka responded: "Absolutely, though I always felt my dad had an unfair rap with that stuff. I obviously wouldn't name people, but I've seen many musicians who had children on the side of their marriages, or have children they don't acknowledge, or who have treated their partners horribly by having women in every city they tour. My father did things consensually with his partners. They were honest and comfortable about it. I find it so frustrating and hypocritical that someone like him, who was so open about his life, got a bad press when there are all these jerks around who just keep quiet about what they do."
The paper pointed out that Anoushka, who is 39, "has been through the mill these past three years. Her marriage to the film-maker Joe Wright broke up in acrimony — something she more than hints at by opening Bright Eyes, the finest song on her latest EP, Love Letters, with the words: 'Does she feel younger than me as you're lying in your bed?' Then last year she had a hysterectomy and, with characteristic bravery, revealed all her feelings about it in a long post on Twitter beginning: 'Why I no longer have a uterus, and why I decided to tell you'."
During Friday's performance, which will be done without an audience, she intends devoting the first half revisiting her father's music "but in an entirely new musical context. She has reworked many of Ravi's classic tracks in conjunction with the electronic music artist Gold Panda".
"Basically took things from across the spectrum," Anoushka explained. "A couple of his concertos, some tracks from his 1970s album Shankar Family and Friends, loads of bits and pieces that we love. And then presented the material in a different, more modern light, while still showcasing the beauty of his music.
"I play a lot of my dad's stuff, but I've never taken it apart and reinterpreted it in this way. It felt a bit cheeky, but also fun."
That Ravi Shankar was abused as a child by an unidentified "uncle" came as a surprise even to the London-based music producer Jay Visvadeva, who told The Telegraph: "I didn't know about it until I read Oliver Craske's book — and I had known Raviji from September 1970 until he died."
That the musician had many affairs was not a secret, though. "He was a wonderful man with many positive things in his life."
"But there were negative things, too," added Visvadeva, chief executive and artistic director of Sama, an arts organisation with a 50-year track record. "His (first) wife and son suffered as a result of his infidelity."
It was not a surprise to him that Anoushka had been so frank in her interview: "She is also an icon and outspoken in her views."