The synergy that Bengal needs to halt talent exodus
'Our aspiration is to build a fruitful and productive state where the youth will not take the easy way out by travelling to other climes and destinations'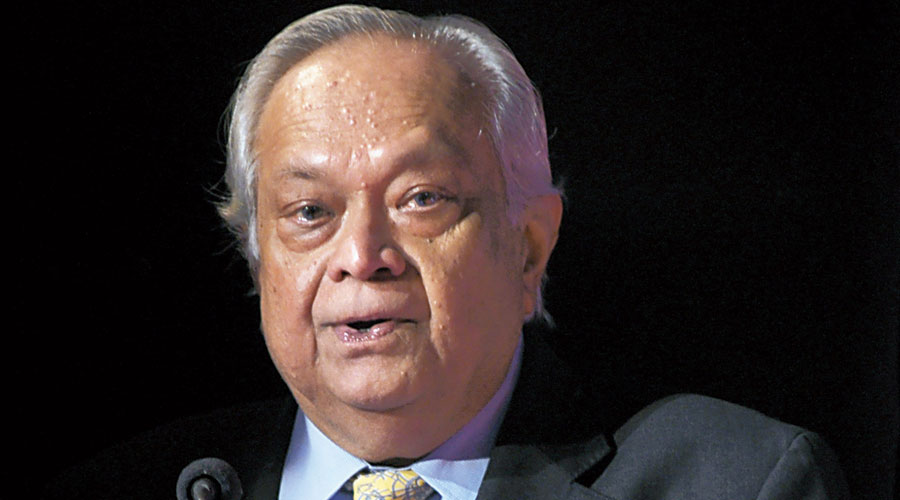 Bikash Sinha
File picture
---
Published 06.07.20, 02:46 AM
|
---
Talents born and nurtured in Bengal have been flocking to Mumbai and Bangalore to advance their careers. It's time to end this long history, Bikash Sinha, Homi Bhabha Professor at the department of atomic energy, tells Subhoranjan Dasgupta, professor of human sciences.
Q: The talent exodus began probably during the Naxalite phase….
Sinha: You are correct. The exodus began in the late 1960s and early 1970s, that is, during the Naxalite era, and is still continuing. Inspired by the romantic vision of an agrarian revolution, brilliant students from almost all disciplines — engineering, medicine, humanities and science — left their secure academic corners and went to the villages to propel the much-dreamt-of "Long March" in the eastern region of the country.
When this vision lay tattered in the mid-1970s, some came back downcast and depressed, some struggled to establish themselves in "bourgeois surroundings" and the rest simply dissipated and disappeared. In other words, the human potential and the human talent was wasted. Those who did not join the bandwagon of revolution left the violent shores of Bengal and ran away to Jawaharlal Nehru University (JNU) or the Delhi School of Economics (DSE). Thus, the massive exodus began.
Q: Are you saying that students should keep away from politics and agitation? That they should consider the latter as a suicidal virus?
Sinha: No, I'm not recommending an un-erasable distance from politics. The propensity to question, criticise and revolt is an essential part of the redemptive political dispensation. However, there is a time and place for everything; there is a cogent limit to one's engagement and involvement.
What I'm suggesting is that students should not wallow in this romanticism for a long time, should not extend it beyond the actual student phase. I don't want to go into names, though even now some activist students are being sucked into sterile Left politics, just as it happened during the Naxalite era.
In the past they got sucked into violent extra-parliamentary polities and now they are being sucked into directionless parliamentary politics. In the past and at present, they were and are drinking the seductive soup of liberation.
Q: What corrective measure is needed to preserve and promote the talent still engaged in fruitful academic research at Calcutta, Jadavpur, Presidency and at other universities functioning in the semi-urban regions?
Sinha: First come the sense of duty and awareness among the teachers. They should certainly spell out the digits of liberation as Paolo Freire has done in his classic texts Pedagogy of the Oppressed and Pedagogy of Hope; at the same time they should stress and re-stress the restrictive elements that accompany any desire for liberation.
Second, the students should not repeat ad nauseum what Netaji Subhas Chandra Bose did on the staircase of Presidency College: he slapped the India-hater Professor Otten. That was a different clime and a different age, and this "patriot among patriots" — to use the words of Gandhi — was a brilliant student himself: he fared extremely well in the Indian Civil Service examination. We cannot afford to have more Netajis in our totally different environment. He was a constructive rebel but the need of the day is construction without rebellion.
Q: What began in the Naxalite days gained steam in the years that followed: the talent exodus continued. How and why?
Sinha: Let us begin with the candid admission that a whole generation of promise was nipped in the bud by the Naxalite uprising. Thereafter, the exodus continued and gained strength because Calcutta and West Bengal had nothing remarkable or wholesome to offer to the aspiring youth.
While the fervour of the Naxalite days died, the students who came later wanted a secure footing — of which they were deprived in Bengal. After viewing the darkness all around, they made a beeline for JNU and DSE.
Those engaged in the sphere of science sought new havens at the Indian Institute of Science (IISc) in Bangalore or the Tata Institute of Fundamental Research (TIFR) in Mumbai. This outward journey is continuing and those who qualify further at JNU, DSE, IISc and TIFR are lapping up opportunities outside Calcutta.
What needs to be stressed is that all these four excellent academic centres enjoy the status of deemed universities. The crucial question is, why can't we have such centres of excellence in Bengal? To prevent the exodus and bring back those who had chosen other climes we must have fully functional centres of excellence in our own state.
Q: You have been intimately associated with the education and research of science in Bengal for several decades. Do you think there is a serious mismatch between industry and research in this state?
Sinha: After three long decades of teaching and disseminating science, I now think there should be a close and fruitful synergy between academic attainment and technical as well as industrial progress. On should complement the other, as is being done in Chennai, Bangalore, Hyderabad and Mumbai.
This cooperative synergy is reaping wonders in the four urban centres I just mentioned and similar wonders need to be reaped here. We can begin the work immediately in Calcutta by introducing a chair whose job would be to conduct the much-needed interface between industry and centres of excellence.
We wax eloquent whenever the theme of "Sonar Bangla" is raised. Well, this Bengal will be golden only when this crucial interface takes place. Our aspiration is to build a fruitful and productive Bengal where talents will flourish without succumbing to romantic rebellion, and the aspirants will not take the easy way out by travelling to other climes and destinations.