Jaya Bachchan speaks up for Bollywood
Actress chides those who earned fame in industry and are calling it a 'gutter' now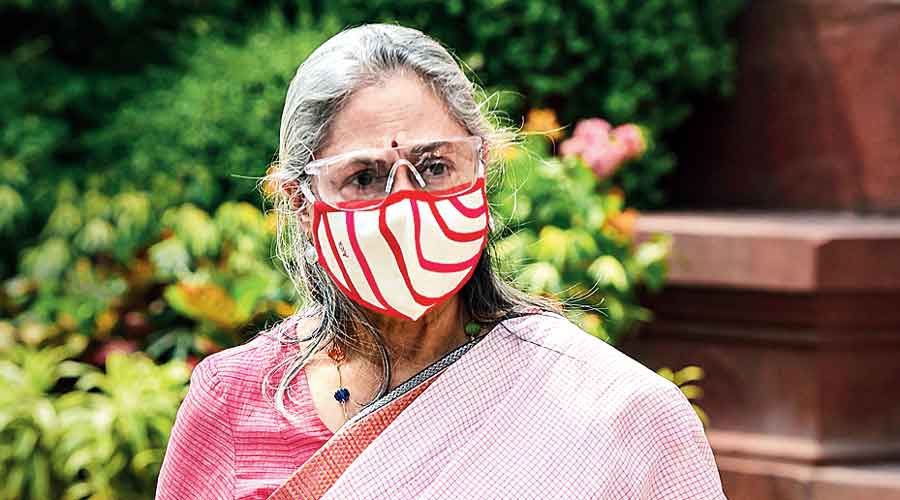 ---
---
Bollywood appeared a divided house in Parliament this week — a divide that does not strictly follow party lines.
Jaya Bachchan of the Samajwadi Party on Tuesday submitted a notice in the Rajya Sabha on the alleged conspiracy to defame the film industry, a day after actor-turned-BJP parliamentarian Ravi Kishan claimed in the Lok Sabha that Bollywood had been affected by the drug menace.
In an impassioned appeal, Jaya said the entertainment industry provides direct employment every day to 5 lakh people and indirect employment to 5 million people.
The veteran actress said that the Hindi film industry was being "used to be flogged by the social media and the government's non-support" to "divert the attention of the people" at a time the "financial situation is in a depressing state and the employment situation is at the worst level".
Jaya reminded the House that Bollywood, in particular, is a contributor to India's soft power in diplomacy.
The actress said: "People who have made their name in this film industry have called it a gutter. I completely disagree and I am really embarrassed and ashamed that yesterday one of our members in the Lok Sabha, who is from the industry, spoke against, I am not taking a name, the film industry. It's a shame. I hope the government tells these people, who have made their earning, name and fame in this industry, to stop saying such things."
Jaya also referred to a Hindi proverb on ungratefulness — "jis thali mein khate hain, usi mein chhed karte hain".
The reference was clearly to Kishan, who spoke about the Hindi film industry's links with drugs in the Lower House on Monday and demanded strict punishment for the guilty, and Kangana Ranaut, the actress and Right wing favourite who had called Bollywood a gutter last month.
While Kishan and Kangana took issue with Jaya's comments, junior environment minister and singer Babul Supriyo took a more nuanced and middle path, contending that everyone should not be painted with one brush.
"The crisis looming over Bollywood with drugs is reminiscent of what happened to cricket during the betting scandal years ago. Then the game of cricket won bcuz everyone wasn't evil — NOW Bollywood & Art shall prevail & with Glory bcuz of the same reason — Everyone isn't Evil AMEN," Supriyo tweeted.