Apex court upholds constitutional validity of FCRA Act
Justices A.M. Khanwilkar, Dinesh Maheshwari and C.T. Ravi Kumar said the receipt of foreign donations went against 'constitutional morality'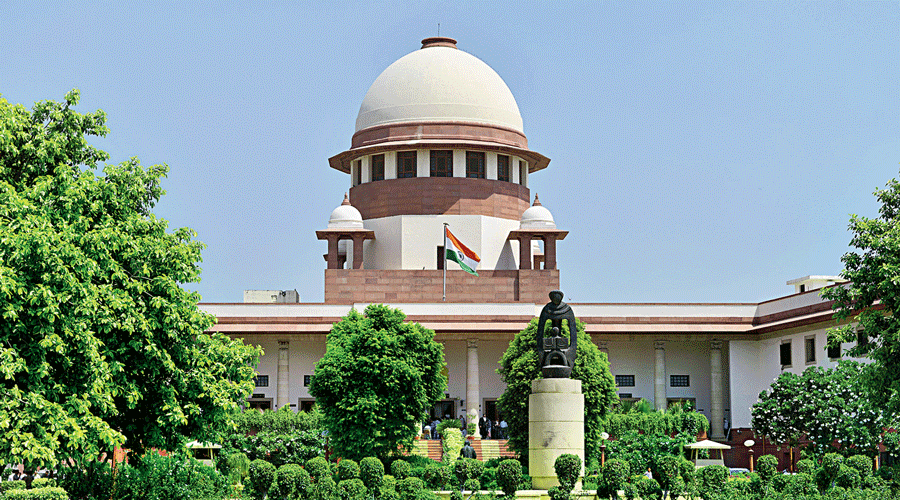 The Supreme Court.
File photo
---
New Delhi
|
Published 09.04.22, 01:20 AM
|
---
The Supreme Court on Friday upheld the constitutional validity of FCRA amendments that prohibit NGOs from transferring foreign funds received by them to anyone and limit administrative expenses from overseas donations to 20 per cent.
However, while dismissing a challenge to the amendments by NGOs, the court ruled the government cannot insist on NGO officials' Aadhaar cards as sole ID proof for registration or renewal under the Foreign Contribution (Regulation) Act.
It said that since Section 12A of the FCRA Amendment Act, 2020, accepts passports or Overseas Citizen of India cards as identity proof for foreigners who run NGOs in India, passports should suffice for Indian officials too.
The bench of Justices A.M. Khanwilkar, Dinesh Maheshwari and C.T. Ravi Kumar, though, said the receipt of foreign donations went against "constitutional morality" and threatened national sovereignty. It ruled that NGOs had no "absolute or even a vested right" to receive foreign donations.
"By its very expression, it is a reflection on the constitutional morality of the nation as a whole being incapable of looking after its own needs and problems," the judgment, authored by Justice Khanwilkar, said.
"The question to be asked is: 'in normal times', why developing or developed countries would need foreign contribution to cater to their own needs and aspirations?"
The court said a country's aspirations cannot depend on foreign funds but on the "firm and resolute approach of its own citizens to achieve the goal by… hard work and industry". It added that "charitable activity is a business".
Foreign contribution can "influence the policies of the country" or "impose political ideology" or "destabilis(e) the social order", the court said.
"The charitable associations may instead focus on donors within the country…. There is no dearth of donors within our country."
Apart from Section 12A, the petitioners had challenged several provisions, such as:
⚫ Section 7, which prohibits FCRA-registered NGO officials from transferring foreign funds to anyone. The un-amended act allowed such transfer if the recipient was registered too.
⚫ Section 17(1), which allows an "FCRA account" to be opened only at one bank in the country – the State Bank of India's Parliament Street branch in Delhi.
The apex court said Section 7 does not prevent the recipient from utilising the foreign contribution "itself", it only obligates him to use the funds for the stated purpose.
Earlier, some recipients "were reportedly indulging in successive chain of transfers to other organisations, thereby creating a layered trail of money".
Besides, the "administrative costs" from the donations had reached "up to 50 per cent, leaving very little funds for spending on the purposes for which it was permitted", the court said.
The Centre had defended the amendments claiming large-scale misuse of foreign funds and their use by foreign State and non-State actors to interfere in the country's polity.
Accepting the government's plea, the apex court said: "Free and uncontrolled flow of foreign contribution has the potentials of impacting the sovereignty and integrity of the nation, its public order…."