Supreme Court raps 'court is ours' claim on Ayodhya
'Counsel for both sides must be free to make their submissions free from all influences, however subtle they may be'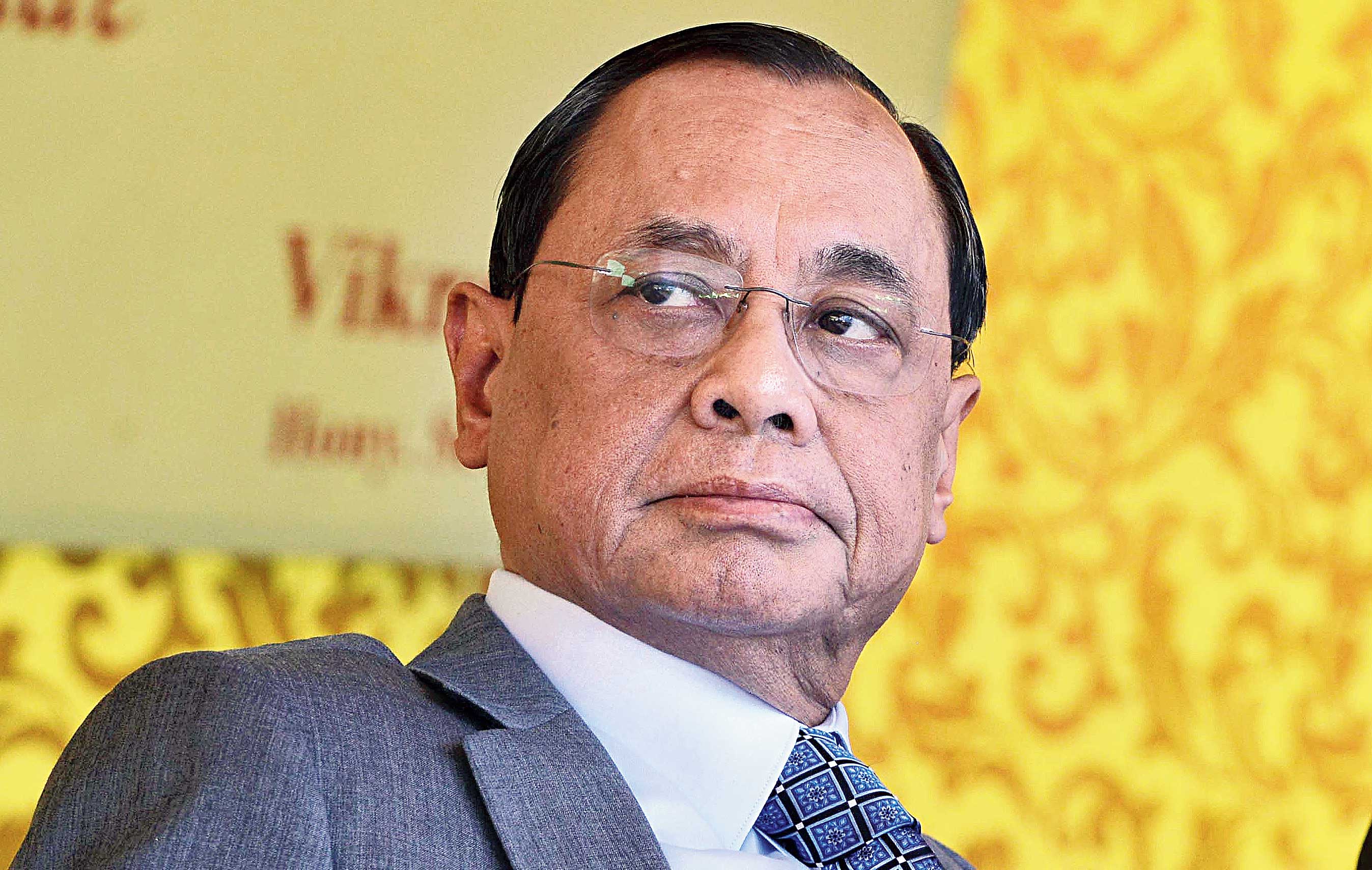 ---
---
The five-judge constitution bench hearing the Ayodhya dispute on Thursday expressed strong disapproval of an Uttar Pradesh minister's purported comment that the "Supreme Court is ours", making it clear that such statements should be deplored.
"This is something which should not be happening in the country. We deprecate such statements. Both sides are free to put their arguments before this court without any fear," Chief Justice of India Ranjan Gogoi observed.
"We will put it on record that such behaviour is to be condemned…. We are in the midst of an argument. Counsel for both sides must be free to make their submissions free from all influences, however subtle they may be," the judge added.
The assurance from the bench headed by the Chief Justice came after senior advocate Rajeev Dhavan, who is appearing for some Muslim claimants in the case, brought to the court's notice the reported statement from minister M.B. Verma.
Verma, cooperative minister in the Yogi Adityanath-led BJP government in Uttar Pradesh, is purported to have made the comment while speaking to reporters in Bahraich in September last year. A news agency had tweeted the purported comment a few days ago.
On Thursday, Dhavan told the bench: "He had said that 'jagah hamari hai. Mandir hamara hai aur Supreme Court bhi hamari hai (the place is ours, so are the temple and the Supreme Court)'."
Dhavan also claimed that clerks of some other advocates had assaulted his clerk over his appearance for Muslim claimants in the Ramjanmaboomi-Babri Masjid title dispute case.
Dhavan, who is among the top constitutional lawyers in the country, is appearing for the Sunni Wakf Board and M. Siddiq.
The senior advocate also told the court he had received fresh threats on his Facebook account for appearing on behalf of the Muslim claimants.
"This is not an atmosphere conducive for hearing. Things should not be happening like this…," Dhavan told the bench that also included Justices S.A. Bobde, D.Y. Chandrachud, Ashok Bhushan and S. Abdul Nazeer.
Justice Gogoi then asked Dhavan whether he needed any personal security but he declined the offer.
"One word from your Lordships will be enough on this," the senior advocate replied.
Dhavan went on to clarify that he was not against the Hindu community — as was being made out — as he had earlier appeared for Hindu groups in other matters.
He mentioned that he had earlier appeared for some Hindu groups in disputes relating to the Kashi Vishwanath temple in Uttar Pradesh and the Kamakshya temple in Assam.
"Let me make it absolutely clear in this court that I am certainly not partisan and don't argue against the Hindu faith," he said.
Dhavan had earlier accused two persons of threatening him with dire consequences for appearing against the Hindu community in
the ongoing hearings that entered their 22nd day on Thursday.
On September 2, the bench had issued notices to two persons — Prof. N. Shanmugam and Sanjay Kalal Bajrangi, residents of Tamil Nadu and Rajasthan, respectively — asking them why contempt proceedings should not be started against them for allegedly intimidating the senior advocate.