Students' plea to Hemant Soren to curb pollution
Open letter penned by 50 pupils of Jharkhand schools reach PM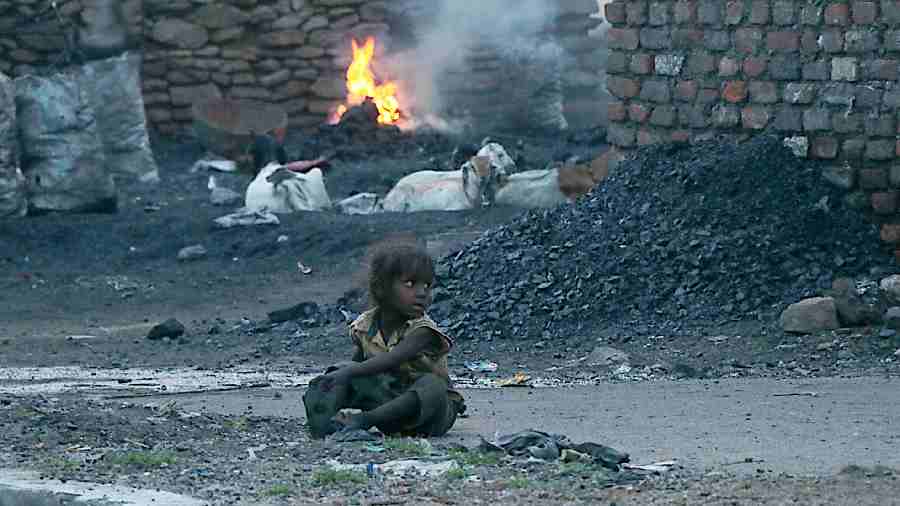 A child plays near burning coal at Jharia in Dhanbad.
Shabbir Hussain
---
Jamshedpur
|
Published 21.11.22, 02:42 AM
|
---
Over 50 students of schools across Jharkhand have written an open letter which was emailed to the chief minister on Friday about their right to breathe clean air.
The letter was written as part of a drive called Children's Right to Breathe Clean Air, organised as part of Child Rights Week by SwitchON Foundation — an organisation working on issues related to the environment and climate change — in partnership with several NGOs working on child rights.
"The open letter initiative was taken to examine awareness among students on the prevailing air pollution crisis and the danger it imposes on life and health. This is also part of an effort to bring attention to the apocalyptic future our children would have to inherit where there would be no fresh air to breathe, due to rising air pollution. Some of these children are already suffering breathing difficulty and respiratory disorders due to rising air pollution," said SwitchON Foundation managing director Vinay Jaju.
Shri Kumari, a Class VII girl from a private school in the Deoghar district, writes: "I have seen my friends suffer from breathlessness. I have a constant cough and cold and cannot enjoy sports and playing outside. I don't like the pollution we are creating and request our leaders to reduce polluting cars and factories."
Pradip Yadav, who is a Class X student and also from Deoghar, points out in the letter: "Rising cause of pollution in our areas is due to autos, heavy vehicles, JCBs and bikes. Please take steps to decrease pollution in our area."
"We along with school students will be seeking an appointment with chief minister Hemant Soren requesting his immediate intervention amid the rising air pollution in eastern India and the state," added Vinay Jaju.
Many children who wrote the letters have breathing difficulties and have been suffering from acute respiratory disorders, caused due to air pollution.
Children also complained about people in their locality being careless about using and burning plastic packets and other forms of garbage. Children through their letters also raised alarm on the increasing number of vehicles across cities.
Ritu Priya, vice-principal of Seven Star Academy, Ranchi, said: "Our children are the future of our country and we adults have the responsibility to listen to their appeal to act against air pollution. The open letter drive along enabled my students to raise their sufferings".
Incidentally, experts opine that children are more vulnerable to pollution because their lungs are underdeveloped and their immune systems are weaker. And yet, nine out of 10 children around the world are breathing in toxins that exceed safety levels.
"Over the years, the situation has become critical, even global bodies like Unicef have predicted that air pollution will become the leading cause of child mortality by 2050. However, all children should have the right to breathe clean air," said Jaju.
Supporting the initiative on children's right to clean air, experts like Dr Atri Gangopadhyay, national spokesperson of Chest Council of India and a pulmonologist with Pulse hospital, Ranchi, cited the neurological and cognitive development of children in the state and also raised the demand for children's right to breathe clean air.
"Air pollution affects everyone, but the most susceptible are the children. Exposure level for children in Ranchi has been increasing over the years," said Dr Gangopadhyay.