Star-struck Bahrain sheikh wins 'Bollywood' case
London court throws out Egyptian businessman's claim that he was owed money for fixing meetings with SRK, Salman, Ranveer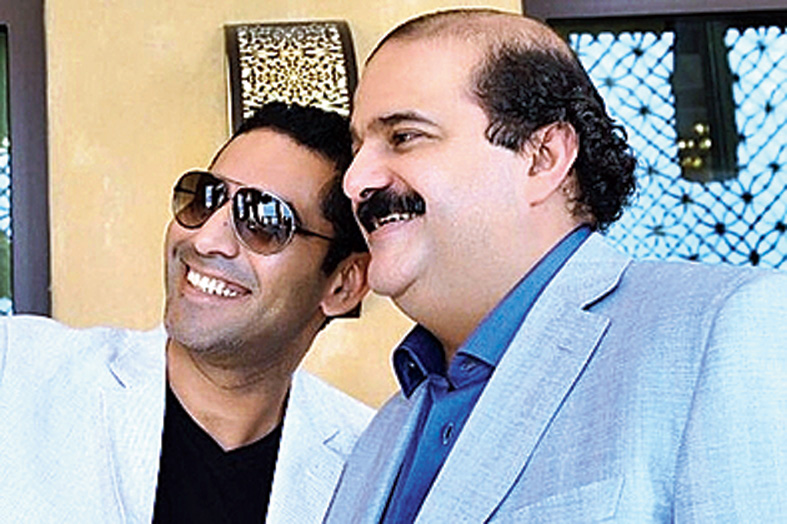 Egyptian businessman Ahmed Adel Abdallah Ahmed (left) and Sheikh Hamad Isa Ali Al-Khalifa.
The Telegraph picture
---
London
|
Published 12.01.19, 09:36 PM
|
---
A wealthy sheikh from the Bahraini royal family has won a high court case in London against an Egyptian businessman who claimed he was owed $35.5m for arranging meetings with 26 Bollywood stars such as Shah Rukh Khan, Salman Khan and Ranveer Singh.
Sheikh Hamad Isa Ali Al-Khalifa, a distant cousin of the king of Bahrain, agreed he was a huge fan of Bollywood, having been introduced to Indian films by his ayah, but insisted there was no legal contract between him and Ahmed Adel Abdallah Ahmed.
The businessman claimed the sheikh had promised in a phone call to pay $1.5m per meeting with a $500,000 bonus for every third encounter with a Bollywood star but had stopped after handing over $3m for five encounters.
On Friday the judge, Justice Jacobs, threw out the Egyptian's case after ruling there were "simply too many inconsistencies... and improbabilities for the case advanced by Mr Ahmed to be accepted".
The judge said he found Ahmed to be a "very frustrating witness" and referred to the "general unreliability" of his evidence.
"I reject Mr Ahmed's account of the phone conversation on 7 January 2016, and I reject his case that there was any agreement on the terms alleged," the judge concluded.
Bollywood does often induce eccentric behaviour among its fans. In the West, for example, otherwise hard-headed tycoons are happy to pay millions of dollars for Bollywood stars to gyrate at family weddings and tell jokes of questionable taste. But the plot of this court case would be rejected for a Bollywood movie as being too bizarre.
First of all, the case could be heard in London because of the Egyptian's close links with the city.
During the hearing in November, Ahmed's lawyers said Sheikh Hamad had a "lifelong passionate interest" in Bollywood and an "unbridled desire" to meet its stars, especially Shah Rukh, Ranveer and Aishwarya Rai.
His barrister Stephen Nathan QC said access to such stars was "not easily achieved", but that Ahmed and his company, CBSC Events & Exhibition and Conference Organisers, were able to deliver it "at a price".
Nathan said photographs of the encounters showed the sheikh "happy and relaxed" with a star, giving out "expensive presents" he had bought from Harrods.
But "despite the superficial appearance of good-natured social interaction, these were artificial events that had to be stage-managed and paid for".
Nathan went on: "The claimant had the entrepreneurial ability and contacts to put together a service specially tailored to the defendant's requirements, both as to the stars of Bollywood whom he wanted to meet, and the kind of private encounters that he wanted to have.
"That service replicated a casual social gathering in the company of individual Bollywood stars, away from the crowds and in the intimacy of a private suite in a luxury hotel.
"But it was not the real thing and it was not the product of spontaneous friendship — it was a service being provided to him by a businessman for money."
It emerged during the hearing that Bollywood stars are willing to offer photo opportunities for a price.
The Financial Times reported: "The sheikh met four Bollywood stars in five meetings during 2016, including Shah Rukh Khan in Mumbai's St Regis hotel in January 2016 where the trial heard the sheikh gave the film star gifts of luxury watches he had bought at Harrods after paying Mr Ahmed US$400,000 to set up the encounter.
"The sheikh took along his childhood nanny, who had introduced him to Bollywood films as a child, to meet Salman Khan at the St Regis hotel Mumbai, where half the 15th floor was booked for the sheikh along with the presidential suite."
In his witness statement the sheikh said Ahmed "must have seen in me an opportunity to make a lot of quick money for himself" and said he made payments to the Egyptian not because he was under legal obligations but because "of his overriding desire to make people happy by bestowing money and gifts on them".
He said he had been diagnosed in the past with an "addiction to people-pleasing".
Sheikh Hamad testified that he now recognised he was feeling "emotionally and psychologically vulnerable" in the months after his father died when he was introduced to Ahmed in late 2015.
The sheikh's lawyer, Andrew Hochhauser QC, said: "Sheikh Hamad regarded Mr Ahmed as one of his friends and someone who was helping him make his dreams come true.
"Sheikh Hamad was, therefore, happy to express his gratitude to Mr Ahmed by giving him large sums of money. Whilst Mr Ahmed no doubt continued arranging meetings for Sheikh Hamad in the hope and expectation that Sheikh Hamad would continue to give him very large sums of money (in return for doing very little), there was plainly never any legal obligation on the sheikh to do so."Hochhauser described Ahmed's claim as "an unjustified attempt... to exploit the vulnerability and extreme generosity of the defendant by seeking to characterise a relationship of trust and friendship as a cold, commercial relationship between two businessmen".
After the ruling Sheikh Hamad said in a statement: "I am very pleased with today's judgment. It was with a heavy heart that I was forced to defend myself against this claim, since I had considered Mr Ahmed to be a friend whom I trusted, and had always treated him with generosity and kindness."
This tale might well continue after an intermission. A lawyer for Ahmed said: "We will be seeking leave to appeal this judgment."