Shun hatred, interfaith iftar gets momentum
The get together is no longer confined to Muslims, people across communities are coming together to spread message of camaraderie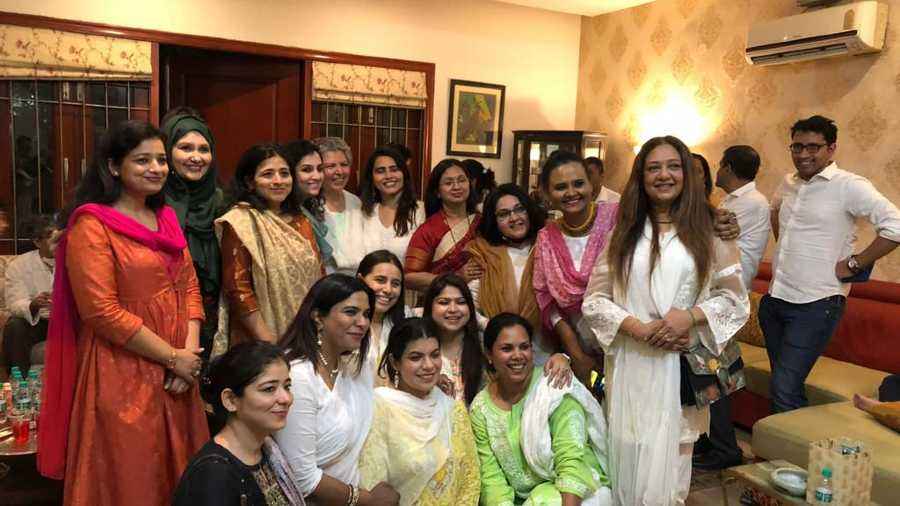 Invitees at Hana Moshin Khan's iftar get together
Image courtesy: Hana Moshin Khan
---
Calcutta
|
Published 01.05.22, 04:34 PM
|
---
The bond that links your true family is not one of blood, but of respect and joy in each other's life.
- Richard Bach
Put aside the incendiary remarks by hate mongers. Ignore the ones who thrive on divisiveness. When it comes to the festive season, it is all about throwing even an iota of alienation out of the window and coming together under one roof. As the countdown to Eid al-Fitr sets rolling, community bonhomie over iftar seems to be a given and worth embracing. 
This Ramzan, Niyamatullah Ghat Masjid, a 247-year-old mosque that lies surrounded by a string of temples along the banks of river Hoogly witnessed people belonging to different faiths assembling together for iftar on April 24. And it was not the only instance. Bonding over iftar
The iftar get-together Dosti ki iftar, was organised by Know Your Neighbour (KYN), a platform that promotes communal harmony. A day prior to this Ramzan meet, a similar event was hosted at the Bishop's house in Calcutta.
While over 1500 km away from Calcutta, a bunch of Muslim working women toiled to host an iftar meet at the national capital.
The common thread for a series of iftar meets is the desire to build bridges between communities. Most of the organisers believe that there is a need for such interfaith gatherings to counter the atmosphere of animosity that's brewing in India.
Speaking to The Telegraph Online, Hana Mohsin Khan, one of the co-hosts for New Delhi's iftar meet said, "This was the first post-Covid iftar get-together organised by us. Given the atmosphere of hatred prevailing in the country, I was a bit reluctant to participate, but as the evening progressed and we interacted with guests over food, the mood changed and we were seen explaining what iftar is, what Ramzan is all about over the homemade delicacies."
Hosting this event along with Hana, were author Nazia Erum and historian Rana Safvi among others. Countering hate with love
Emphasising on the need for such meets was Mohammad Reyaz, assistant professor of Aliah University and a member of KYN. "The idea of this event is to foster brotherhood, build bridges and to counter misconceptions related to the Muslim community through such interfaith dialogues," he said.
On being asked about the uniqueness of such an event, he added, "We need such interactions. This year we invited around 40 migrant workers for iftar at the Niyamatullah Ghat Masjid. These individuals were regular visitors to the mosque. We also invited a number of people from different faiths, who had iftar with those observing the fast. We began our event at around 4:30 pm, where we briefed the invitees about Ramzan, its significance and other rituals associated with it. We even answered queries of certain invitees in connection with the festival."
When asked about how unique these meets are, Reyaz said, "These iftar parties are strictly organized to counter hatred and foster friendship. Ours is an apolitical event."
Adding to that Rana Safvi said, "There is no history of interfaith iftars or get togethers. But at a time when animosity exists, when hatred is on the rise, such interactions are much needed." Non-Muslims in Calcutta set precedent
While, Muslims across India have been organising such programmes since 2017, to counter hatred with love, to clear misconceptions related to the community, Muslims in Calcutta were pleasantly surprised when some of their non-Muslim friends hosted iftars.
So, while the Hindu traders near Nakhoda Masjid hosted an iftar for their Muslim neighbours, a similar get together was held at the Bishop's house. And so did Gandhian O P Shah, who has been organizing iftars for the past three decades, but many feel that his secular act is being appreciated at present age, more than ever.
Ruchira Goswami, secretary of Ebong Alap, a group that works towards building peace, said, "We have been invited to a couple of such iftars. So we thought of hosting one for our Muslim friends. Our event was a low key affair and we only invited people who are vocally secular and were active during the anti-CAA movement."
Even Presidency University's Eden Hostel, hosted an iftar mehfil for its boarders on Wednesday, April 27. It hosted around 750 individuals, which included students and teachers celebrating the spirit of plurality.