'Sher' off JK cop awards, NC fumes
The party on Monday said the administration had taken 'vendetta to a higher level'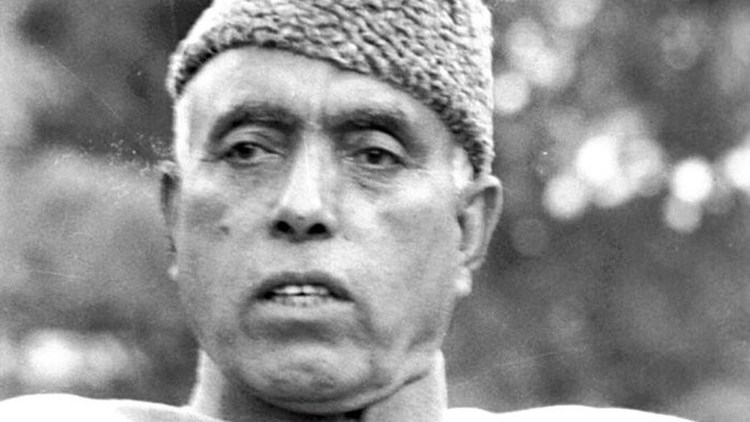 Supporters of the NC founder referred to Sheikh Abdullah as Sher-e-Kashmir (the Lion of Kashmir)
(File photo)
---
Srinagar
|
Published 27.01.20, 10:10 PM
|
---
The Jammu and Kashmir administration's decision to remove Sheikh Abdullah's sobriquet "Sher-e-Kashmir" from the police awards has kicked up a storm, with the National Conference suggesting the move reflected Delhi's colonial mindset.
Supporters of the NC founder referred to Sheikh Abdullah as Sher-e-Kashmir (the Lion of Kashmir) and several institutions and the main police awards in Jammu and Kashmir were named after the sobriquet.
The awards are conferred every year on Republic Day.
On Saturday, the administration led by lieutenant-governor G.C. Murmu issued an order announcing the change in nomenclature of the Sher-e-Kashmir police medal for gallantry and the Sher-e-Kashmir police medal for meritorious service.
The order issued by principal secretary Shaleen Kabra said the awards would be named Jammu and Kashmir police medal for gallantry and the Jammu and Kashmir police medal for meritorious service.
The NC on Monday said the administration had taken "vendetta to a higher level".
"It is a calibrated effort to trim every single symbol of J-K's political individuality," party leader Peer Afaq said in a statement.
"What is being done is part of a colonial effort to exploit Kashmir; the present ruling dispensation at New Delhi still fears a leader, who has physically left the world three decades back," NC leader Peer Afaq said in a statement.
The NC leader said the ruling dispensation in New Delhi "with subjective prejudices and complexes against ideals revolving around the Indian Constitution and the spirit of its accommodative federalism hasn't ceased its witch-hunt against everything recognisable with Sheikh Muhammad Abdullah".
But "no one can destroy our icon of political struggle, cultural renaissance and social awakening," Afaq said, referring to Sheikh Abdullah.
The administration's decision came weeks after it removed Sheikh Abdullah's birth anniversary on December 5 from the list of gazetted holidays in the newly created Union Territory.
Muzaffar Baig, patron of the People's Democratic Party, said Sheikh Abdullah was the tallest leader Kashmir had produced, expressing his unhappiness with the administration's move.
"I have tremendous respect for him even if I have disagreement with certain decisions (he took)," he said.
Sheikh Abdullah had played a key role in Kashmir's accession to India and many Kashmiris blame him for their current miseries.
His son Farooq Abdullah and grandson Omar Abdullah are both in detention since August 5, when the central government moved to scrap Kashmir's special status under the Constitution and redraw its map.