Nations not buying aggressively: Poonawalla
Serum Institute says African nations failing to place Covid-19 vaccine orders
Serum Institute has so many doses in India that shelf-life could be an issue: Poonawalla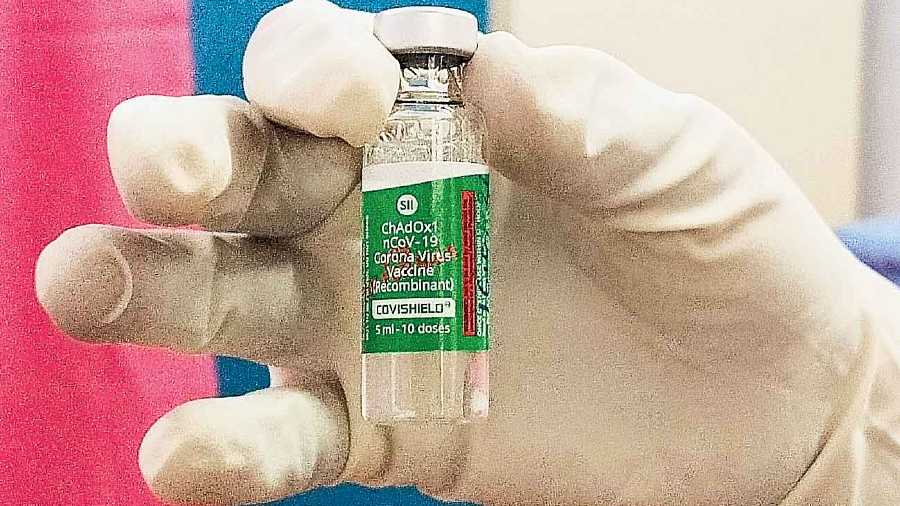 Poonawalla said he was particularly startled by the African countries -- where vaccination levels are at an average of only 11 per cent -- as they are not aggressively moving to buy vaccines.
File picture
---
New Delhi
|
Published 06.12.21, 02:44 PM
|
---
Serum Institute of India chief Adar Poonawalla says political leaders around the world and particularly in Africa are stalling on buying vaccines even though there are now no shortages and only a tiny percentage of their people have been vaccinated.
"We've got so much vaccine now that we've got more than we can vaccinate on a monthly basis in India. The concern is very much that in a month or two shelf-life could be an issue, " Poonawalla told The Times, London. Around 88 per cent of vaccinated Indians have received Serum Institute's Covishield vaccine.
Poonawalla said he was particularly startled by the African countries -- where vaccination levels are at an average of only 11 per cent -- as they are not aggressively moving to buy vaccines. The Serum Institute chief says he only has orders for 20 million doses from all the African countries put together. "Everywhere I hear the World Health Organization and others talking about vaccine equality but the African nations are refusing to place orders," he said adding: "They're going very slow, claiming that they're waiting for donations from the US and other reasons. So there's a bit of a disconnect."
Poonawalla said he was purposely going public and putting the blame squarely on leaders around the world. "I'm happy to say that on record and I hope they read it because maybe they'll get activated and do something about it." He added, "It's a combination of vaccine hesitancy and nations not coming forward and placing orders in the way they claimed they would, particularly the African nations."
The Serum Institute chief blamed vaccine hesitancy and infrastructural issues for the slow delivery of jabs.
The Maharashtra government has said it will go slow on placing new orders for vaccines because it has 13 million pending doses of both Covishield and Covaxin. Similarly, Karnataka is figuring out what to do with plentiful stocks and is meeting representatives of private hospitals for discussions on this. Private hospitals around the country are finding themselves stuck with large unused stocks. The government has said it will take back unused stocks from the private hospitals.
The Serum Institute of India has produced 88 per cent of the jabs that have been delivered in India. Poonawalla has pulled off an amazing feat by raising production of his Covishield from about 60 million a month in the first half of the year, to at first 100 million and now 280 million doses a month. Covishield is made in partnership with Oxford University which has a marketing agreement with AstraZeneca. In production terms, Serum Institute has made in total 1.3 billion doses and has now, according to Poonawalla, pulled well ahead of AstraZeneca which has made roughly 700 million doses.
India had a stock in late November of 220 million doses of vaccines that are moving only slowly out of their refrigerated containers. Vaccination rates have seesawed up and down. On December 5 – a Sunday, when vaccination rates always drop -- only 2.2 million vaccinations took place. That was sharply down from 10 million jabs delivered on December 4. On average, 5.9 million doses were delivered daily in November. That was down from 7.8 million daily in September. In Kerala, however, figures show that demand for vaccinations rose after the emergence of the Omicron variant. Covishield has a shelf-life of nine months.
Poonawalla said the problem of oversupply was becoming visible around the world and that vaccine manufacturers are "struggling to shift their stock", according to the newspaper. "It has completely reversed … There is more supply, in the short term, than countries can absorb on a monthly basis. I don't think there is a single country that needs more vaccine but can't get it." He added sharply: "It's just a question of them being able to put those jabs in arms."
Serum Institute of India has also applied to the Drug Controller of India for permission to use Covishield for booster doses to Indians who want them. The government was initially reluctant to allow booster doses when a significant section of the population has not had two vaccine injections or even one dose but now says it will be guided by science. Half of India's 940 million adult population now has been double-jabbed.  
In May, during the devastating second wave of the Delta variant, the government had slapped a ban on vaccine exports. The ban came as a sharp blow to Serum Institute which had received funding from the Bill Gates Foundation and had a legally binding contract to deliver 400 million doses in 2020 to Gavi, the vaccine alliance. The government came under sharp criticism for not speeding up its vaccination programme before the second wave and allowing 66 million doses to be exported by April 15. In October, Serum Institute got the go-ahead from the government to resume exports.
The African nations have been particularly slow to deliver vaccinations and Airfinity, a health data firm, says that only 246 million doses out of the 384 million doses delivered have been administered. That means that over 138 million doses are yet to be given to people. Nigeria has received 20 million doses but has only delivered 10 million jabs. Similarly, Kenya has received 16 million doses and got 7 million to its citizens.
In September, an Airfinity report calculated that the G7 countries might waste 241 million doses of Covid-19 vaccines by the end of 2021 if they did not make international donations. However, London-based Zimbabwean billionaire Strive Masiyiwa, who heads the African Union's vaccine procurement efforts insisted at the end of November that he has been unable to lay his hands on more vaccines. "We're not asking for donations," he said.
Poonawalla's argument that supply has outstripped demand has been backed by former British Prime Minister Tony Blair who wrote in The Sunday Times that, "Supply is no longer the most critical challenge. Instead, it's the ability to get vaccines into people's arms – so-called 'absorption capacity.' "
The World Health Organization has set a target of giving 70 per cent of the world's population two jabs. Poonawalla points out that production will need to rise to meet that target. He says: "We obviously, as a vaccine industry, haven't produced enough vaccines to meet that (goal). But on a monthly basis, if you look at the production versus the uptake, we're definitely on the plus side in terms of supply."