Announcement likely on vaccine production overseas
Serum chief flies to UK to escape 'threats' from CMs, corporates biggies
The level of expectation and aggression is unprecedented, says Poonawalla who's thinking of vaccine production overseas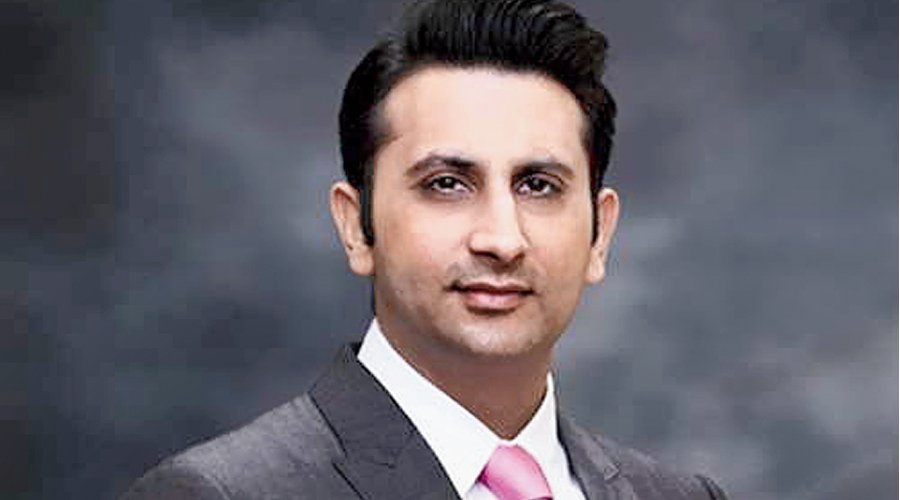 Adar Poonawalla.
File picture
---
New Delhi
|
Published 01.05.21, 08:04 PM
|
---
Adar Poonawalla, chief executive officer, Serum Institute of India flew to Britain just before it banned travellers from India and says he plans an extended stay because of the threats he's getting from chief ministers and other powerful Indian corporate leaders.
"Threats is an understatement," Poonawalla told the Times, London, adding, "The level of expectation and aggression is really unprecedented. It's overwhelming. Everyone feels they should get the vaccine. They can't understand why anyone else should get it before them."
Poonawalla, who recently received Y-level Government security, told The Times that the calls begin cordially but the tone usually changed dramatically when he told the callers that it wouldn't be possible to jump the queue.
Had an excellent meeting with all our partners & stakeholders in the U.K. Meanwhile, pleased to state that COVISHIELD's production is in full swing in Pune. I look forward to reviewing operations upon my return in a few days.

— Adar Poonawalla (@adarpoonawalla) May 1, 2021
"They are saying if you don't give us the vaccine it's not going to be good….It's not foul language. It's the tone. It's the implication of what they might do if I don't comply. It's taking control. It's coming over and basically surrounding the place and not letting us do anything unless we give in to their demands."
Poonawalla told The Times that he planned to stay on in Britain for some time, "because I don't want to go back to that situation." He added: "Everything falls on my shoulders but I can't do it alone…I don't want to be in a situation where you are just trying to do your job, and just because you can't supply the needs of X, Y or Z you really don't want to guess what they are going to do."
In March British newspapers reported that Poonawalla was paying $69,000 a week to rent a sprawling 25,000sq ft house in London's smart Mayfair district. The newspapers said it was the most expensive rental deal in London in recent times. His wife and children travelled to Britain some time ago.
In remarks that are bound to cause alarm, Poonawalla also said his trip to Britain is partly business and that he may look at starting vaccine production outside India. He refused to comment further on his plans but added, "There's going to be an announcement soon." Lord Udny-Lister, a former senior aide of British Prime Minister Boris Johnson visited the Serum Institute in March.
Poonawalla admits he thought the worst might be over in December as the number of Covid cases began to fall. "I thought, 'We've done out bit. We'd struggled through 2020 to get everything ready. I thought I could put my feet up and take a vacation, but it's been the exact opposite. It's been chaotic."
Poonawalla refused to comment on the Kumbh Mela and election rallies and added that, "I don't think even God could have forecast it was going to get this bad." He says: "We are really gasping for all the help we can get." He insisted that he supported India's ban on exports even though it has put him in a fix and left him unable to keep commitments.
Serum Institute has hired around a thousand new employees and is operating its facilities for 20 hours daily, the maximum possible, he says. Also, Serum Institute will be starting production of Novavax next week but it will only be possible to produce a third of what was originally planned because of a US ban on vaccine-related products. He also insisted that Serum Institute's vaccines were the cheapest in the world.
Poonawalla said that when the pandemic began he was proud to be the man of the moment and felt, "a proud sense and feeling that people were depending on me, and I was doing my best to save and protect the nation and the world." However, he's now very disheartened by the criticism he's getting. He says, the company is not being, "appreciated and supported, but instead, "we are being vilified and blamed".
The Serum Institute chief said he hoped that when the history books are being written he will be judged more favourably. "That's what calms me down," he says, adding: "We have done the best we can without cutting corners or doing anything wrong or profiteering. I'll wait for history to judge."