Army officer accuses Kashmiris of suffering from 'selective dementia'
Lt Gen. K.J.S. Dhillon wondered whether the word 'Kashmiri' runs the risk of being treated as a pejorative similar to 'Paki' if they don't condemn killings of non-Muslims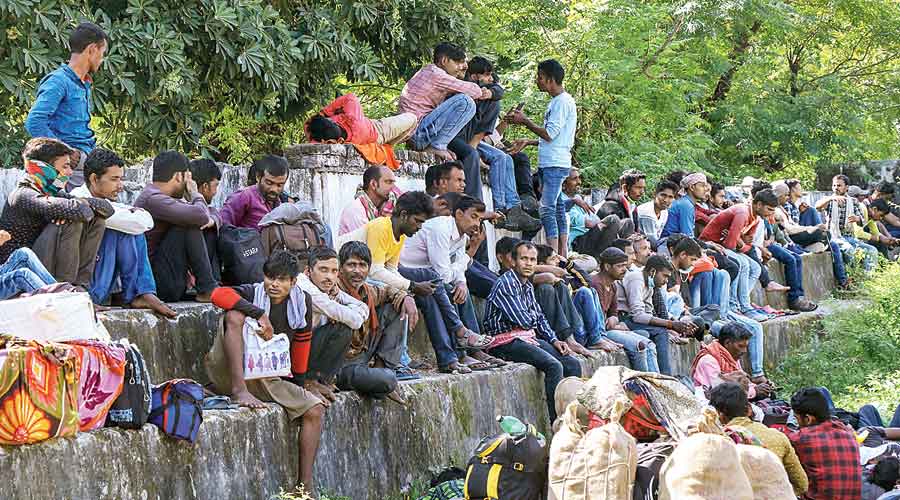 Migrant labourers wait outside a railway station as they leave for their hometowns in Jammu on Thursday
PTI
---
Srinagar
|
Published 22.10.21, 02:15 AM
|
---
A senior army officer on Thursday accused Kashmiris of suffering from "selective dementia" and wondered whether the word "Kashmiri" runs the risk of being treated as a pejorative similar to "Paki" if they do not condemn the killings of non-Muslims in the Valley.
Lt Gen. K.J.S. Dhillon, director-general of the Defence Intelligence Agency and deputy chief of the Integrated Defence Staff, asked at an army seminar where Kashmir's "silent majority" was when Kashmiri Pandits migrated.
The general, who was also the Valley's army chief, put the size of the "silent majority" at 85 per cent of the population of Kashmir, adding that the remaining are those who played an active role on the other side.
"In this game, why is the silent majority silent? Why is the majority not exerting itself?"
The general said: "We are a democratic country where we have a right to dissent, to express our feelings. We have the right to (have our own) feelings but whenever there is a killing by terrorists, selective dementia happens."
The officer asked Kashmiris to tell any person speaking against other atrocities that he has lost the right to speak.
Lt Gen. Dhillon said "Paki" (Pakistani) was an abuse in the West, and he asked Kashmiris whether they wanted to become "a society like that".
"Where you are called a name… but it is an abuse. Are we heading that way? Do we need to go that way? We have a 5,000-year-plus rich history, which is peaceful co-existence, Kashmiriyat, insaniyat (humanity) and Sufiyat (Sufism)," he said.
"Are we headed that way, when someone calls you (Kashmiri), you take it as an abuse? Do you want someone calling you a 'Kashmiri' (or asking) 'are you a Kashmiri'? And it is an offence? So, please be very clear what is happening."
Kashmir High Court Bar Association spokesperson G.N. Shaheen said Kashmiris had always widely condemned the killings of members of the minority community.
"The fact is it is the majority community (Muslims in Kashmir) that has suffered the worst. Around 99 per cent of the victims have been Kashmir Muslims, who die every single day. Despite that, Kashmiris have always condemned all civilian killings, no matter who the victim is," Shaheen told The Telegraph.
"We don't celebrate deaths here but when we are killed, nobody (in the rest of India) cries," Shaheen added.
Lt Gen. Dhillon said the killings had to be condemned so that future generations were saved and there was an end to people's sufferings. He said the perpetrators of attacks on innocent civilians were targeting the roots of the society and such people could never be friends of Kashmir.
The officer headed the Srinagar-based 15 Corps during the 2019 Pulwama terror attack and the scrapping of Jammu and Kashmir's special status. Soon after the attack, he had warned that anybody who picked up the gun in Kashmir would be eliminated unless he surrendered, which was seen as a declaration of a "take-no-prisoner policy" against militants.
Many Kashmiris, including former chief ministers Farooq Abdullah, Omar Abdullah and Mehbooba Mufti, were jailed to prevent protests in the wake of the dilution of Article 370, with the army playing a key role in crushing dissent.
The authorities continue to pursue zero tolerance against any dissent, even in cases in which civilians have died at the hands of security forces, during the past two years.
Lt Gen. Dhillon said 66 per cent of the population of Kashmir was below 32 years of age and they could be referred to as "children of conflict". He said there was a need to "understand their psychology".
"They were born and brought up during the gun culture, strikes, curfews and crackdowns. They have grown up with a scar on their psychology. They have grown through radicalisation and propaganda," the officer said.