Self-help route for studies
Online tutorials and home study take over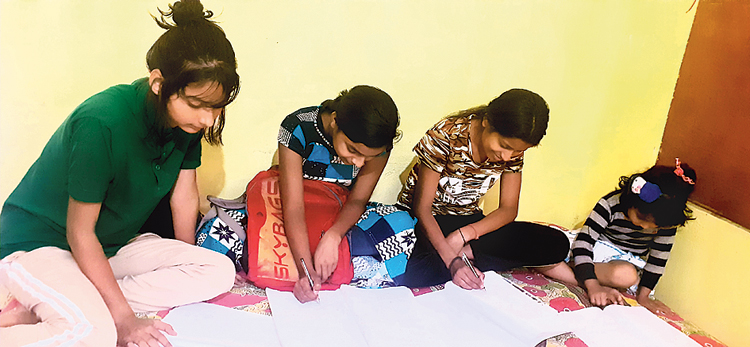 ---
---
Self-help has emerged the safest route for schoolchildren to keep boredom at bay and keep up with their syllabus.
With the closure of schools, coaching centres and children parks to prevent the spread of Covid-19, schoolchildren are relying on self-study for the upcoming examinations.
Earlier this week, the northeastern state governments ordered suspension of class work in all educational institutions up to March 31 in the wake of the coronavirus threat.
"We have been studying with heart and soul for our upcoming examinations. Self-study is also a great help if done with full concentration," Madalasa Vairaginee, a class X student of Learners Educational Institutions, told The Telegraph here in Tinsukia district of Upper Assam on Tuesday. She was found studying with another school-goer at home in Doomdooma.
"We are determined to continue our study and keep the syllabus advanced, no matter what happens. Our parents are appreciative of our dedication and commitment towards study," Rizwana Khatun, another student, said.
However, several parents and guardians suggested that the education departments and private institutions should come up with a plan to help the students.
"Study material and home assignments should be provided to the students and evaluation should be done for unit examination on the basis of home examinations," Firdaush Ahmad, a guardian, said.
A few private schools have started uploading tutorials for students online and informed the students to download them for self-studies at home.
"The school education department should instruct all chief education officers to prepare study materials and home assignments for all students up to class VIII," Ahmed added.
He said preparation of special concise courses for students based on home study material by a team of experts can cover the academic gap.
Many parents urged the governments to assure high-speed 4G Internet in the Northeast basically in the remotest areas to allow students to download the assignments.