Scant reward for giant-killer Smriti Irani
Glare on past controversies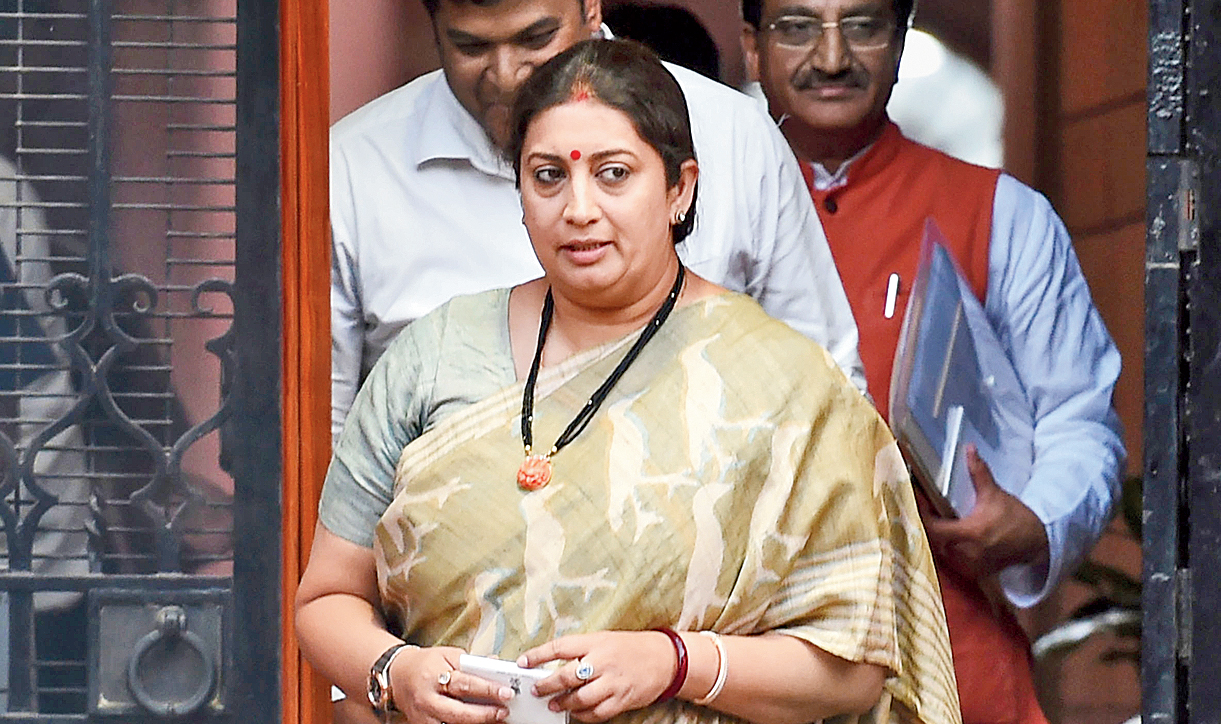 Smriti Irani leaves after the cabinet meeting in New Delhi on Friday.
(PTI)
---
New Delhi
|
Published 31.05.19, 10:32 PM
|
---
For a "giant killer", Smriti Irani has ended up almost exactly where she was between July 18, 2017, and May 14, 2018, when she had additional charge of the information and broadcasting ministry along with her primary charge of the textiles ministry.
Now, instead of I&B, she has the women and child development ministry along with textiles, which has been with her since she was removed from the human resource development ministry on July 5, 2016, in the face of countrywide student protests.
Given the importance the Narendra Modi government attaches to media management, the women and child development portfolio may not be as big in its scheme of things as I&B. This has prompted many to wonder why Smriti was not rewarded fittingly for defeating Congress president Rahul Gandhi on his family turf.
That Smriti is widely recognised as having achieved the unthinkable — in line with the BJP slogan of "Namumkin ab mumkin hai (The impossible is now possible)" — was evident at Thursday evening's swearing-in.
The applause she drew was second only to that received by Prime Minister Modi himself and equalled the audience response to party president turned minister Amit Shah.
This by itself could have been her undoing, for it is no secret that Modi and Shah run a tight ship and do not take kindly to anyone who may have a base of their own.
In what was essentially a "lamppost election" — where the BJP and Modi encouraged people to ignore the local candidates and vote for the Prime Minister — Smriti's victory from Amethi stood out for the way she had nursed the constituency after losing to Rahul in 2014. In Amethi, it was "Didi" (elder sister) and not just Modi who carried the day for the BJP.
It could also have been the string of controversies Smriti had entangled herself in during the past five years that stopped Modi and Shah from giving her a plum ministry, in contrast to Nirmala Sitharaman whose graph has been going up, up and up.
Of the three ministries Smriti has headed, she triggered controversies at both human resources development and I&B and had run-ins with the bureaucracy in all three.
Outwardly pleasant and attentive to the representations she would receive from MPs, including Opposition members, Smriti was said to be "high-handed'' with her officials, four of whom chose to move out of the HRD ministry within a year of her taking charge.
None of them officially cited her as the reason, of course, but there was a perception in the bureaucracy that the attrition rate in the HRD ministry was higher than that in the other ministries and departments that year.
Reports emerged from the textiles ministry too about her issues with the secretary, particularly over the routing of files.
When she was given additional charge of I&B after a fairly controversy-free run in the textiles ministry, Smriti ordered mass transfers affecting about a quarter of the Indian Information Service Group-A officers. This was in violation of court orders and the norms specified by the department of personnel and training (DoPT), and took no account of the functional requirements of the government's media units.
Many of those transferred were close to retirement although DoPT guidelines say that an officer on the verge of retirement (12 to 24 months) should not be disturbed.
At least four of the 150 officers transferred, from the 500-strong cadre, had less than a year in service. In terms of the cost to the exchequer, the transfer allowance to each would have been around Rs 1.5 lakh — equal to the amount allowed to them on return to home base following retirement. So, the bill was over Rs 3 lakh for a transfer of about six months.