SC upheld right to protest but other citizens also have rights: Interlocutors at Shaheen Bagh
The apex court has appointed two advocates to mediate with protestors to move their sit-in to a different location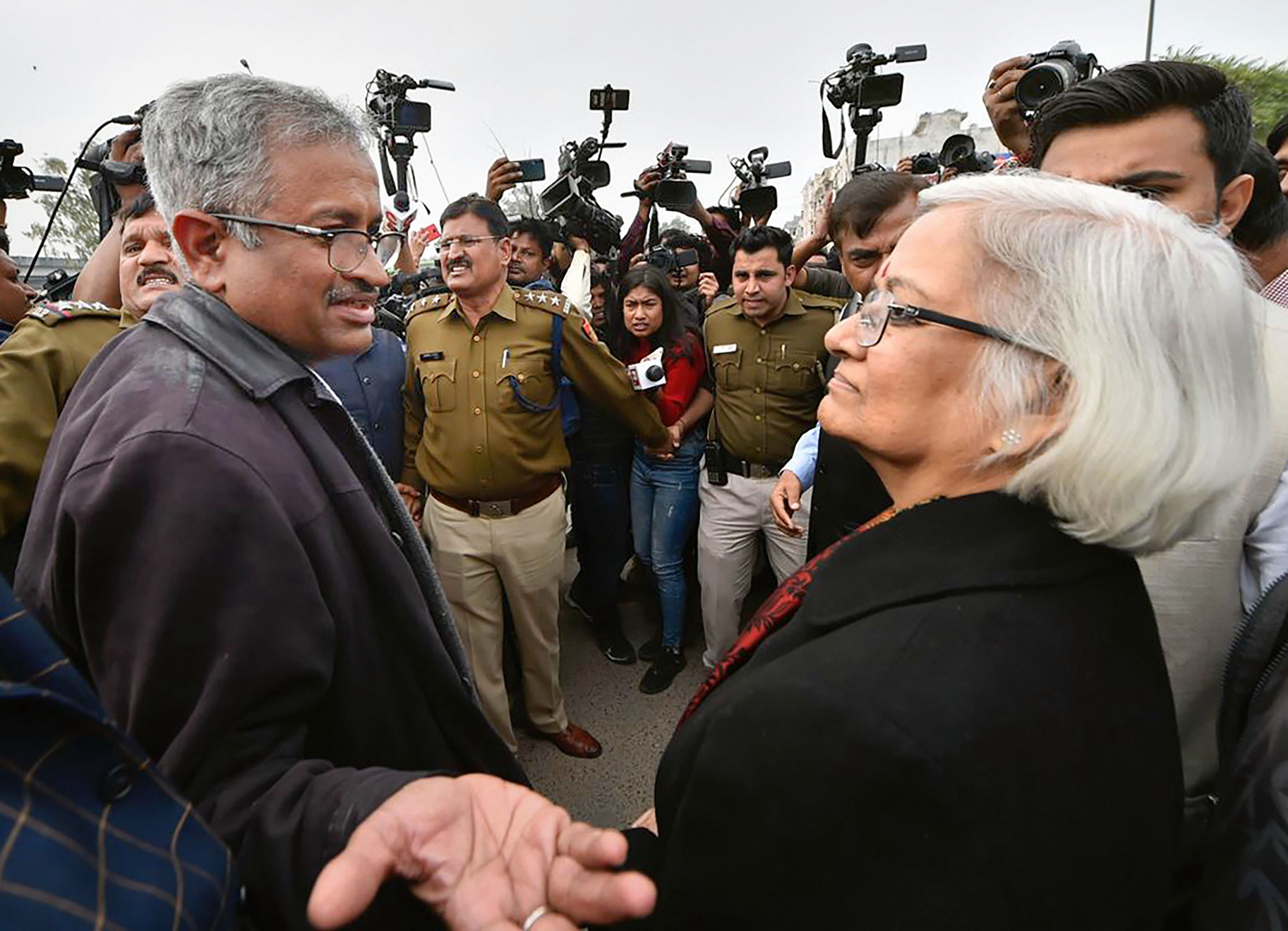 ---
---
The two interlocutors appointed by the Supreme Court on Wednesday visited Shaheen Bagh to initiate talks with the protesters, asserting that the top court has upheld their right to protest but it should not affect the rights of other citizens.
The two interlocutors are advocate Sadhana Ramachandran and senior advocate Sanjay Hegde.
'The Supreme Court has upheld your right to protest. But then other citizens also have their rights and it should also be maintained,' Ramachandran told the crowd assembled at the spot in large numbers.
'We want to together find a solution to the problem. We will listen to everyone,' she said in Hindi.
Earlier, Hegde explained the Supreme Court order to the protesters. This was translated into Hindi by Ramachandran.
The apex court had on Monday appointed a committee to talk to the protestors to find and see if they would be willing to move their sit-in against the new citizenship matrix to another location.
The committee has been given one week to hold a dialogue and file a status report.
During the hearing on Monday, the court said: "We want to solve the problem and we have expressed our opinion. If nothing works, we will leave it to the authorities to deal with the situation." It continued: "It is not a pleasant task which we have taken upon ourselves. It should have been done by the executive."

Sanjay Hegde, who is heading the committee, told The Telegraph Online that he and Ramchandran will be assisting Shaheen Bagh protestors to resolve their issues while 'respecting and safeguarding' their 'right to protest' as well as the requisite 'orderly civic life.'
'My colleague Sadhana Ramachandran and I accept the responsibility placed upon us by the Supreme Court. We will be meeting all parties with a view to assisting them to resolve their issues in a manner that respects and safeguards both the right to protest and the requirements of orderly civic life. We hope that our assistance leads to these matters being resolved in good faith and to the satisfaction of all parties,' Hegde said.
Thousands of women from the Shaheen Bagh neighbourhood have spent over 60 days and nights on the road through Delhi's harshest winter in a hundred years, repeatedly appealing to Prime Minister Narendra Modi to hear them out.