Sangh finds a mascot in American Tulsi
Read more below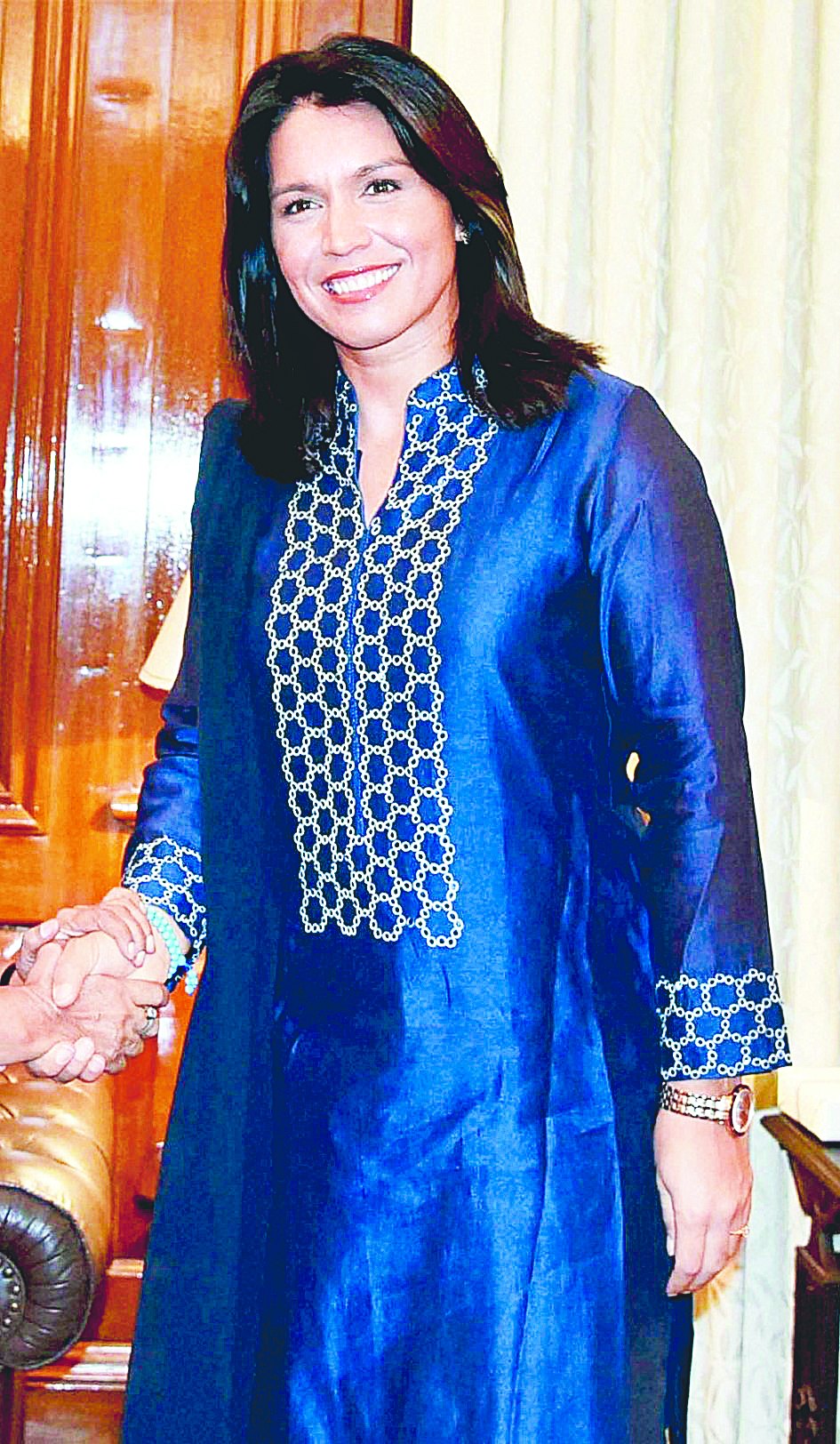 ---
Published 04.01.15, 12:00 AM
|
---
New Delhi, Jan. 3: The RSS fraternity's newest mascot is Tulsi Gabbard, a Democrat elected to the US House of Representatives from Hawaii.
Hours before she was to fly back to the US this evening, Tulsi sat through a discussion on 'the future of Indo-US relations' hosted by India Foundation, a Sangh-aligned think-tank, spoke and took questions.
The leitmotifs in the address, as in her numerous other speaking engagements, were ' aloha' (Hawaiian for 'heartfelt respect and love for others'), the Bhagvad Gita, ' karma yoga' and ' bhakti yoga'.
In the three weeks that Tulsi was in India on the invitation of the Narendra Modi government, she was feted like a top visiting leader. The reception went way beyond the ritual courtesies an Indian MP - her counterpart in India - would be extended abroad.
Tulsi began her sojourn with calls on the Prime Minister, foreign minister Sushma Swaraj, home minister Rajnath Singh and the army chief. She met finance minister Arun Jaitley towards the end of her visit.
There were reasons for the exceptional treatment she received. Tulsi is the best advertisement the Sangh can hope to get for its ' ghar vapsi' (religious homecoming) agenda, tactically set aside to spare the government more embarrassment.
'Each of the places I went to (in India), I would be asked, I want to know your name is Tulsi, but you are not from India,' she said in her address. Born in American Samoa to a Catholic father and a Caucasian Hindu mother, she embraced Hinduism in her teens. This was Tulsi's first visit to India.
'We have heard of Hindus converting to Islam and Christianity. Here's someone who willingly adopted Hinduism. It proves our point that re-conversions are never forced,' a VHP official said, asking not to be named.
Tulsi's endorsement of the Gita was also music to RSS-BJP ears, especially after the controversy over foreign minister Sushma's call to declare the book a 'national scripture'.
Tulsi took the oath of office on the Gita, the first elected representative in the US to do so. 'Ideologically, she represents the global Hindu community,' gushed an India Foundation official, Alok Bansal.
She said: 'Why was that important? Krishna's teachings constitute my life and soul and their foundations. The Gita is a perfect text.'
Tulsi said in the months she served as a soldier in a Baghdad medical unit, the 'toughness and daily stress enabled me to go back to the Bhagvad Gita, to hold the Lord close to my heart.'
In 2013, after she was sworn in, the US Hindu American Foundation congratulated her and said in a statement: 'We also look forward to her giving voice to the concerns of her fellow Hindu Americans and bringing her uniquely pluralistic world view to American policy-making and governance.' The statement was quoted in Organiser, the RSS weekly.
However, BJP sources said Tulsi had endeared herself to Modi for reasons that transcended the parivar's ideological obsessions.
In April 2014, just before the Lok Sabha elections, the US Commission for International Religious Freedom's vice-chairperson, Katrina Lantos, alleged that a Modi win would be 'detrimental' to the 'basic rights' of India's religious minorities when she testified before the US Congress's Tom Lantos Human Rights Commission.
Tulsi was quick to disapprove. She was quoted by American papers as saying: 'I do not believe the timing of this hearing is a coincidence. The national elections in India begin on Monday and continue until May 12. I am concerned that the goal of this hearing is to influence the outcome of India's national elections, which is not an appropriate role for the US Congress.'
At today's India Foundation function, she was asked if she had voted in favour of a recent $1-billion aid sanctioned to Pakistan by the US Congress. Tulsi declared she voted against the aid, drawing thunderous applause.
Tulsi's official website, gabbard.house.gov, announced the Senate's appointment of Vivek Murthy as America's Surgeon General as the 'first Indian and first Hindu American' to hold this position.