Salt-roti cook spoils midday meal conspiracy broth
Rukmini Devi said she had served such salt-and-chapatti meals earlier too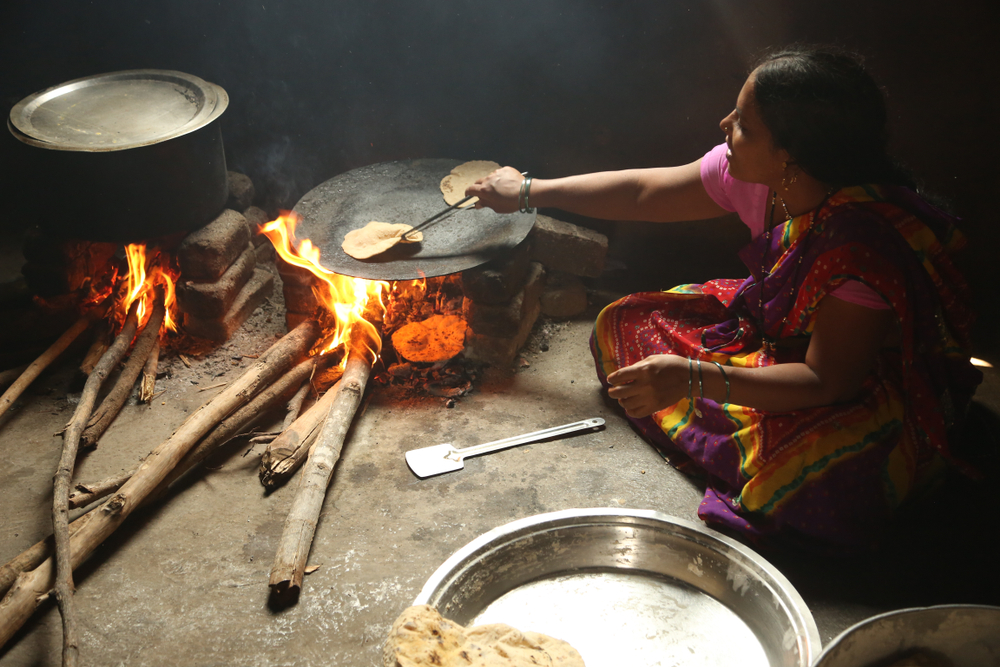 ---
|
Lucknow
|
Published 05.09.19, 09:32 PM
---
The cook seen in a video serving a midday meal of salt and chapatti to students of an Uttar Pradesh primary school last month has punctured the district magistrate's claims of a conspiracy to sully the image of the state government.
Rukmini Devi, 50, said she had served such salt-and-chapatti meals earlier too, effectively trashing Mirzapur district magistrate Anurag Patel's assertions that a journalist and two others had deliberately prevented the supply of vegetables to Siyur Primary School on August 22.
"I have distributed salt and rice also to the students in the past because there was nothing else. It happens that I don't have much to cook for the midday meal. It also happens that if there is rice, there is no milk to make kheer," an official quoted her as saying in her statement to a government inquiry team two days ago.
Journalist Pawan Kumar Jaiswal had filmed a video of the meal being served and shared the clip with news channels and social media platforms.
DM Patel, the nodal officer for the midday meal scheme in Mirzapur, later headed a probe following directions from chief minister Yogi Adityanath. He submitted his report to the government last Friday.
Later, local officers accused Jaiswal of making the video to "tarnish the image of the state government".
The DM said Raj Kumar Pal, a villager tasked with getting vegetables and who had informed Jaiswal about the irregularities in the midday meal, didn't do so that day and asked the journalist to shoot the video.
On Monday, Prem Shankar Ram, block development officer of Jamalpur, lodged a police complaint against Jaiswal.
All three have been charged under multiple penal provisions including conspiracy under Section 120B, an offence punishable with life imprisonment or death.
On Thursday, Rukmini Devi literally spoilt the administration's conspiracy broth when she spoke to the local media in Siyur and repeated what she had told the probe team.
"The administration was lying that there was a conspiracy behind the story," she added.
She didn't stop at that.
"There was no potato, no onion in the kitchen that day. Should I have brought something from my home to cook because Murariji didn't give me anything?" she said.
Murari Lal is the headmaster-in-charge in the absence of Radha Devi, the headmistress of the school that has over 40 students.
"There was 100gm chilly, 100gm turmeric and 100gm oil in the kitchen…. Before that, Murariji used to give 2.5kg of potato and half a kilo of oil for a week…. The children were waiting for the meal that day. Murariji should have asked me to wait… but he didn't say anything when I started giving salt and roti to the students."
Her statement suggests that potato used to be the only vegetable in the meal.
If her account is true, 2.5kg of potato a week is also far from adequate for a school that has over 40 students.
According to a 2010 government report, each student under the scheme should get through their school meal 450 calories and 12gm of protein with adequate quantities of micronutrients like iron, folic acid and Vitamin A.
Mani Devi, a villager whose son studies in Class V in the same school, also said it was not the first time that day that salt and roti had been served.
A friend of the journalist told this newspaper that vegetables were never on the midday meal menu of schools in Jamalpur block on Thursdays. August 22 was a Thursday.
"It was a design of government officers to give a twist to the case. The menu of midday meal was mentioned as roti and dal on a board of the school on that particular day," he claimed.
On Wednesday, the district magistrate suspended Ravindra Kumar Mishra, a contractual employee and district coordinator for midday meals. He was the fifth person to be suspended since the controversy broke.
Headmistress Radha Devi, alleged to be absent most of the days, has been suspended too.
Jaiswal, who has left Siyur fearing arrest, has demanded action against the district magistrate.