Russia-Ukraine crisis: Narendra Modi to Volodymyr Zelensky: No military solution
Prime Minister's comments are a reaffirmation of India's stated position since the conflict began on February 24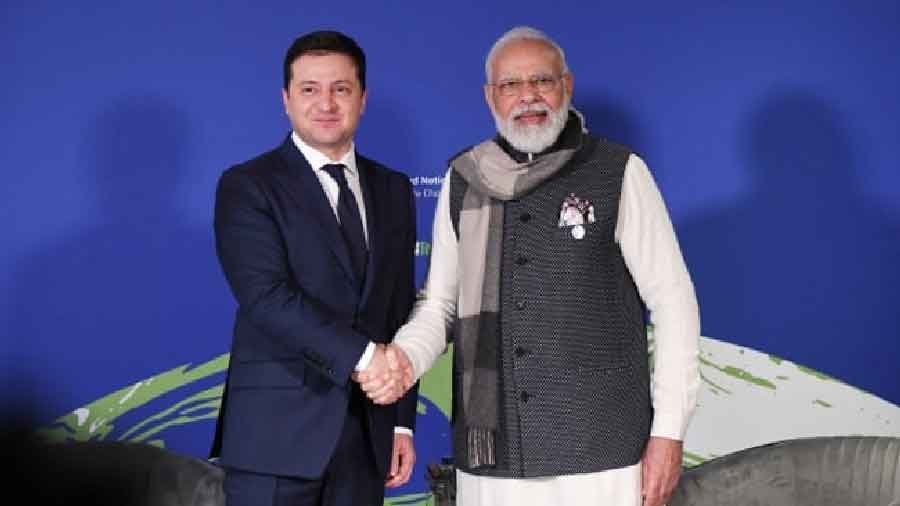 Prime Minister Narendra Modi with Volodymyr Zelensky
Twitter/@BharatPatriot1
---
New Delhi
|
Published 05.10.22, 01:34 AM
|
---
Prime Minister Narendra Modi on Tuesday sought to impress on Ukrainian President Volodymyr Zelensky that there can be no military solution to the conflict with Russia, iterating India's call for an early cessation of hostilities.
The phone conversation with Zelensky was Modi's first since Russian President Vladimir Putin announced the annexation of four Ukrainian regions on Friday on the basis of a referendum that has been questioned by the Western world.
Zelensky has repeatedly said his country would fight till the end. Following the referendum by Russia in four Ukrainian regions, he had told the UN General Assembly last week that Kyiv would not be able to negotiate with Moscow.
Modi's comments were a reaffirmation of India's stated position since the conflict began on February 24.
"Prime Minister reiterated his call for an early cessation of hostilities and the need to pursue the path of dialogue and diplomacy. He expressed his firm conviction that there can be no military solution to the conflict and conveyed India's readiness to contribute to any peace efforts," the external affairs ministry said in its readout on the conversation.
"Prime Minister also reiterated the importance of respecting the UN Charter, International Law, and the sovereignty and territorial integrity of all states."
Further, the ministry said, Modi emphasised the importance India attaches to the safety and security of nuclear installations, including those in Ukraine.
He underlined that any endangerment of nuclear facilities can have far-reaching and catastrophic consequences for public health and the environment, the ministry added.
New uniform for air force
Chandigarh: The Chief of Air Staff will unveil the new pattern of combat uniform for Indian Air Force personnel on Air Force Day here on Saturday, officials said.Air Force Day marks the official induction of the Indian Air Force (IAF) as a supporting force of the UK's Royal Air Force in 1932. PTI
Every year, the day is celebrated in the presence of the Indian Air Force chief and senior officers.     "There will be a parade in the morning at the Air Force station here. On the occasion, Chief of Air Staff Air Chief Marshal Vivek Ram Chaudhari will unveil the new combat uniform for air force personnel," an Indian Air Force (IAF) officer told reporters here.
PTI