Resist lure of instant justice: Legal experts
Indian society itself is to blame for crimes of such extreme depravity as the Hyderabad veterinarian's gang rape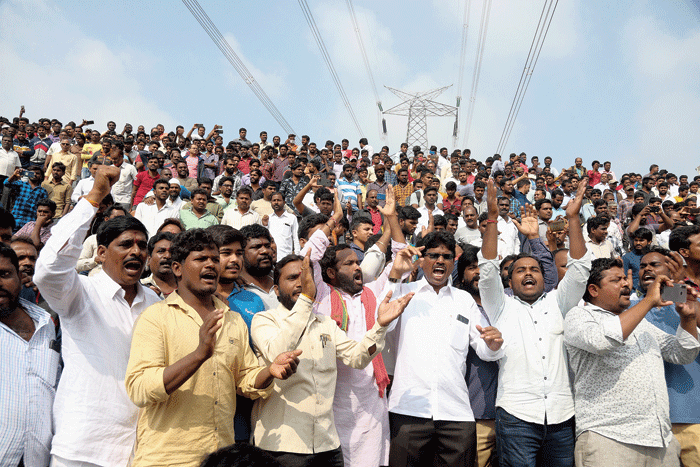 ---
---
Legal experts on Friday attributed the countrywide euphoria at the Hyderabad "encounter" killings to the failure of the criminal justice system, but said this did not justify extra-judicial murders.
They said Indian society itself was to blame too, for crimes of such extreme depravity as the Hyderabad veterinarian's gang rape and murder had their roots in people's failure to speak out against everyday incidents of sexual harassment.
They also took exception to President Ram Nath Kovind leading calls for the withdrawal of the Constitution-mandated "mercy provision" for those sentenced to death over sexual offences against children.
"The Constitution is sacrosanct and the rule of law non-negotiable. Even this painfully shocking crime committed on the young girl cannot offer an exception to the law or a remedy in the form of a fake-encounter killing," Mohd Shoeb Alam, a Supreme Court advocate, told The Telegraph.
"A parliamentarian calling for rape accused to be lynched is a dangerous instigation to violence. There is no scope for vigilantism or mob justice in our legal system or society. Public confidence in the rule of law needs to be immediately restored."
He said Friday's "encounter" needed to be probed by a retired Supreme Court judge to allay fears of any illegality in the police action or a cover-up, since the framing of accused by the police is not unknown.
"A person is proven guilty only after being subjected to due process of law. The Supreme Court, NHRC (National Human Rights Commission), etc, have always condemned extra-judicial killings and laid down guidelines to investigate police encounters," Alam said.
"Our society has to resist the temptation of instant justice to satiate popular demand, lest it render greater injustice than that it seeks to remedy."
Alam said the justification that extra-judicial killings are a deterrent to crime is "an assault on the Constitution".
He also objected to the President's stand against clemency for child abusers sentenced to death.
"I shudder to fathom the impact on the masses when none other than the highest office of the country is reported to have called for the exclusion of an important constitutional safeguard guaranteed to an accused," he said.
"A parliamentarian calling for lynching of rape accused is a dangerous instigation to anarchy by a person sworn to repel it. Not only their oath but also the stature of their high office calls for responsible statesmanship."
Senior advocate and former additional solicitor-general Bishwajit Bhattacharyya said the celebrations of the Hyderabad "encounter" reflected the people's declining faith in the criminal justice system, portending a grim future for the rule of law.
"Alleged ghastly rape followed by alleged ghastly killing; alleged ghastly counter killing in self-defence or otherwise! If an allegedly unlawful killing is hailed, this reflects a declining faith in the criminal justice delivery system," Bhattacharyya said.
He said the police had a tendency to use excessive force even against unarmed civilians, which no civilised society can condone. He recalled how Delhi police had recently fired on lawyers at the Tiz Hazari courts.
Bhattacharyya rued that the much-needed police reforms to make the force accountable had not taken place.
"Police reform is on the back burner. The police's propensity to use the trigger is a very dangerous trend," he said.
However, Bhattacharyya stressed that heinous crimes like the Hyderabad gang rape and murder could not be glossed over and that the law-enforcing agencies and courts must prioritise such cases.
"It's high time we enforced the rule of law quickly, ruthlessly, without fear or favour. But if one can get away by taking the law into one's own hand, it would sound the death knell for our democracy," he added.