Regret not enough on Jallianwala massacre, say Indians in UK
"Anything that is not a statement at the despatch box in the House of Commons is not an apology," wrote Meghnad Desai and fellow peer Raj Loomba to the British PM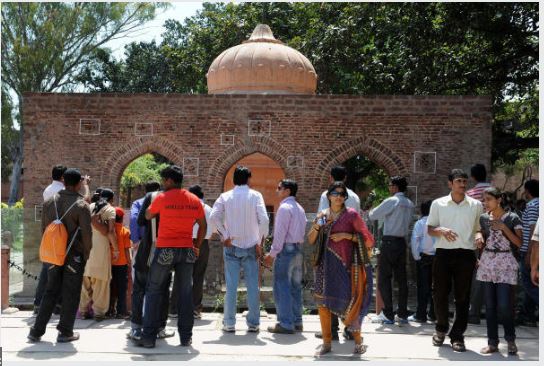 ---
|
London
|
Published 08.04.19, 01:15 AM
---
A British government minister is to use the centenary of the Jallianwala Bagh massacre on April 13 to express "deep regret" but whether this will amount to a formal apology may be a matter of debate.
On April 13, 1919, between 379 (official figure) and 1,000 (unofficial) people were shot dead in Amritsar on the orders of Brigadier Gen. Reginald Dyer.
"I am sorry to be so hard but anything that is not a statement at the despatch box in the House of Commons is not an apology," said Meghnad Desai who, with fellow peer Raj Loomba, wrote to British Prime Minister Theresa May on February 14, arguing the case for an apology.
It has been announced that "a Westminster Hall debate on the 'Jallianwala Bagh massacre' has been scheduled for Tuesday from 2.30pm to 4pm. The debate has been initiated by Bob Blackman MP". Blackman is the long-serving Tory MP for Harrow East, a constituency in North-West London with a large Indian population.
The Sunday Times, London, reported that "Mark Field, the Foreign Office Minister responsible for Asia, will respond on behalf of the government".
Field told the paper: "There is increasingly strong recognition that a formal acknowledgement of deep regret is important in helping frame the modern bilateral relationship, which increasingly thrives in a wide range of globally significant areas of mutual interest where Indian and UK values align."
The newspaper added: "Although Field's response on Tuesday will fall short of an apology, a source said it could pave the way for the foreign secretary, Jeremy Hunt, officially to say sorry on a trip to India this year."
Debates and other events do take place in Westminster Hall but this is separate from the chamber of the House of Commons.
On Sunday, Desai told The Telegraph that he understood why the British government was reluctant to offer a full apology: "A formal apology may lead to demands for compensation from the descendants of the people killed."
He said that his wife, Kishwar Desai, author of the recently published, Jallianwala Bagh, 1919, The Real Story, "has found out many more people died than were originally thought. She found a complete list which had been forgotten and that comes to 547. Maybe 1,000 people died — who knows"?
From India, Kishwar told The Telegraph: "I do believe that the time has now come for the British government to recognise the true nature of the relationship between India and UK — it is now, finally, one of equals. It must recognise that the massacre remains a grievous wound, and the time has also come to call out these deeply racist acts…. I have found the narrative still resonates with the people. I doubt if the incident will ever receive closure — but a sincere apology will ensure that the message is communicated that the Britain of today is very different to that of 100 years ago.
"Today's Britain and their leaders value their relationship with India, and that Brigadier Gen. Reginald Dyer, the Lieutenant Governor Sir Michael O'Dwyer and others like them belong firmly to the past."
There is a precedent for an apology for army action. On June 15, 2010, David Cameron, then Prime Minister, offered a full apology for "Bloody Sunday" — a reference to events in Northern Ireland on January 30, 1972, when soldiers from the 1st Battalion, Parachute Regiment, shot 28 unarmed civilians during a protest march against internment. Fourteen people died.