Refused Agnipath debate, Opposition members walk out
Rejecting their demand, parliamentary standing committee chairman Jual Oram of BJP says nothing outside fixed agenda will be taken up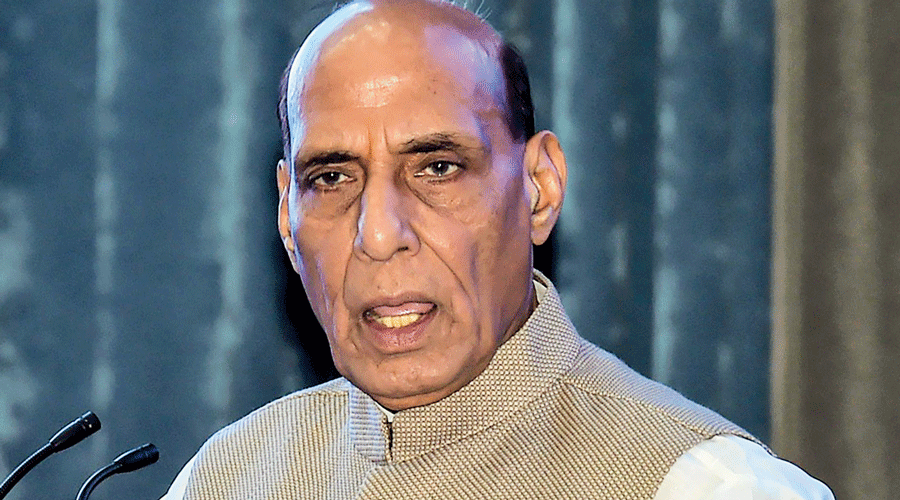 Rajnath Singh.
File photo
---
New Delhi
|
Published 23.07.22, 03:54 AM
|
---
Three Opposition members on Friday walked out of a meeting of the parliamentary standing committee on defence when their demand for discussing the Agnipath scheme was turned down.
The members were K.C. Venugopal and Uttam Kumar Reddy of the Congress and Danish Ali of the BSP.
Rejecting their demand, committee chairman Jual Oram of the BJP said nothing outside the fixed agenda would be taken up.
The three members pointed out that the scheme was discussed at the consultative committee meeting and defence minister Rajnath Singh and the three chiefs of the armed services had made a presentation before it. They requested the chairman to list the scheme for discussion at the next meeting but he rejected the demand, arguing that they can discuss the issue in Parliament.
Venugopal tweeted: "We urged the Chairman to clarify; Why was the Parliament Standing Committee on Defence kept in dark on the Agnipath Recruitment Scheme? Why was the scheme not taken up in the committee's budget scrutiny meetings despite involving financial implications? The Chairman turned a deaf ear to these crucial questions and the scheme was not discussed. No discussion in Parliament, no deliberations in the Parliament Standing Committees, thus goes the way of bulldozing legislations in the Modi era."
2/3 We urged the Chairman to clarify;

a. Why the Parliament Standing Committee on Defence was kept in dark on the #AgnipathRecruitmentScheme ?

b. Why the Scheme was not taken up in the committee's budget scrutiny meetings despite involving financial implications?

— K C Venugopal (@kcvenugopalmp) July 22, 2022
The Opposition members argued that the Agnipath scheme was the biggest change in the armed forces since Independence and needed to be discussed by the parliamentary committee on defence. Sources said the Opposition MPs asked: "What was the government trying to hide and what is this secret about the Agnipath scheme?"