IPS officer proves why he's Modi govt's darling
M. Nageswara Rao, former interim CBI director, violates service rules as he breaks away from political neutrality in his tweets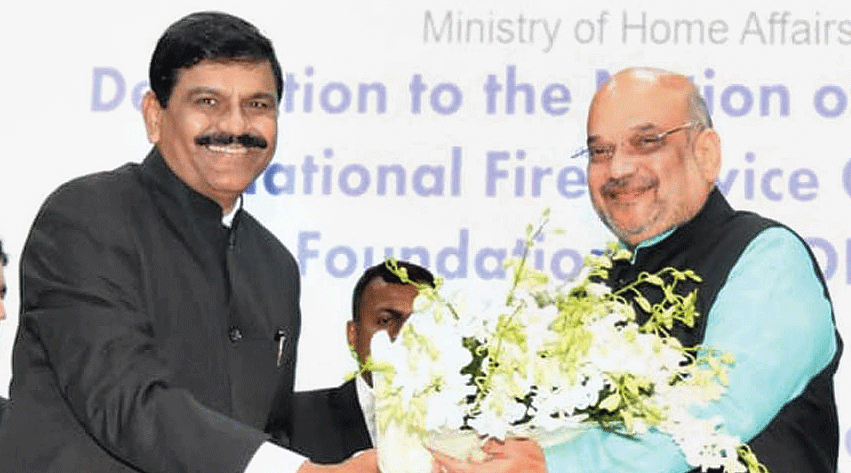 ---
---
M. Nageswara Rao tweeted on Saturday: "Story of Project Abrahamisation of Hindu Civilization 1. Deny Hindus their knowledge 2. Vilify Hinduism as collection of superstitions 3. Abrahamise Education 4. Abrahamise Media & Entertainment 5. Shame Hindus about their identity 6. Bereft of glue of Hinduism Hindu society dies."
Rao is director-general of fire services, which reports to the Union home ministry. But the senior IPS officer is more "famous" as the choice of the Narendra Modi government to head the CBI after the controversial midnight benching of then agency director Alok Verma and his No. 2, Rakesh Asthana, in October 2018. Rao stayed in the post till February 2019.
The 1986-batch IPS officer from the Odisha cadre, known among his batchmates to espouse the cause of "Hindu renaissance", is due to retire in a week.
Former diplomat K.C. Singh condemned Saturday's tweet, saying: "He may yet live to regret such bigotry. But the nation is already a loser to have such persons in uniform."
An IPS officer posted in the Union home ministry said it was "unbecoming" of a serving officer to post such a tweet, throwing all service rules out of the window.
"But this is the 'New India' where brazenness and rule violation have become the norm as long as they suit the government's narrative and agenda," the officer said.
A batchmate of Rao said: "Maybe his tweet is an application for a post-retirement job."
The batchmate said Rao had written an article for the RSS mouthpiece, Organiser, in January this year. "No action was taken against him for violating service rules," he said.
The All India Service Rules, he said, asks every member to maintain high ethical standards, integrity and political neutrality and promote the principles of merit and impartiality in the discharge of their duties.
The service rules also say that IPS officers can write articles for publications — but only for scientific, cultural and literary purposes and only if they carry a disclaimer that the opinions expressed are their personal views.
In his Organiser article, titled "The Dangers of Foreign Funding", Rao had called for a complete ban on foreign funding of NGOs in India as it "colonises our minds and subverts our national discourse".
After Saturday's post, Twitter user Bharat Verma posted: "People like this 'M. Nageswara Rao IPS' should be forced to declare in writing their views on religion and the Constitution before they are let loose on the Country. This crappy 'Job application' of his practically compromises all the cases that he has ever worked on."
Zafar Choudhary tweeted: "This in-service IPS officer has served as CBI chief. His bigotry, hate and utter disregard for principles of Indian Constitution doesn't worry me. Because, he is doing this whole exercise close to his retirement. However, post retirement reward, if any, would be a sign of worry."
In his tweet, Rao has highlighted through a chart the "first phase of deracination (uprooting) of Hindus" and slammed those who held the job of education minister between 1947 and 1977.
"Who were in charge of Indian mind space? Out of 30 years the following were education ministers for 20 years. Maulana Abul Kalam Azad, Humayun Kabir, M.C. Chagla & Fakruddin Ali Ahmed, Nurul Hasan. Remaining 10 years other Leftists like VKRV Rao," he has tweeted.
Nageswara Rao said that past governments had distorted history, whitewashed "bloody Islamic invasions/rule", and named roads and public spaces in Delhi as though the city was founded by "invaders".
"No mention about Krishna/Pandavas the original builders of Delhi," his tweet says.
Rao has also alleged a "systematic sidelining/elimination of all pro-Hindu Nationalist academician/scholars" by governments.
He has described the 1980s as the "Phase of Inadvertent Re-Hinduisation", citing the 1986 opening of "Ramjanmabhumi gates", Ramanand Sagar's Ramayan serial of 1987-88, and the Lav-Kush TV serial of 1988-89.
"These 2 serials which ran for 117 weeks re-awakened Hindu spirit and re-Hinduised the Hindu society on a massive scale. The sustained hard work of RSS/VHP could galvanise this Re-Hinduised Hindu society leading to unprecedented growth of BJP (from 2 MPs in 1984 to 85 in 1989 and 120 in 1991."
To Rao, the 1990s were the "second phase of deracination of Hindus" during which "anti-Hindus... started an intensive and extensive de-Hinduisation of every aspect of education and public instruction".
Rao has been involved in multiple controversies. In February last year, when he was still interim CBI director, the Supreme Court had convicted him of contempt for defying a transfer ban in the agency and shunting out officials probing Asthana, a known Modi favourite. Rao was sentenced to confinement in the court till it rose at 4pm.
Rao earned a postgraduate degree from Osmania University and was a research scholar at IIT Madras.