Rajnath Singh's claim on Savarkar triggers outrage
His said the Hindutva icon had made a mercy petition to the British on Gandhi's advice, prompting the Opposition to accuse the govt of rewriting history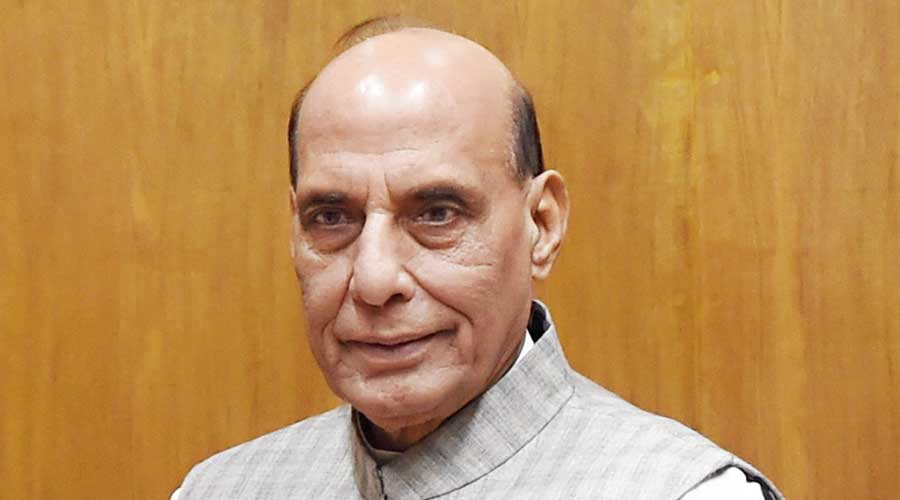 Rajnath Singh
File picture
---
New Delhi
|
Published 14.10.21, 01:58 AM
|
---
Defence minister Rajnath Singh has claimed that Hindutva icon V.D. Savarkar had submitted a mercy petition to the British authorities on Mahatma Gandhi's advice, triggering outrage, with the Opposition accusing the government of rewriting history.
 "A lot of falsehood has been spread against Savarkar. It was repeatedly said that he filed multiple mercy petitions before the British government. The truth is he did not file these petitions for his release," Rajnath had said at the release of Uday Mahurkar and Chirayu Pandit's book, Veer Savarkar: The Man Who Could Have Prevented Partition, on Tuesday.
"Generally, prisoners have a right to file mercy petitions. Mahatma Gandhi had suggested that he file a mercy petition. It was on Gandhi's suggestion that he filed a mercy petition. Mahatma Gandhi said the way we are carrying out the freedom struggle peacefully, so would Savarkar," Rajnath added.
CPM general secretary Sitaram Yechury described the minister's claim as "preposterous rewriting of history".
"Savarkar's mercy petitions are in 1911 & 1913. Gandhiji enters Indian freedom struggle in 1915. Such distortions cannot mislead. The fact is RSS was never part of the freedom struggle. Often collaborated with British," he tweeted.
Yechury also posted an image of Savarkar's mercy petition of November 14, 1913, and quoted from it: "Therefore if the government in their manifold beneficence and mercy release me I for one cannot but be the staunchest advocate of constitutional progress & loyalty to the English government ...."
The Congress wrote on Twitter in Hindi: "Fact: On August 29, 1911, Savarkar wrote his first mercy petition. On January 9, 1915, Mahatma Gandhi returned to India from South Africa."
29 अगस्त 1911 से माफी मांगने का जो सिलसिला सावरकर ने शुरू किया था, वह 9 सालों में 6 बार अंग्रेजों को माफी पत्र देने तक पहुंच गया। महात्मा गांधी का नाम लेकर सावरकर का महिमामंडन करने वाले लोग यह भूल जाते हैं कि सच्चाई नहीं बदली जा सकती है। pic.twitter.com/505ZQ2tkvt

— Congress (@INCIndia) October 13, 2021
The documents that Rajnath and others with a similar view rely on were a reply from Gandhi on January 25, 1920, to a message from Savarkar's brother N.D. Savarkar, and an article titled "Savarkar Brothers" that Gandhi wrote for Young India four months later.
Both these references were cited by Vikram Sampath, who has written a book on Savarkar, in a tweet that said: "For the doubting Toms & asinine commentators, asking source etc pls refer 'Collected Works of Mahatma Gandhi' vol 19, pp 348 & Vol 20, pp 368-371 https://gandhiashramsevagram.org/gandhi-literature/collected-works-of-mahatma-gandhi-volume-1-to-98.php. I hope u don't say Gandhi Ashram has doctored these letters.…"
S.N. Sahu, officer on special duty to former President K.R. Narayanan and a keen student of Gandhi's writings, told The Telegraph: "The truth is that when in 1920 a list was released by the British government that some prisoners would be released from the (Andaman) Cellular Jail because of clemency shown by the British authorities on them, Savarkar's brother sent a telegram to Gandhi stating that his brothers' names were not part of that list.
"Savarkar's brother sought Gandhi's advice.... It is shocking that lies are being invented by top BJP ministers by invoking the name of Gandhi to cover up the truth that Savarkar submitted not one but six mercy petitions to the British authorities for his release from the Cellular Jail.
"In fact, on 26th May 1920, Gandhi wrote an article, 'Savarkar Brothers', in Young India and referred to their written statement that they never wanted independence from British rule and so based on that statement Gandhi pleaded for their release."
In the Young India article, Gandhi wrote: "Both these brothers have declared their political opinions and both have stated that they do not entertain any revolutionary ideas and that if they were set free they would like to work under the Reforms Act….
"They both state unequivocally that they do not desire independence from the British connection. On the contrary, they feel that India's destiny can be best worked out in association with the British. Nobody has questioned their honour or their honesty, and in my opinion the published expression of their views ought to be taken at its face value."
Although aware of the Right-wing ecosystem's strategy of diverting attention from bread-and-butter issues by making controversial comments, Rajnath's statement was not something the Opposition could have left unchallenged.
"Rajnath Singh-ji is amongst the few sober & dignified voices in Modi Sarkar. But he doesn't seem to be free of RSS habit of rewriting history. He has given a twist to what Gandhi actually wrote on Jan 25 1920. Here is that letter to Savarkar's brother," tweeted Jairam Ramesh of the Congress with an image of the January 25, 1920, document.
BJP parliamentarian Rakesh Sinha tweeted: "Congress opposes Savarkar ji who never integrated with British administration and exhibited the highest sacrifice for the Mother land. However, some people had regular dining at Mountbatten's home!"
AIMIM parliamentarian Asaduddin Owaisi posted Gandhi's reply to N.D. Savarkar and asked: "Sir @rajnathsingh you said that Savarkar's grovelling mercy petitions were on Gandhi's advise (sic). 1. Here's the letter to Savarkar from Gandhi. No mention of petition to British begging for leniency, mercy & promising to be a faithful servant of the crown...."
Later, Owaisi told news agency ANI: "They (BJP) are presenting distorted history. If this continues, they will remove Mahatma Gandhi and make Savarkar, who was accused of the murder of Mahatma Gandhi and was pronounced complicit in the inquiry of Justice Jeevan Lal Kapur, the Father of the Nation."
Savarkar's grandson Ranjit Savarkar said a single person like Gandhi cannot be called the Father of the Nation.
"Thousands of people have contributed towards the creation of this nation which has a history of more than 5,000 years. I don't think Mahatma Gandhi is the Father of the Nation," he told reporters in Mumbai, a PTI report said.