Rajnath Singh releases third list of defence items banned for import
The announcement means that the armed forces — the army, navy and the air force — will now procure these 101 items from domestic manufacturers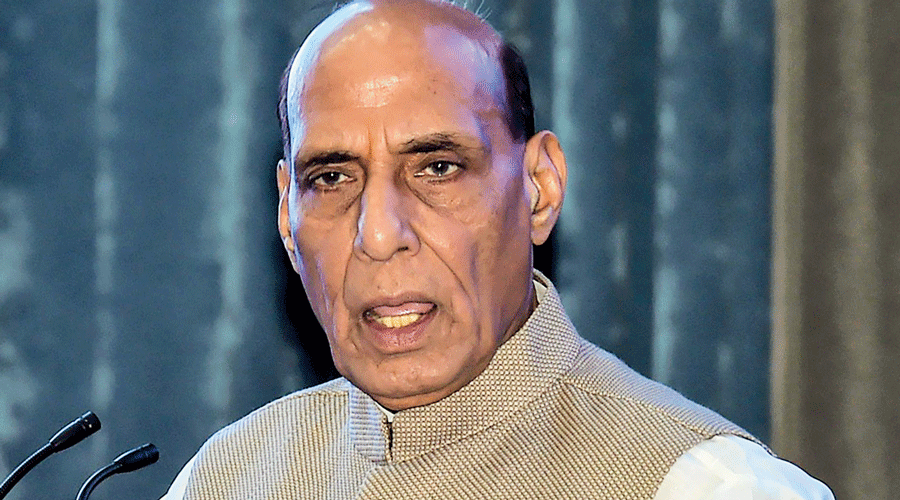 Rajnath Singh in New Delhi on Thursday.
PTI Photo
---
New Delhi
|
Published 08.04.22, 01:39 AM
|
---
Defence minister Rajnath Singh on Thursday announced a third list of over 101 military systems and weapons that his ministry would stop importing over the next five years and develop indigenously instead in a bid to strengthen the armament industry under the Atmanirbhar Bharat initiative.
Releasing the list at an event in Delhi, Rajnath said that among the embargoed items were major equipment and platforms, including sensors, weapons and ammunition, naval utility helicopters, patrol vessels, anti-ship missiles and anti-radiation missiles.  "The list is planned to be implemented from December 2022 till December 2027," Rajnath said.
The announcement means that the armed forces — the army, navy and the air force — will now procure these 101 items from domestic manufacturers.
"The manufacturers can be private sector players or defence public sector undertakings," said a ministry official.
In a bid to boost indigenisation of defence production, the defence ministry had in August 2020 released the first negative-import list of 101 items, including high-technology systems such as artillery guns, assault rifles, sonar systems, transport aircraft, light combat helicopters and radars, to be progressively implemented between 2020 to 2024.
In May last year, the government had approved restrictions on the import of an additional 108 military weapons and systems such as next-generation corvettes, airborne early warning systems, tank engines and radars under a staggered timeline of four-and-a-half years.
Rajnath said on Thursday: "Self-reliance does not mean to work in isolation from the rest of the world but to work with their active participation within the country. Even under the Aatmanirbhar Bharat Abhiyan, we have provisions that provide suitable opportunities and environment to foreign companies to invest, collaborate, set up joint ventures and earn a profit."