Rahul Gandhi dances with Tamil Nadu school kids
Students's question earlier to the Congress leader had expressed her worries about freedom of expression being "curbed" and whether another movement was needed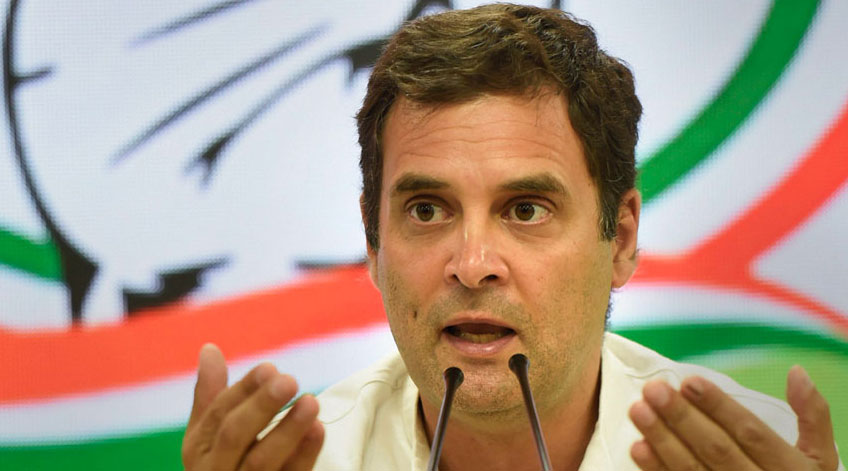 Rahul Gandhi.
File picture
---
Chennai
|
Published 03.03.21, 01:37 AM
|
---
When Gladis Rubella, Class XII student, stepped onto the carpeted dais of St Joseph's Higher Secondary School in the picturesque village of Mulagumoodu in Kanyakumari district, none had anticipated that it would turn into an impromptu dance floor
"I have a request and a question," an elegantly dressed Rubella told Congress leader Rahul Gandhi during an interaction as he rounded off a hectic election tour of Tamil Nadu's deep south on Monday.
"I hope you don't want me to sing," a smiling Rahul asked her. Rubella's answer appeared to take the politician by surprise. "My friends and I have written a song" for Rahul, she said, venturing further: "Would you dance?"
"Yes," Rahul obliged.
When Rubella's three friends also came onto the stage to join in the dance, Rahul said: "One second." He looked at the far end of the dais and called out for Tamil Nadu Congress president K.S. Azhagiri and AICC in-charge for the state and Puducherry Dinesh Gundu Rao.
"I am not going to dance alone. If I am going to look bad, I would rather look bad with other people," quipped Rahul. "We have been asked to dance," he told the perplexed functionaries.
Rahul held the hand of one of Rubella's friends to his right and that of Dinesh as the others circled them.
With simple, free-style leg shakes, followed by symmetric hand movements in the air, Rahul's dance with students was an instant hit, as Rubella sang her song that went: "A simple man is he." Applauding boys and girls swayed with the song, chanting "Rahul, Rahul".
The song eulogised Rahul's respect for all cultures and people's freedoms. Rubella drew a deep pause and ended: "He is a man of integrity." 
"That was good singing," Rahul complimented Rubella, adding that her singing was better than his dance. "She got a state award (for singing)," chipped in Fr. Dominic, the school correspondent. Fr. Dominic was ecstatic over the "wonderful dance performance".
Rubella's question earlier to Rahul had expressed her worries about freedom of expression being "curbed" in India and whether another freedom movement was needed.
"Yes, India is now going to need another freedom struggle, but it has to be non-violent and affectionate. There is a lot of anger spread across, a lot of fear in the country. We have to fight the fear, anger and division so that we have a happy, fearless, comfortable and united India," the Congress leader replied.
Dancing was not the only adventure Rahul undertook over the past week, besides deep-sea diving. He was up to another challenge thrown at him by Class IX student Merolin.
During his hour-long interaction with the school children on the need for balance, calmness and hard work, Merolin asked Rahul: "Can you take push-ups?" Rahul sportingly joined her and outpaced her in the exercise. "Now, try one-hand," Rahul told the girl and in a split second demonstrated it himself.
"Rahul does it like Bruce Lee," exclaimed Fr. Dominic. Rahul ensured that Merolin did not feel bad — he took her by his side, patted her and posed for a photograph, marking one of his innumerable pictures, selfies and handshakes.
To a shy Sania, Rahul nodded for a photo she requested before taking her question on poverty eradication. Rahul recalled the Congress's pre-poll promise of the Nyay plan that involved a direct cash aid of Rs 72,000 per year to every BPL family.
"If we form a government we will implement this scheme and in five-six years, we can eradicate poverty," Rahul assured, adding: "The Nyay scheme will dent the unfair distribution of money."
Rahul agreed with Sania's plea that the poor be sensitised to the use of money as they often "waste it".
"Nothing particular," Rahul had to convince another girl who wondered why he chose to join one particular group in Pudukkottai district recently for a show uploaded on a YouTube cooking channel on making mushroom biryani. Rahul had visibly relished the dish after he cooked with them.
"It was an interesting group; I would be quite happy to visit other groups like this as I am interested to know the food, the language and the culture of the state," he said.
A poignant moment came at the end that moved Rahul to tears. Sunny, a Class VII student trained by artiste Ashok, had drawn pencil sketches of Jawaharlal Nehru, Indira Gandhi, Rajiv Gandhi and Rahul on a Mangalore tile preserved since 1883. The plaque was presented to Rahul by Fr. Dominic as a memento.
A choir sung at the programme and boys and girls displayed their skills with poles and ropes. "Rahul Gandhi wanted the interaction to be relaxed, informal; it was so illuminating and he energised the children so much," Fr. Dominic told The Telegraph over the phone.