Question: Have the Chinese occupied Indian territory in Ladakh?
Rahul asks defence minister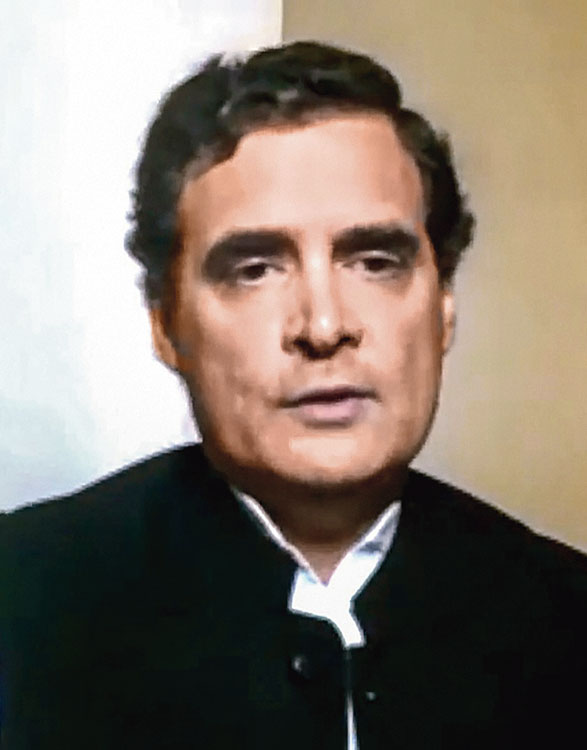 Rahul Gandhi
(TV GRAB/PTI Photo)
---
New Delhi
|
Published 09.06.20, 08:28 PM
|
---
Defence minister Rajnath Singh's taunting of the Congress for its relentless questions on the Chinese intrusion has failed to deter Rahul Gandhi from asking again whether Indian territory in Ladakh had been occupied.
"Once Raksha Mantri (Defence Minister) is done commenting on the 'hand' symbol, can he answer: Have the Chinese occupied Indian territory in Ladakh?" Rahul tweeted on Tuesday.
Other Congress leaders too chided Rajnath for deriding the party's "hand" symbol instead of answering questions on the intrusion.
Rahul had on Monday tweaked a famous Mirza Ghalib couplet to suggest the government was happy with the illusion of safety although the truth about the border situation was known to everyone.
In reply, Rajnath had mocked the Congress symbol, tweeting: "A Mirza Ghalib couplet in a slightly different style: 'Haath' mein dard ho toh dava keejiye, 'haath' hi dard ho toh kya keejiye (If there's pain in the hand, treat it; what do you do if the hand itself is the pain)?"
Social media users immediately pounced on Rajnath for quoting the wrong poet — the couplet he had parodied had been written by Manzar Lakhnavi, not Mirza Ghalib.
Congress leaders, however, castigated the minister for avoiding the core concern and dealing in trivia.
Rajnath used the same tweaked version of the couplet — where he had replaced "dil" (heart) with "haath" (hand) among other changes — also while addressing BJP workers in Maharashtra through digital platforms.
Rahul, however, went straight to the point on Tuesday, asking about the situation in eastern Ladakh, where Indian and Chinese troops are eyeball to eyeball at several points.
Congress communications chief Randeep Surjewala too tweeted: "Denigrating party symbols of opposition isn't same as 'defending India'. Will Rajnath Singh ji answer the simple question posed by Rahul Gandhi?"
Rahul had a few days ago asked the same question: "Can the Government of India please confirm that no Chinese soldiers have entered India?"
While Rajnath had conceded in a television interview that a "significant number of Chinese soldiers" had come in, the government denied he was alluding to intrusion into Indian territory.
Rajnath has confirmed that India and China are talking at the diplomatic and military levels to resolve the standoff.
Addressing Maharashtra BJP workers, Rajnath asked the Congress to have faith in India's soldiers and declared that Prime Minister Narendra Modi's strong leadership would not allow any harm to India's prestige.
Home minister Amit Shah too told a digital rally: "India's defence policy has gained global acceptance. The whole world agrees that after USA and Israel, if there is any other country that is able to protect its borders, it is India."
Rahul had a few days ago tweeted an article by retired Major General H.S. Panag, saying: "All patriots must read General Panag's article."
The article argued that China held the upper hand in the negotiations, having seized the initiative by securing approximately 40-60sqkm of Indian territory in three areas. Panag asked the government to ensure that status quo ante April 1, 2020, was restored at the Line of Actual Control.
Rahul has also re-tweeted a post by Ajai Shukla, an army officer turned columnist, who has expressed outrage at India's unsatisfactory stance.
Rahul put out Shukla's tweets with this message: "The media is muzzled and terrified. The truth seems dormant. But it flows in the blood of every single Indian army officer and soldier. They know exactly what is happening in Ladakh."
Shukla had tweeted: "China has changed the frontlines in Ladakh, and occupied Indian territory... and New Delhi is talking about 'a long haul' and 'military and diplomatic engagement!' If so abject was to be the surrender, disband the 'mountain strike corps' & remove armoured brigade from Ladakh.
"To cover up this craven surrender to Chinese aggression in Ladakh, the government has the nerve to ask journalists not to cover, or write on, the ongoing 'dialogue'. This is to allow public opinion to normalise the new situation... which is that China has come in and will not leave!!"
He had added: "The writing is on the wall. While the government continues its smoke and mirrors game of 'military and diplomatic dialogue', China will consolidate and make the new border permanent. At least in 1962 (the) army fought a war and made China pay a cost. This time, it's an abject surrender."
Congress spokesperson Manish Tewari tweeted on Tuesday: "Talks are fine. Question is how many kilometres of Indian territory has been occupied by the Chinese? Who is responsible for this failure at the tactical, strategic or intelligence levels? Or Is it the case that no one killed Jessica?"