Professor fights for Kashmir, armed with pamphlets
Activist braves heckling, threats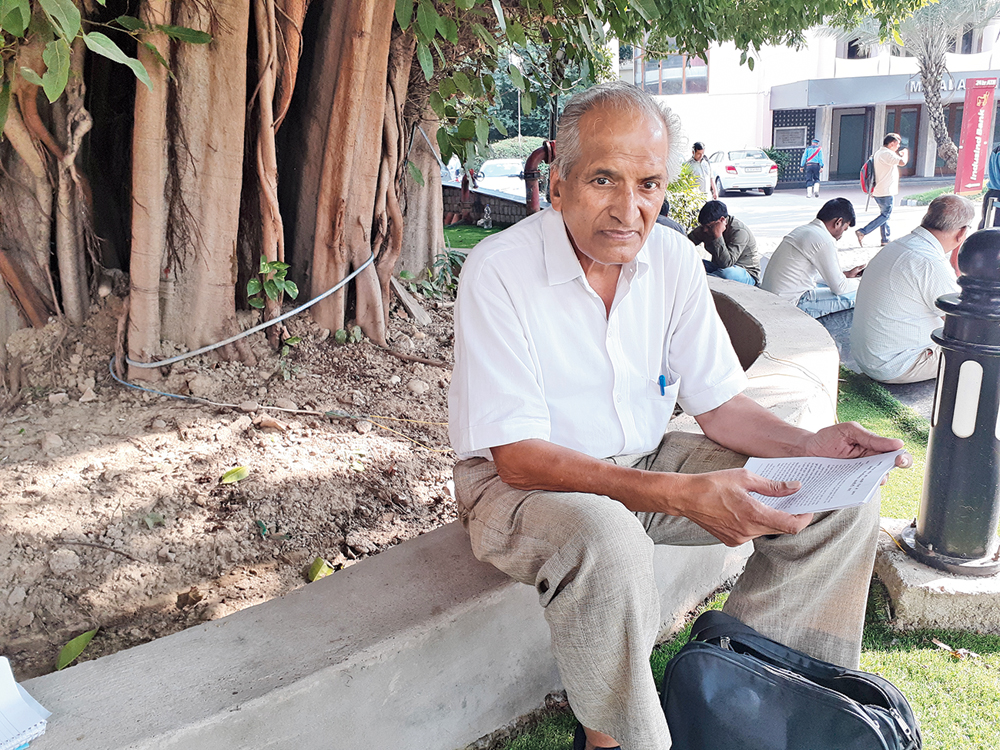 ---
---
On September 9, retired IIT Delhi professor Vipin Kumar Tripathi took a long walk from his home in south Delhi's Sarvodaya Enclave with a bagful of Hindi and English pamphlets.
The 71-year-old frequently stopped to distribute the pamphlets, titled "Disquiet of Kashmiri Masses and Jubilation in Rest of India Test Our Soul".
He walked for around 5km, handing his pamphlets to passers-by near the Hauz Khas Metro station, on the leafy sidewalks of August Kranti Marg, and outside the Kamala Nehru and Gargi Colleges.
A short way from Moolchand Flyover, a car pulled up beside him and the driver asked for a pamphlet. Before Tripathi could respond, the man snatched a bunch of 150 pamphlets from his hand.
"He shouted at me, 'Are you a Pakistani? You are committing treason! If you were not an old man I would have hit you hard'. I replied, 'You can do that right now if you want, but tell me what your problem is. What is wrong with my pamphlet?'" Tripathi said.
"A few policemen arrived and tried to calm the situation. The man asked them to arrest me. I said I want to bring understanding between the people of Kashmir and the rest of India. People in one state are uneasy, and those in other states are rejoicing. The pamphlet promotes national unity."
Tripathi has been writing pamphlets for 27 years and has travelled as far as Assam, Madhya Pradesh, Chhattisgarh, Rajasthan and Haryana to distribute them, often meeting with abuse. But this was the first time he had pamphlets snatched from him and was threatened with violence.
The former physics professor began distributing pamphlets "the day after the Babri Masjid was demolished".
"Many parts of Delhi were under curfew. I went to Seelampur and other localities that were not under curfew and distributed Hindi and English pamphlets titled, 'Fire of Violence in the Country'," he said.
"We distributed 20,000 such pamphlets, for which I was helped by nearly 100 like-minded professors and 20 students from the IIT and friends from Jawaharlal Nehru University and Jamia Millia Islamia."
His latest pamphlet asks the government to preserve Jammu and Kashmir's statehood and keep in abeyance the presidential order revoking its special status and bifurcating it till the reconstituted Assembly of the undivided state approves the move.
It also seeks an end to the restrictions on movement and communication in the state, the release of those detained and a phased withdrawal of the army from the streets.
A memorandum signed by Tripathi and 82 other university teachers was submitted to Rashtrapati Bhavan on September 5. The signatories are still waiting for an appointment with President Ram Nath Kovind.
On September 9, the police did not detain Tripathi as he heeded their advice to move along. He says he faced verbal abuse when he distributed pamphlets inside Metro coaches after the arrest of JNU students for sedition in 2016, but nothing as bad as he faced from the irate driver.
"The way I understand national unity is that if one part of India is in pain, the rest of India recognises it," he said.
"The impact of the government's actions in Kashmir has been worse in the rest of India than the hurt caused to the people of Kashmir. In the rest of the country, people's minds have been poisoned so much that they don't want to listen to any reasoning. This runs counter to national unity."
On September 10, when Tripathi distributed pamphlets near Old Delhi's G.B. Pant Hospital, he got mixed reactions. "Those who supported the pamphlet were meek. Those who did not like it were assertive, aggressive and abusive.… (Just) five to six of those who did not like it were not abusive."
The son of Gandhian freedom fighter and wrestler Hardas Sharma, Tripathi was brought up in Lalitpur, Uttar Pradesh. He studied in Jhansi and Agra before joining IIT Delhi as a lecturer, where he also did his PhD.
He taught at the University of Maryland in the US for six years before leaving in 1982, saddened by America's support for the Israeli invasion of Lebanon.
He returned to IIT Delhi, where he also held "special lectures" outside classrooms to talk about how "imperialism is still alive and sectarianism is its instrument".
"Non-violence is the only instrument to resist the State at a time when States have strong military resources," he said.
Tripathi retired in 2013 but continued teaching at the IIT as an honorary professor till last year.
"I have realised I need WhatsApp to reach out to more people, but I'm not good at it. By going in person I get reactions from people that help me articulate my position better," he said.
Tripathi publishes and distributes pamphlets before every election. At other times too he writes pamphlets on current issues, such as the National Register of Citizens.
He has received help from friends associated with his Sadbhav Mission, an NGO that aims at "developing grassroots resistance against communalism and mobilising people on basic issues like education". He has taught science and mathematics to children in slums and now holds free workshops on mathematics for madarsa teachers.
"After the incident at Moolchand, friends asked me to do something safer, instead. My position is that if I don't like any action of the State, I reach out to the like-minded through pamphlets to build an atmosphere of understanding," Tripathi said.
"I don't write pamphlets against individuals as they are entitled to react the way they wish. I will be nice to the man who abused me if I meet him again. We should focus on the State that has created such a situation on the streets."
On Friday, 83 artists, historians, academics and other citizens issued a public statement demanding the restoration of communications in Kashmir.