Probe Adani group, protect investors: Congress
As the steward of the financial system, the RBI must do everything possible to protect India's banks and financial institutions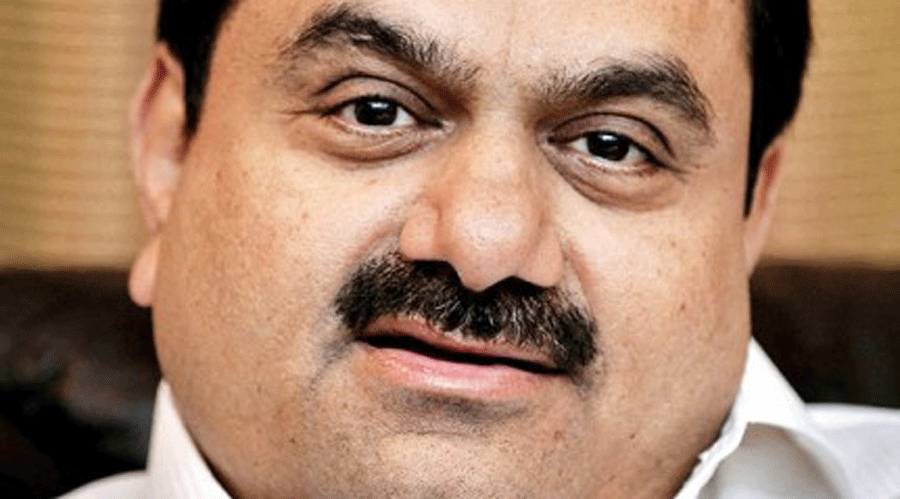 ---
New Delhi
|
Published 16.02.23, 03:36 AM
|
---
The Congress has asked the Reserve Bank of India (RBI) and the Securities and Exchange Board of India (Sebi) to protect the banking system and investors, apart from investigating the alleged violations by the Adani group.
Congress communications chief Jairam Ramesh said in a letter to RBI governor Shaktikanta Das: "The risks of contagion from any collapse in the Adani group's ability to secure financing must be monitored constantly. As the steward of the financial system, the RBI must do everything possible to protect India's banks and financial institutions, and we urge you to act in national interest to ensure that India's taxpayers do not pay the price for the misgovernance and potential illegalities of one influential business house."
Asking the RBI to ensure that excessive debt exposure by the Adani group does not destabilise India's banking system, Ramesh said: "The Adani group has been described as deeply over-leveraged. If the Adani group has artificially inflated the value of its stock through manipulation by offshore shell companies and raised funds by pledging those overvalued shares, the recent selloff in stock prices is creating vulnerabilities for the Adani group to find financing, and by implication for India's banking system."
Ramesh demanded that the RBI must find out the true Adani group exposure to the Indian banking system and what are the explicit and implicit guarantees that the Adani group has been given that it will be bailed out by Indian banks if foreign funding dries up. "Will the RBI ensure that Indian banks are not forced to step in to substitute for any shortfall in foreign financing, especially given the Adani group's political connections?"
Writing to Sebi chairperson Madhabi Puri Buch, Ramesh reminded her of its duty to ensure transparency in financial flows into the country to prevent round-tripping and money laundering. He said Sebi must be aware of the identities of those investing in Indian financial markets.
Recalling the allegations that the Adani group has indulged in stock manipulation and accounting fraud via a vast labyrinth of offshore shell entities, Ramesh wrote: "Apart from potential violation of several Indian laws, this goes against everything the Sebi stands for." Demanding a credible investigation, he said: "Any failure to do so will cast a shadow on Indian corporate governance and on India's financial regulators, and could affect our ability to raise funds globally."
The Congress leader also pointed out that Adani Enterprises was included in the widely used NSE Nifty50 index in September 2022 despite the firm's weak fundamentals, an excessive price-to-earnings ratio and a tiny free float. He said: "Adding Adani Enterprises compelled supposedly conservative Nifty index funds to make significant purchases of this risky stock, including the EPFO, India's largest pension fund."
Ramesh added: "In recent days, global stock indices have suspended Adani group companies while the matter is investigated, but the NSE has failed to take any similar action to protect investors. Is it not Sebi's responsibility to ensure that index investors are protected from investing in questionable firms?"
Asking questions in the HAHK (Hum Adani Ke Hain Kaun) series, Ramesh told the Prime Minister: "Your close friend Gautam Adani is known to have accompanied you on a number of your foreign trips. Since your 4-6 July2017 visit to Israel, you have given him a powerfully lucrative role in the India-Israel defence relationship. With your blessings, he has set up ventures with Israeli firms covering areas as varied as drones, electronics, small arms and aircraft maintenance."
Ramesh asked: "Given that the Adani Group has faced credible allegations regarding offshore shell companies for some years, is it in the national interest to hand over such a critical defence relationship to one questionable conglomerate? Is there a quid pro quo for you and the ruling party?"
Pointing out that India has established firms, including HAL, that manufacture drones, Ramesh said: "Yet Elbit (an Israeli firm) was made to set up a joint venture to manufacture drones with the Adani Group that had no prior experience in this strategically important sector. In December 2018, the venture setup a factory to build Hermes900 drones and also took over the Bengaluru-based startup Alpha Design. On September1, 2021, this acquisition began paying off after Alpha received an order for 100 attack drones from the Indian Army. Why is the government taking advantage of our armed forces'emergency requirements and facilitating an Adani drone monopoly at the expense of startups as well as established Indian firms?"
Ramesh added: "In September 2020, Adani bought a majority stake in the Gwalior-based PLR systems that manufactures a wide range of small arms in collaboration with Israel Weapon Industries (IWI). IWI weapons like the Tavor assault rifle, Galil sniper rifle and Negev light machine gun are already in service with the Indian Army, and this acquisition by Adani simply hands over a longstanding defence relationship to your friend. Are the interests of our soldiers secondary to your financial needs?"