Prime Minister speaks on Covid-19
Modi likely to elaborate on efforts to combat disease, may announce more social distancing measures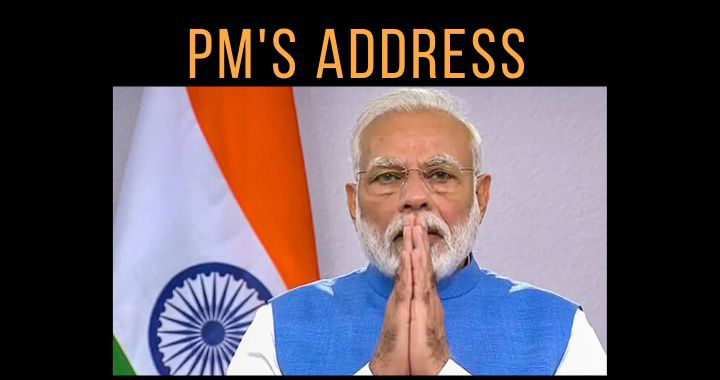 ---
---
Prime Minister begins speaking. Highlights:

It is essential for India to emerge victorious in this fight against this grave disease
This crisis is so severe that we must face all difficulties with determination
Do not go into panic buying essentials
Please do not cut salaries of those who serve you, treat them with kindness
Govt creating a pandemic task force headed by the finance minister

Do not go to hospitals for routine check-ups
On March 22 we should thank these people...And at 5pm ring bells, clap hands and make a noise to express your gratitude to them
Our nation is obliged to all such people...
Millions of doctors nurses hospital staff cleaning staff, police media rail bus auto home delivery people have been working tirelessly for the last few months...they themselves are in danger yet they are doing their duty
Everyone should call at least 10 people and tell them about citizens curfew
This Sunday 22 March from 7 am to 9 pm all citizens should adopt curfew measures
Hence I am asking all citizens to adopt Janata curfew... Curfew by the people for the people
Even when there was no war there were blackout drills
When I was young, I remember blackouts during war
Those who are 65 years or more should not leave your homes at all
Try and stay and work from home...
My appeal to all citizens to leave your home's only if necessary...
We need resolve and restraint
I want your time...
I want the next few weeks from you
The calamity has plunged world into crisis
The world is going through a crisis
Speculation, bordering on nervousness and serious concern, was rife on Thursday as the nation waited for Prime Minister Narendra Modi's address, scheduled at 8pm, when he is expected to speak about the country's response to combat the spread of coronavirus.
"PM Shri Narendra Modi will address the nation on 19th March 2020 at 8 PM, during which he will talk about issues relating to COVID-19 and the efforts to combat it," the PMO tweeted on Wednesday.
In another tweet, the PMO said Modi chaired a high-level meeting to review the ongoing efforts to contain the spread of coronavirus.
"Ways to further strengthen India's preparedness were discussed. This includes further enhancing testing facilities," it said.
The Prime Minister has emphasized on actively engaging with individuals, local communities and organisations in chalking out mechanisms to fight the coronavirus menace. He has also urged officials and technical experts to deliberate on the steps to be taken next.
Modi has been regularly taking to social media, urging people to prepare themselves, but not panic. He has supported the idea of avoiding non-essential travel and limiting gatherings to check the spread of the virus.
The Prime Minister has also expressed gratitude to all those at the forefront of combating coronavirus including the various state governments, medical fraternity, paramedical staff, armed and paramilitary forces, those associated with aviation sector, municipal staff and others.
Earlier this week, he participated in a video conference of SAARC leaders to prepare a joint strategy to tackle the pandemic.
The total number of coronavirus cases rose to 173 in the country on Thursday.
The government had on Tuesday banned the entry of passengers from Afghanistan, Philippines and Malaysia to India with immediate effect, according to an additional travel advisory. This instruction is a temporary measure and shall be in force till March 31 and will be reviewed subsequently. The government has also banned the entry of passengers from the European Union countries, Turkey and the United Kingdom from March 18 till 31 to check the spread of the virus.