Prashant Bhushan seeks time for review
The advocate calls for 'utmost precaution' since no appeal can be filed against an order issued by the apex court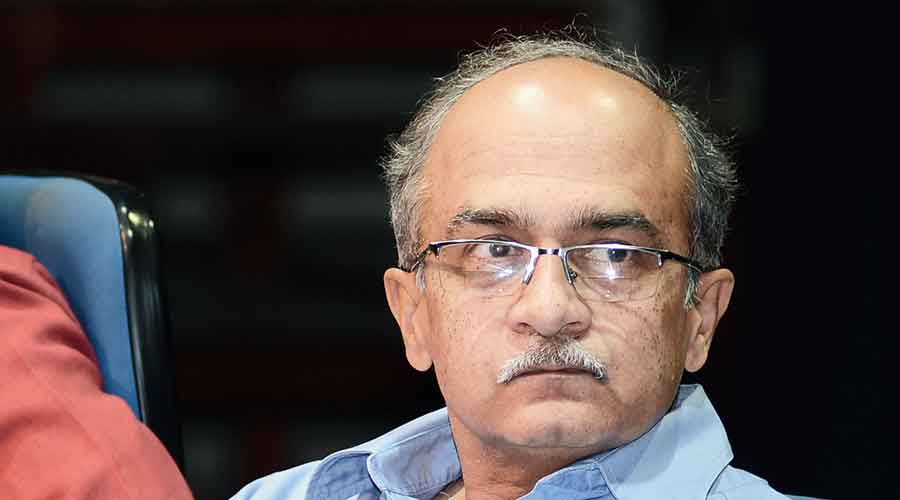 ---
New Delhi
|
Published 20.08.20, 01:57 AM
|
---
Advocate Prashant Bhushan has urged the Supreme Court to defer the hearing of the sentence it is to pronounce against him on Thursday for criminal contempt of court so that he can file a review petition challenging his August 14 conviction.
Bhushan on Wednesday reminded the Supreme Court that "human judgment is not infallible" and as no appeal can be filed against an order issued by the apex court, it should be "doubly necessary that it takes the utmost precaution to ensure that justice is not only done but seen to be done".
Bhushan has been convicted of criminal contempt of court by a three-judge bench of Justices Arun Mishra, B.R. Gavai and Krishna Murari for two tweets, one on the Chief Justice of India posing on a Harley-Davidson and another on the destruction of democracy.
The maximum punishment for criminal contempt of court is six months in jail.
In a fresh application filed through advocate Kamini Jaiswal, Bhushan said the suo motu criminal proceedings initiated against him provided no scope for an appeal against the judgment, and so the only remedy before him was a review petition.
Bhushan pleaded that in his case the review would act as an appeal against the Supreme Court's own verdict. He said he would file the review petition within the stipulated 30 days from the day of judgment.
"It is respectfully submitted that human judgment is not infallible. Despite all the provisions ensuring a fair trial and a just decision, mistakes are possible and errors cannot be ruled out," Bhushan said.
He referred to the apex court's judgment in the M.H. Hoskot vs State of Maharashtra case in 1978 in which the court had held: "One component of fair procedure is natural justice. Generally speaking and subject to just exceptions, at least a single right of first appeal on facts, where criminal conviction is fraught with loss of liberty, is basic to civilised jurisprudence. It is integral to fair procedure, natural justice and normative universality."
Bhushan also drew attention to Section 19(1) of the Contempt of Courts Act, 1971, which, recognising the possibility of miscarriage of justice, provides that pending an appeal, the appellate court may suspend a sentence for criminal contempt. The section provides for intra-court appeal if the conviction order is passed by a single judge of a high court. If a high court division bench issues such an order, the convicted person can appeal against it in the Supreme Court.
Bhushan pointed out that CrPC Section 389 safeguards the liberty of a citizen pending an appeal. Section 389(1) lays down that pending an appeal by a convicted person, the appellate court can suspend the execution of a sentence and, if a person is in jail, order his release on bail or on a personal bond.
"In criminal contempt proceedings, this Hon'ble Court functions like a trial court and is also the last court. Section 19(1) gives a statutory right of appeal to a person found guilty of contempt by the High Court," Bhushan said in his application.
"The fact that there is no appeal against an order of this Hon'ble Court makes it doubly necessary that it takes the utmost precaution to ensure that justice is not only done but seen to be done.
"It is respectfully submitted that, since this Hon'ble Court acts as a court of first instance in a suo motu criminal contempt proceeding and there is no provision for appeal also, if there is conviction in such proceeding, the aforesaid principles of law, held in the context of a criminal trial, must apply pari materia (not comparable) to a case of a review filed against such conviction," Bhushan contended.
He added: "It would be in consonance with the right guaranteed under Article 21 (life and liberty) of the Constitution of India. Otherwise there would be gross injustice since there would be no occasion to examine the correctness of the findings arrived in a suo motu criminal contempt proceeding before putting the convicted contemnor's liberty at stake.
"In the present case also, the applicant intends to file a review against the order of 14.08.2020 after studying the order, in detail, and seeking appropriate legal counsel as the ramification of the said order is of grave constitutional significance, in particular on the right to free speech."