'Jab meant to protect from severe disease'
Post-vaccine Covid cases 'not a surprise'
Jab meant to fight the disease and are intended to generate immune responses that will prevent it from causing severe infection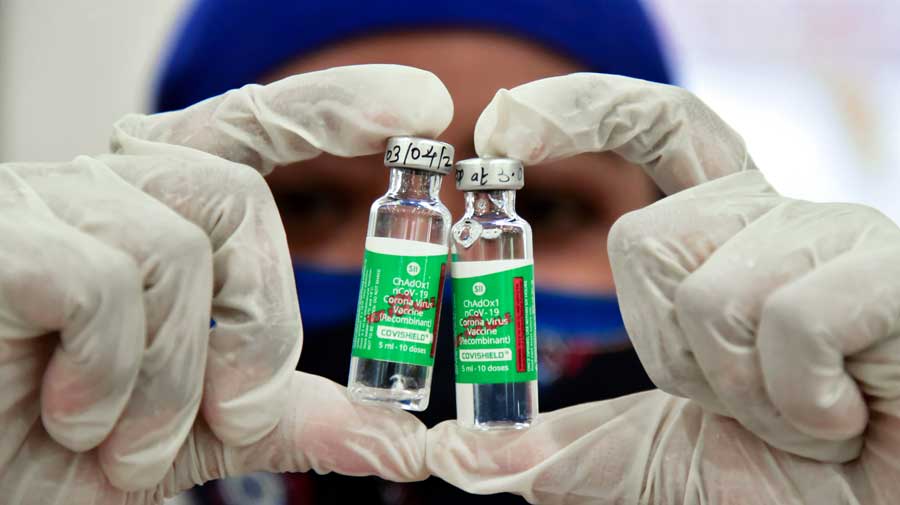 A medic shows the doses of Covid vaccine during an inoculation drive at a vaccination camp in Nagpur on Thursday.
PTI
---
New Delhi
|
Published 09.04.21, 01:51 AM
|
---
People who test Covid-19 positive after one dose or even two doses of the vaccines shouldn't be surprised, according to medical experts who say the current vaccines are primarily designed to protect people from severe disease and deaths.
Amid the nationwide vaccination campaign that has administered over 92 million doses, including both doses to 11.5 million people, some vaccinated people, including over two dozen doctors at the King George's Medical University (KGMU), Lucknow, have been detected as Covid-19 positive.
But medical experts say the current Covid-19 vaccines are intended to generate immune responses that will prevent the coronavirus from causing severe disease after people have been exposed to it.
Some vaccine recipients subsequently exposed to the infection may develop some symptoms such as mild fever. "The vaccines' primary purpose is to prevent damage to the lungs and blood vessels," said K. Srinath Reddy, president of the Public Health Foundation of India, New Delhi.
At least 39 doctors at KGMU, including vice-chancellor Bipin Puri, have tested Covid-19 positive this week, including 17 who had received their second doses by March-end. Recipients of both doses elsewhere, including Calcutta, Delhi and Manipal, have also tested positive.
"Such an unusual number of infected people at one place will require an epidemiological investigation," a community medicine specialist in Delhi said.
Such reports circulating widely across social media have at times prompted questions about vaccine efficacy from potential recipients. But experts say people testing positive after vaccination should not deter anyone from taking whatever vaccine is available.
"It only means they were infected with the coronavirus after being vaccinated — that's not surprising," said Shailendra Saxena, head of the Centre for Advanced Research at the KGMU. "These vaccines do not prevent an individual from being infected."
Given this risk of infection, health guidelines in India and other countries recommend that even fully vaccinated recipients should keep taking precautions such as wearing masks, staying six feet away from others, avoiding crowds and washing their hands.
Genome sequencing efforts have revealed the emergence of new coronavirus variants in India but Saxena and other medical experts say there is no evidence yet to suggest that the new strains might be causing reinfections in people already infected or in vaccine recipients.
Medical researchers also point out that all vaccines come with a specific level of protective efficacy. Clinical trials have suggested that Covishield has an efficacy of about 71 per cent while Covaxin has an efficacy of about 81 per cent.
Those values indicate that despite two doses, small fractions of individual recipients do not show adequate immune responses to protect them from the infection. However, the trials have suggested that all recipients are likely protected from severe disease.