Yogi Adityanath banner boot on other foot
Posters of ex-BJP lawmakers put up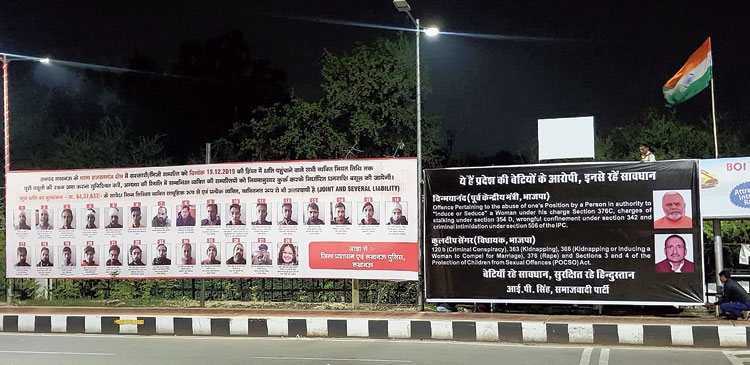 ---
|
Lucknow
|
Published 13.03.20, 09:38 PM
---
Residents of Lucknow's Hazratganj area woke up on Friday to be greeted by a dozen billboards, showing two former BJP lawmakers, right beside the Yogi Adityanath government's name-and-shame hoardings against anti-CAA protesters.
"Ye hain pradesh ki betiyon ke aropi, inse rahen savdhan (These men have been accused by the daughters of the state, beware of them)," they read.
The hoardings, erected by Samajwadi Party spokesperson I.P. Singh late on Thursday night, carried the pictures of former BJP Union minister of state Swami Chinmayanand and former party MLA Kuldeep Singh Sengar.
If the Yogi Adityanath government can name and shame people merely accused of vandalism during the anti-CAA protests, so can others name and shame one-time BJP leaders accused or convicted of sexual crimes, Singh had decided.
Chinmayanand, currently on bail, is accused of sexually exploiting a law student of a college he owns in Shahjahanpur. Sengar is serving a life term for raping a minor and was handed a 10-year sentence on Friday for conspiring to kill the victim's father.
"Betiyan rahen savdhan, surakshit rahe Hindustan (Let daughters be careful and India be safe)," the hoardings said.
Police pulled the billboards down on Friday morning. "We will take legal action against the person who put them up," Hazratganj station house officer Dhirendra Pratap said.
An undeterred Singh told reporters: "Not a single BJP leader will be left unscathed if the country follows the path shown by Adityanath and starts to name and shame. The BJP has taught us that there is no privacy for a (purported) criminal."
He added: "I put up the banners in the public interest. Only those who are anti-women and stand by rapists will oppose my banners."
In a tweet, he said: "I thank all of you for the support from all over the country. My intention was only to awaken the blind government that is greedy for cheap publicity."
Singh's hoardings also mentioned in English the charges against Chinmayanand, a three-time BJP parliamentarian: "Offence pertaining to the abuse of one's position by a person in authority to induce or seduce a woman under his charge under Section 376C, charges of stalking under Section 354D, wrongful confinement under Section 342 and criminal intimidation under Section 506 of the IPC."
Beside Sengar's picture, the text said: "120B (criminal conspiracy), 363 (kidnapping), 366 (kidnapping or inducing a woman to compel her marriage), 376 (rape) and Sections 3 and 4 of the Protection of Children from Sexual Offence (POCSO) Act."
Singh had been a BJP spokesperson before rebelling last year against "the sectarian and dangerous politics of Prime Minister Narendra Modi and chief minister Yogi Adityanath". He was suspended from the BJP in March 2019 and joined the Samajwadis the following month.
Targeting Modi and then BJP president Amit Shah (home minister), he had said: "Two Gujarati thugs are fooling the Hindi heartland."
On March 6, the state government put up 100 roadside hoardings in Lucknow that carry the pictures, names and addresses of 53 people accused of vandalism during the anti-CAA protests on December 19.
The hoardings ask those named to pay damages for the destruction of property during the protests, warning their assets would otherwise be confiscated.
Allahabad High Court this week asked the state government to remove the hoardings, saying they infringed on the privacy of citizens, and sought a compliance report by March 16.
The state challenged the order in the Supreme Court, which on Thursday said there was "no law" that backed the government's action.
It declined to stay the high court order and referred the matter to a larger bench to decide whether the state can waive the protesters' right to privacy while "castigating them for all times".
After a Delhi court sentenced Sengar in the morning, Singh tweeted: "Kuldeep Sengar has been punished by the Delhi court... and on the other hand the Uttar Pradesh police are busy removing the hoarding that I had put up. This is the difference between the BJP's words and actions."