Police poke nose into JNU homes
Visits in three states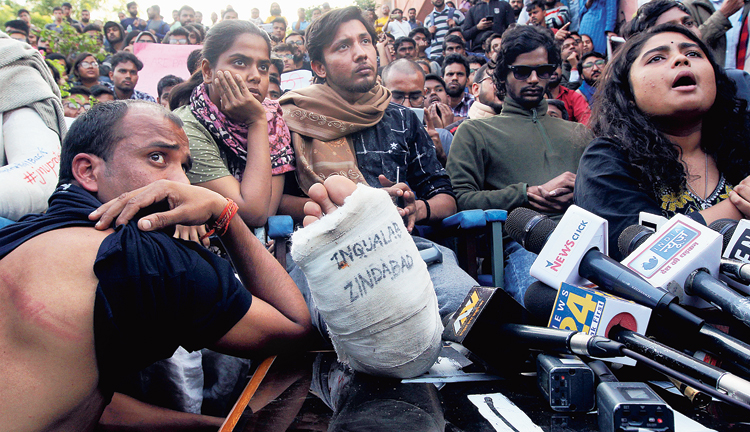 ---
---
Police in at least three states have over the past five days visited the homes of JNU students involved in the agitation against the hostel fee hike and asked questions ranging from the source of income of their families to the names and whereabouts of siblings and the marital status of relatives.
One student said he was asked over the phone why he and his sister had Christian names when their father's name was Ajaypal.
Policemen went to the home of Jitendra Suna, a PhD student at JNU's Centre for the Study of Discrimination and Exclusion (CSDE).
Suna, the son of a Dalit farmhand from Pourkela village in Odisha's Kalahandi district, was photographed being pulled over a barricade by the police in Delhi on November 18. He was the presidential candidate of the Birsa Ambedkar Phule Students Association in the JNU students' union polls earlier this year.
Suna told The Telegraph: "On November 23, two uniformed constables from the local police station — Madanpur Rampur — came home around noon. One of them was drunk. My father lives there along with my brother-in-law and his children. They asked how I could afford to study in Delhi, and enquired about who all were there at home."
On Wednesday, plainclothesmen went to Suna's home along with the local sarpanch.
"They said they were from the district police headquarters and had just come to make routine enquiries. My father called up my sister, who studies in Australia, and she asked them why they were harassing us. They said they were only following orders from above. They left without identifying themselves," Suna said.
Suna's family had not faced a police investigation before this. On Wednesday evening, JNU students formed a chain at Connaught Place as part of a countrywide protest for affordable education.
Kalahandi police superintendent B. Gangadhar told this paper that he was unaware that the police had gone to Suna's home, and clarified that there was no case related to the JNU agitation registered in the district.
"The police have the power to make enquiries under the criminal procedure code whenever necessary. This is not done in a routine manner, and enquires are made only as part of an investigation," Gangadhar said.
Sunny Dhiman Wakker, who is pursuing his PhD in science policy and is involved in the agitation, said the police had gone to his house in Muzaffarnagar, Uttar Pradesh, on November 23 and questioned his family.
Sleuths in Nagpur went to the home of JNUSU vice-president Saket Moon, who owes allegiance to the Democratic Students Federation, a Left group, on November 22. Moon is seen in several photographs and videos of the month-long protests inside and outside the campus. He, too, is from a Dalit family.
"My family lives in a basti in Joginagar under Ajni police station. When the sleuths came, my parents were not at home. Neighbours said they were in plainclothes and did not reveal their identity. They asked our neighbours about what I study and so on. When my father got to know about this, he called up Ajni police station, where an officer told him that they weren't aware who the investigators were," Moon said.
His father Pramod Moon is an Ambedkarite activist and journalist with the Bahujan Sangharsh fortnightly, and has faced the police before at his home. Saket is a PhD candidate at CSDE. Ajni ACP Vilas Sonawane did not respond to a call and a message from this paper.
On Monday, a few hours before several former JNUSU presidents, including CPM general secretary Sitaram Yechury, spoke to reporters to express their solidarity with the agitation, the police knocked on the door of JNUSU general secretary Satish Chandra Yadav.
The PhD student at JNU's Centre for Study of Regional Development is a member of the CPIML-Liberation's All India Students' Association. His septuagenarian parents are peasants and live with his sister in Uttar Pradesh's Maharajganj.
Plainclothesmen visited his home in the Mahuawa locality under Maharajganj police station around 11am.
"They said they were local police and had just come to know more about me. They asked about our relations, who all are married and where they stay, and where our family members were employed. They did not reveal their identity," he told this paper.
An attendant who received a call from this paper to Maharajganj SP Rohit Sajwan's official number said: "You must ask this student why the police went to his house. The police make enquiries when there are property disputes."
The attendant disconnected the call without handing it over to Sajwan.
Albert Bansala, a JNUSU councillor and PhD candidate at the School of Computational and Integrative Sciences, got a call from the police at 10.25am on Wednesday in his hometown Meerut.
An officer who identified himself as head constable Deepak Yadav from the local intelligence unit said he had got Bansala's number from his septuagenarian great-aunt who lives alone at their home under Kharkhouda police station.
"He first asked details of where I live and what I do. When he asked about my younger brother, I refused to answer and cut the line. He called back and said this was his job and if I did not answer he would get it from someone else as he had to prepare a database," Bansala told this paper.
After he gave details of his college-going sister Alice, and brother Azad, Yadav asked, according to Bansala: "Naam aise kyun hain (Why are your names like this?) Your father's name is Ajaypal, but you and your sister have Christian names, and your brother is named Azad. Kya kar rahe ho (What are you doing)?"
Bansala told Yadav to mind his business. The officer then asked Bansala to send via WhatsApp copies of his Aadhaar card and PAN card, which he has not done so far.
Bansala is a member of the Bhagat Singh Ambedkar Students Organisation, a far-Left group on the campus, and had broken his leg in police action during a protest at JNU's convocation on November 11.
While the police are expected to have information on known activists, student leaders say such fishing expeditions are rare and not known to happen for fee-hike protests, which are common in most states.
Even in 2015, when JNUSU activists "occupied" the University Grants Commission's office in New Delhi for more than a month, the most they had faced was a letter to their homes.
The leaders of the 2015 agitation — including Kanhaiya Kumar, now with the CPI, and Shehla Rashid Shora, who is completing her PhD in law and governance at JNU — confirmed that the police did not visit their homes back then.