Piyush executes re-election campaign with rundown of government achievements
Analysts are taking a relatively dim view of revenue expenditure overshoot, even though the miss is relatively tiny at 3.4 per cent of GDP rather than targeted 3.3 per cent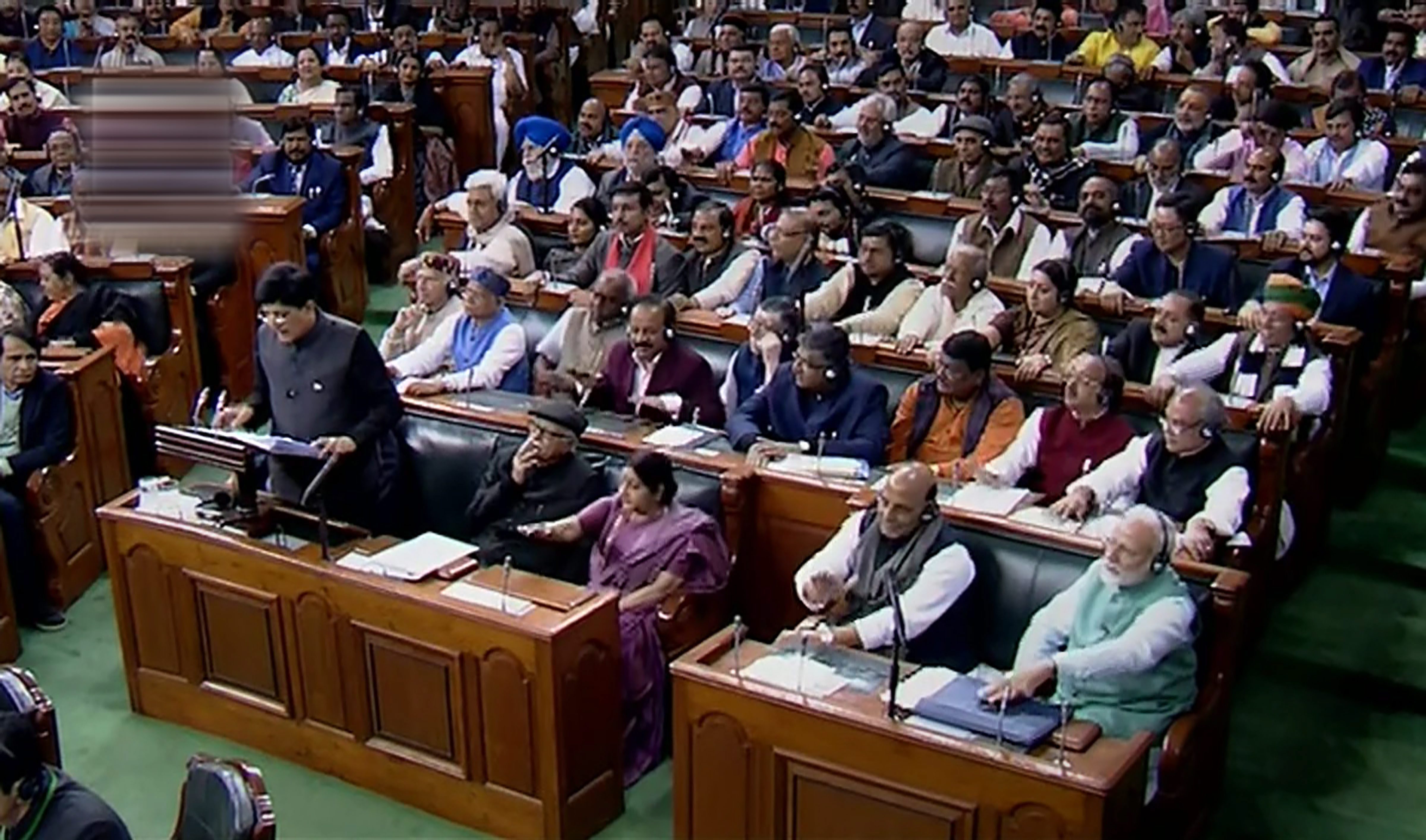 ---
---
Interim finance minister Piyush Goyal's interim budget was far more than a traditional budget speech. It was the unmistakable opening shot in the government's re-election campaign. A full half of Goyal's one-hour, 40-minute speech was devoted to a glowing rundown of the government's achievements in office which then gave way to a flurry of vote-catching populist measures.
There was initial enthusiasm at the way Goyal appeared to have performed the feat of offering big-ticket giveaways while still balancing the books. But the cheers quickly gave way to a feeling that Goyal, like the competent chartered accountant he is, was doing a beautiful job of window-dressing the accounts – and then there were also questions about whether the most expensive item in the government's budget would really deliver much bang for its buck.
Crucially, the direct income support payments to small farmers will cost a hefty Rs 75,000 crore. But despite the size of that headline amount, when it's distributed it's not likely to make much difference to farmers and their families. In fact, many farmers, when quizzed, appeared significantly unimpressed by the offering of Rs 500 per month which doesn't go a long way even in remote rural areas.
The Congress was slow off the mark but after a late start came out with all guns blazing. There was a gap of almost two hours before Rahul Gandhi tweeted that: 'Giving them (farmers) Rs 17 a day is an insult to everything they stand and work for.'
The BJP shot back saying the programme was 'not their income but a relief measure to supplement their income'.
Congress spokesman Rajeev Gowda then raised a different but equally important issue: 'The basic point is where is the money? They announce these schemes but don't release the money.'
In addition, the scheme for small farmers could become a nightmare to administer because there are different categories of agricultural land and some is used for small housing for the rural poor.
For the landless poor, Goyal announced what he said could be one of the biggest social security schemes in the world, but as we know in India numbers are never the issue with the country having a population of 1.3 billion. The government's Pradhan Mantri Shram Yogi Maandhan will offer a princely Rs 3,000 pension from the age of 60 to those who qualify.
Presumably, the landless poor who earn less than Rs 15,000 will be able to consistently pay the Rs 100 each month required to qualify for the pension.
Goyal offered tax relief for low-earning taxpayers who definitely aren't complaining even though the giveaways were for relatively small amounts. And tax relief for sellers of second homes will be gratefully accepted by people and will lose the government only small amount of funds.
The acting finance minister also spent lots of time attacking the record of the earlier Congress-led government. Later, P. Chidambaram, the former finance minister, pointed out that direct tax collections had also risen at around 20 per cent annually during its time in office, just as it has done since the Narendra Modi government took power in 2014.
Then there's the matter of fiscal slippage. The government, which for its first three years in office was hailed for its fiscal prudence, has missed its fiscal deficit target for two straight years. Analysts are taking a relatively dim view of this revenue expenditure overshoot, even though the miss for this year to March 2019 is relatively tiny at 3.4 per cent of GDP rather than the targeted 3.3 per cent.
Things started going pear-shaped in 2018, as the economy slowed, tax receipts suffered and the oil subsidy bill surged. Now the need to address farmers' woes has stretched the government's financial obligations further. As Dharmarkirti Joshi, who's chief economist at Crisil Ltd, noted that government's divestments "will need to be front-loaded to achieve its ambitious target of Rs 90,000 crore and tax collections aggressively pursued" to keep bond holders happy.
Still, any increase in money in the hands of rural and urban India will be a boost to consumption demand, and plans to hike infrastructure spending can only be good news for business with positive spinoffs for fast-moving consumer goods, low-cost consumer durables and two-wheeler manufacturers.
Certainly, Goyal is relying on tax buoyancy to provide the money for all the government's schemes. The BJP reckons that it is on safe ground and that with continued economic growth, taxes cannot but grow rapidly. Still, the budget may not be able to inject sufficiently that vital "feel-good" factor which the government urgently requires to meet the aspirations of many voters and quell the dissatisfaction of others.