Patriot test for universities, after 2 flops
UGC has directed universities to observe September 29 as Surgical Strike Day to celebrate the second anniversary of the army's cross-border raids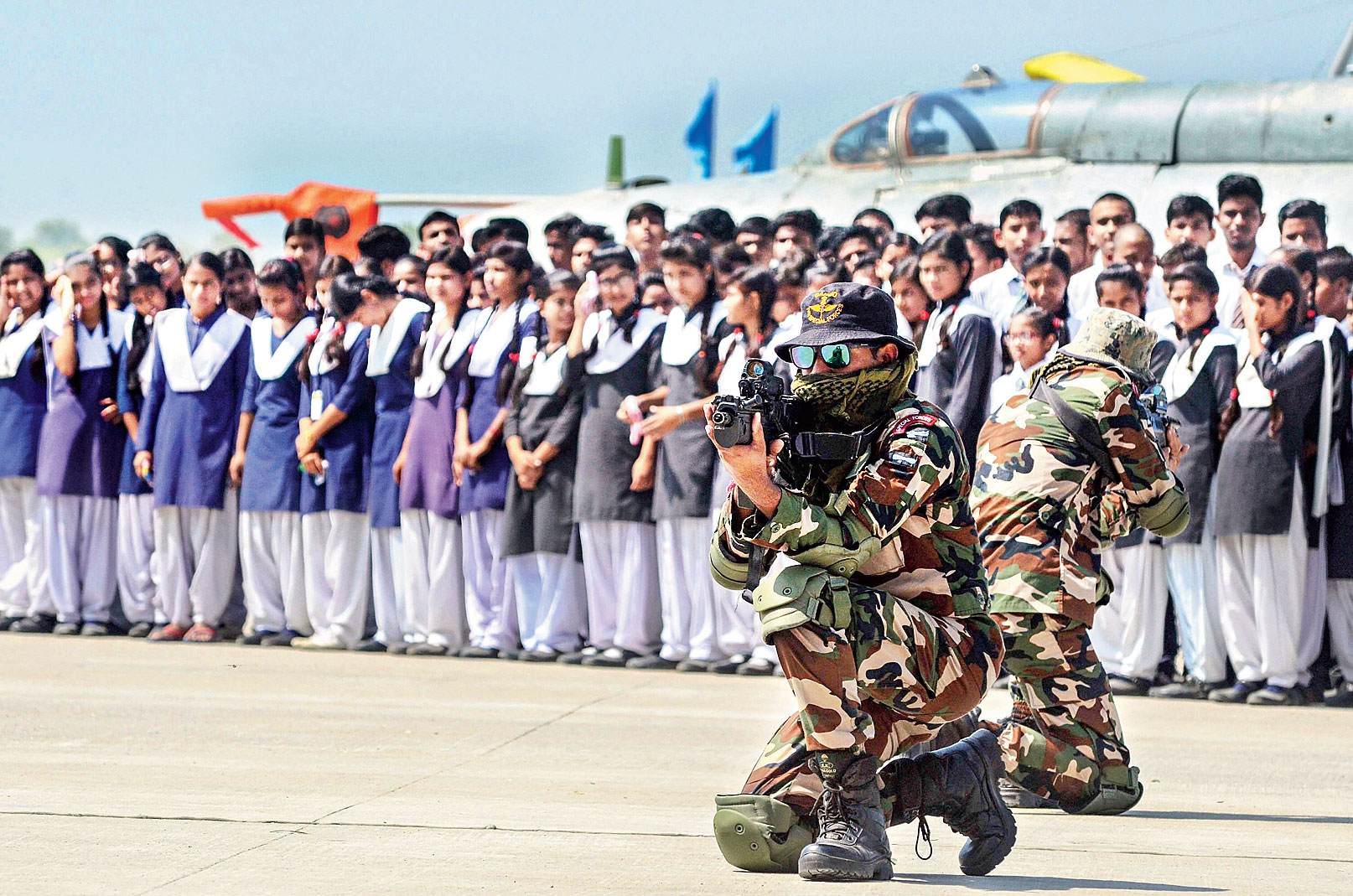 ---
New Delhi
|
Published 28.09.18, 10:53 PM
|
---
The country's universities face a test of their "nationalist" credentials on Saturday after coming up short on two previous occasions in the past two-and-a-half years.

The University Grants Commission has directed all universities to observe September 29 as Surgical Strike Day to celebrate the second anniversary of the army's cross-border raids on militant hideouts.
Two earlier government initiatives to foster "nationalism" on campuses — the diktats confined to the 45 central universities — had, however, come a cropper.
On May 2 last year, the human resource development ministry had launched the Vidya Veerta Abhiyan, asking central universities to set up walls with the portraits of the 21 Param Vir Chakra awardees to instill patriotism among students. Less than half-a-dozen universities complied, with JNU taking the lead on May 17 that year.
On February 18, 2016, a meeting of central university vice-chancellors, chaired by then HRD minister Smriti Irani, had passed a resolution to fly a national flag, weighing 35kg and hoisted 207ft high, round the clock on their campuses. None implemented it.
Sociologist Andre Beteille, who last week said the government had no authority to instruct universities on these matters, on Friday urged autonomous institutions to resist any agenda imposed on them.
"It's a bad thing to surrender autonomy. If the universities adopt the line laid down by the government, that's not a healthy thing. It ought to be resisted," he told The Telegraph.
Higher education secretary R. Subrahmanyam said all the three initiatives — on the flag, wall and Surgical Strike Day — were "suggestive" and non-binding.
A ministry official said that most of the central universities had sought funds to install the 35kg flags but were refused and asked to "explore finance at their level". Eventually, they all gave the 35kg flag a miss, sticking to the smaller flags already installed on their campuses.
Subrahmanyam said "there's nothing wrong" in giving suggestions to universities on such matters.
However, under the UGC Act, the commission's mandate is only to provide funds to institutions and help ensure standards. The central universities, set up by acts of Parliament, are allowed to take their own decisions on everything else.
Last week, Shri Prakash Singh, a Delhi University political science teacher, had described Beteille as a "Naxal sympathiser" because of his critical views on the commission directive.
Beteille said it had become an "unfortunate tendency" among some to "give a bad name to those who disagree" with them.
A senior UGC official said the universities had been issued the instruction because the government wanted it. "We'll come to know about the response when they upload (reports and images of) their activities on our website," he said.
Among other events, the universities have been asked to organise campus visits by defence personnel for photo-ops with students.