Online petition against 'cop brutality'
CitizenspeakIndia has condemned the alleged police brutality on students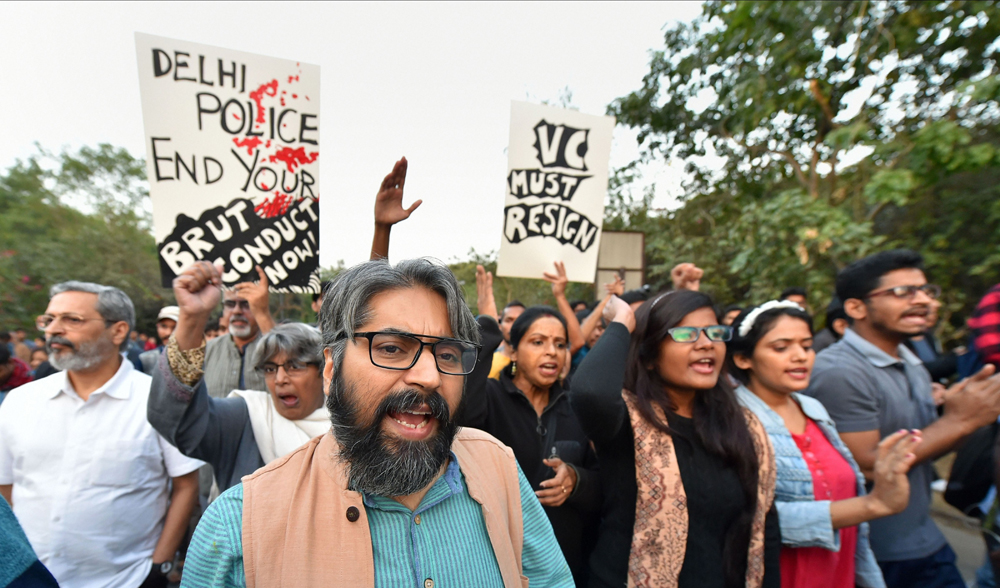 JNU teachers shout slogans during a protest on the varsity campus in New Delhi on Tuesday
(PTI photo)
---
New Delhi
|
Published 19.11.19, 08:52 PM
|
---
CitizenspeakIndia, a community group that describes itself as "a voice of the common Indian", has condemned the alleged police brutality on students of Jawaharlal Nehru University (JNU) and started an online petition against it.
"As peace-loving citizens of India, we strongly condemn the police brutalities unleashed upon the protesting students of JNU," the group said in a statement.
"We believe that public universities are spaces where students from all social and economic backgrounds must have access to quality education. The student movement in JNU deserves a huge credit for encouraging debate and dialogue on the nature of and access to public education in India. The students have every right to a peaceful protest and any attempt to crush these protests with violence is a blatant attack on democracy and its institutions," the statement added.
Extending full solidarity to the student movement in JNU, the statement said: "A university space should be one that encourages minds to read, write, debate and discuss. As a part of this, they should also have the freedom to question the prevailing systems of governance."
The group urged "everyone who believes in democracy and the right to dissent to come forward and sign the petition" on https://www.change.org/p/jnu-authorities-in-solidarity-with-jnu-student-protest-e47e0895-a64f-4d04-a616-1d7ba0b64cf0.