Police say: In the early hours of Friday, July 19, three men from Paigambarpur village — Naushad Qureshi, 40, Raju Nat, 40, and Videsh Nat, 20 — were lynched in Pithauri Nandlal Tola, 10km away, in Saran district, 95km northwest of Patna.
Pithauri Nandlal Tola villagers say: The trio were caught stealing a buffalo from the home of Budh Ram in the dead of night, around 2-2.30am. An angry mob, already bristling at a spate of cattle thefts, decided on instant justice.
Paigambarpur villagers say: It was a pre-planned lynching, as indicated by:
The unexplained presence at the lynching site of a Bajrang Dal activist from Paigambarpur, who didn't try to save his three fellow villagers.
A 2.30am phone call to Raju by a man from Pithauri Nandlal Tola, asking that he immediately come and pick up the two buffaloes he had agreed to buy from him.
The time, 4.30am, when Raju and nephew Videsh had left on transporter Naushad's pickup truck for Pithauri Nandlal Tola — it was after daybreak, when no cattle thief would operate.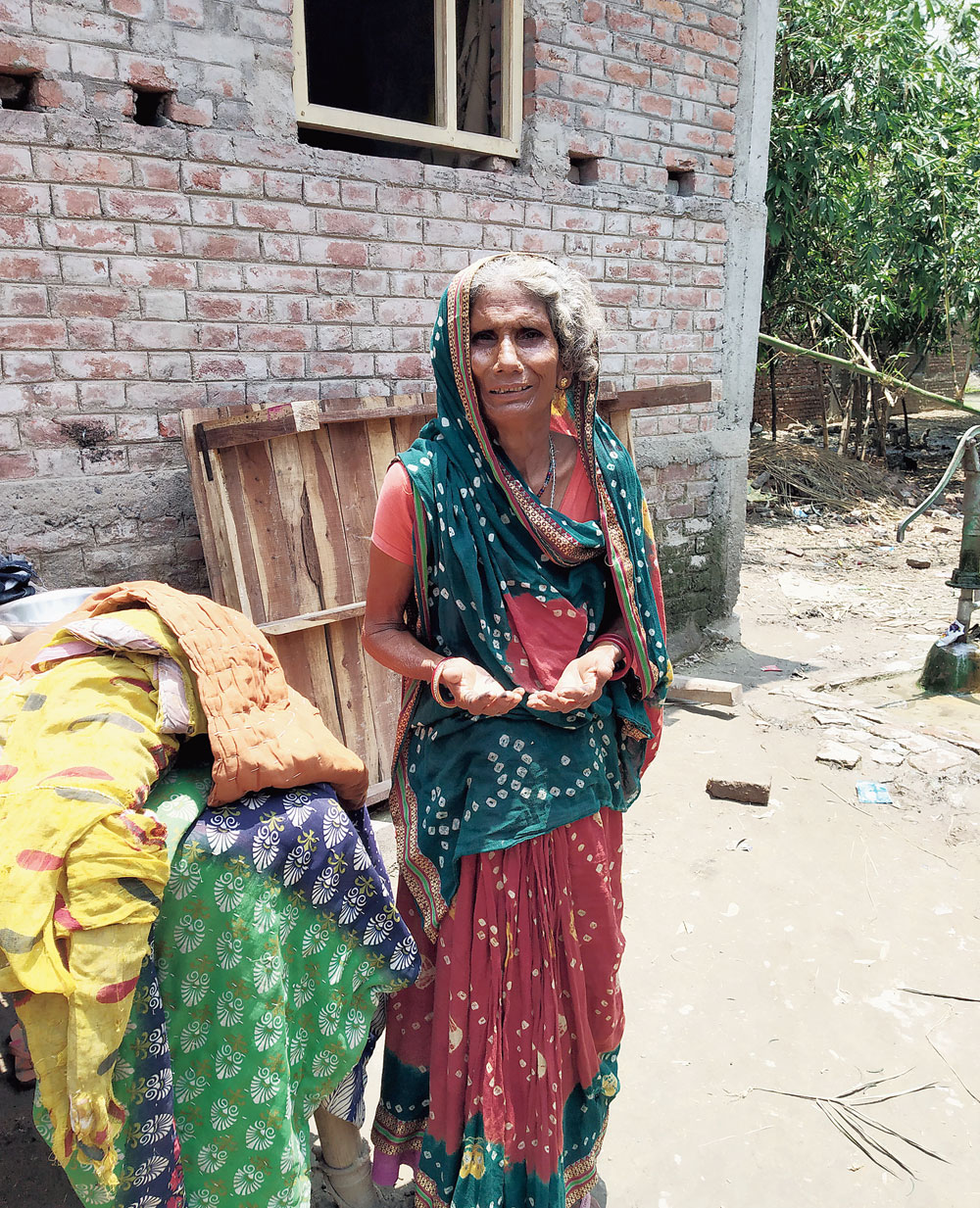 The mother of Raju Nat (Telegraph picture)
Lush-green Paigambarpur and Pithauri Nandlal Tola look mirror images of each other, their rows of thatched roofs punctuated by a few pucca houses, suggesting a dash of prosperity here and there. The language, culture, dress and lifestyles are similar too.
But on Sunday, each has a different story to tell about the same incident.
Naushad's relatives and friends are grieving under a canopy hung outside his home in Paigambarpur. His elder brother Mohammad Azad, head of the joint family, attends courteously to every visitor who arrives to express condolences.
"My brother was no cattle thief. He had a pickup truck and ran a small transport business. He's a victim like Tabrez Ansari who was accused of theft and lynched (in neighbouring Jharkhand)," Azad says.
"He was killed because he was a Muslim. So much hatred permeates society that anything can happen anytime, anywhere."
As his eyes moist over, Azad falls silent. Some prod him to say more — to spill the beans — but he won't. "There's no history of communal violence in this area. I don't want an escalation, so I shall say nothing more," he clams up.
Siraz Ahmad, a panchayat ward member, is more forthcoming. "It's a conspiracy. Why was Vijay Singh, Bajrang Dal activist from our village, present during the lynching?" he asks.
"We have photos and videos (circulated over WhatsApp, apparently by members of the killer mob) showing him at the spot. What was he doing 10km away so early in the morning? Being from our village, why did he not try to save the trio?"
The police must investigate Vijay's activities and phone call details, he says.
"The police? They didn't even visit our home to record statements," says Naushad's nephew Muzaffar Hassan.
Azad finds his voice again. "Some Hindu residents of our village saw them leave at 4.30am. They were intercepted by a mob of 100 to 150 people and killed. That so many had gathered and were waiting for them so early in the morning suggests a planned lynching," he says.
Saran superintendent of police Har Kishore Rai had on Friday said the trio had no criminal cases against them.
Amjad Ali, a former panchayat chief, says Naushad had called him around 4.45am on Friday. "He sounded panicky. He was screaming, saying I should come quickly, else he would be killed. Then I heard some sort of commotion and the line went dead."
When the lynching happened, Naushad's son Jauhar Hussain was in Hyderabad to collect his BTech certificate from the Nizam Group of Institutions, where he studied.
"My father worked hard as a driver and a transporter so that I and my sister could study and my sister could get married," Jauhar tells The Telegraph. "Please support us so that we get justice."
There were gashes on the victims' necks, probably made with axes, Naushad's younger brother Aftab Alam says. "People call us butchers (Qureshis are traditionally butchers) but those who killed my brother were worse than butchers."
The Vishwa Hindu Parishad's north Bihar secretary, Raj Kishore, said: "The Bajrang Dal was not involved in the Saran lynching. Sometimes, people carry saffron towels on their shoulders and call themselves our volunteers."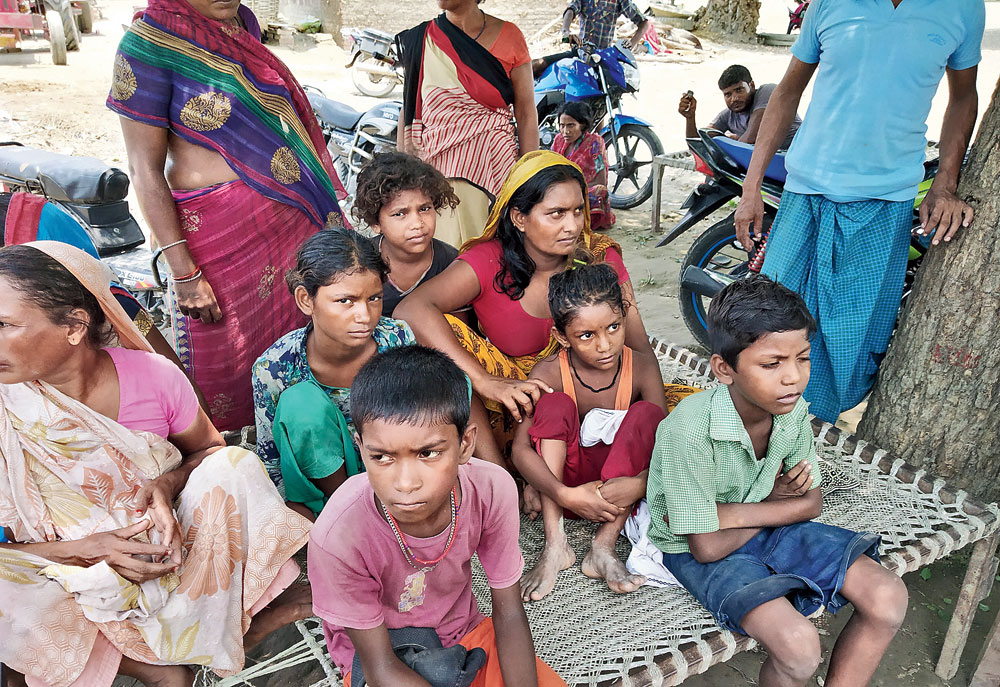 Raju Nat's wife Kanti Devi with her children and relatives (Telegraph picture)
A '2.30am' call
At Raju's home, a short distance away, his wife Kanti Devi sits under a tree with five of her six children — four daughters and two sons — mourning the family's sole breadwinner.
Members of the Scheduled Caste Nat community, who traditionally earned their living as dancers, entertainers, jugglers and gymnasts, have now taken up wage labour, agriculture and petty trade.
Shailesh, elder brother of Videsh, says the family is into the cattle trade, buying cows, buffaloes, bulls and goats from farmers and selling them in animal fairs across Saran district.
"My husband called me early on Friday morning to say a mob in Pithauri Nandlal Tola had caught and tied him up and were planning to kill him. I was in shock," Kanti says between sobs.
She insists the lynching was pre-planned. "Motilal Ram from Pithauri Nandlal Tola had called my husband on his mobile several times on Thursday asking him to buy his two buffaloes. Finally, my husband went there to meet him around 3pm and struck a deal for Rs 35,000."
Kanti says Raju paid an advance of Rs 15,000 and agreed to pay the rest when he took possession of the buffaloes the next morning.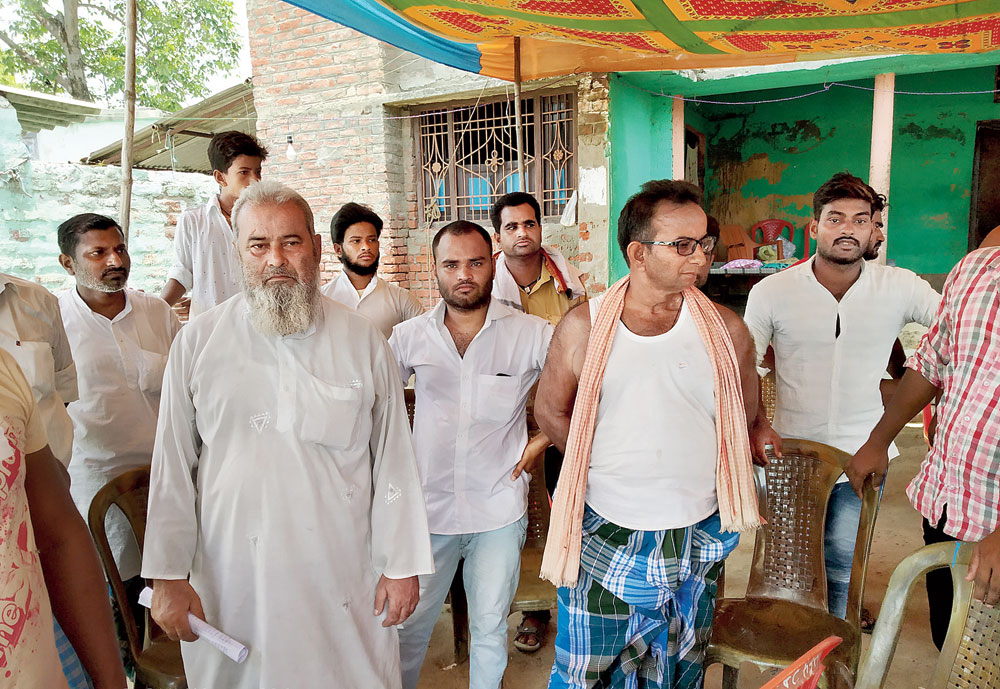 The house of Naushad Qureshi at Paigambarpur (Telegraph picture)
"Around 2.30am on Friday, Motilal phoned my husband again to say it was morning already and he should come and take the buffaloes away," Kanti says. "Raju and Videsh hired Naushad's pickup truck and set out around dawn."
Munna Nat, a family friend and Baniyapur block president of the Mahadalit cell of the Janata Dal United, says Motilal brokers cattle deals against commissions.
"It seems the residents of Pithauri Nandlal Tola hatched a conspiracy," he says, adding that the police had not visited the Nats to record their statements.
In the FIR at Baniyapur police station, the victims' families have accused Shankar Ram, Ramu Kumar Ram, Budh Ram, Bahari Ram, Satya Narayan Ram, Bhola Ram, Patel Sah, Nand Kishore Panheri and 50 to 100 unidentified people of the lynching. Neither Motilal nor Vijay has been named.
At a market on Paigambarpur's fringes, however, a young man points a finger at the three victims.
"Cattle and goat thefts have been happening in the Baniyapur area for a long time. The lynched trio too were involved in the racket," he says.
"We caught them red-handed stealing animals and handed them over to the police, who released them against bribes without registering a case."
When the youth realises he is talking to journalists, he asks not to be identified. Some others in the village say that idol thefts from temples too have sparked resentment.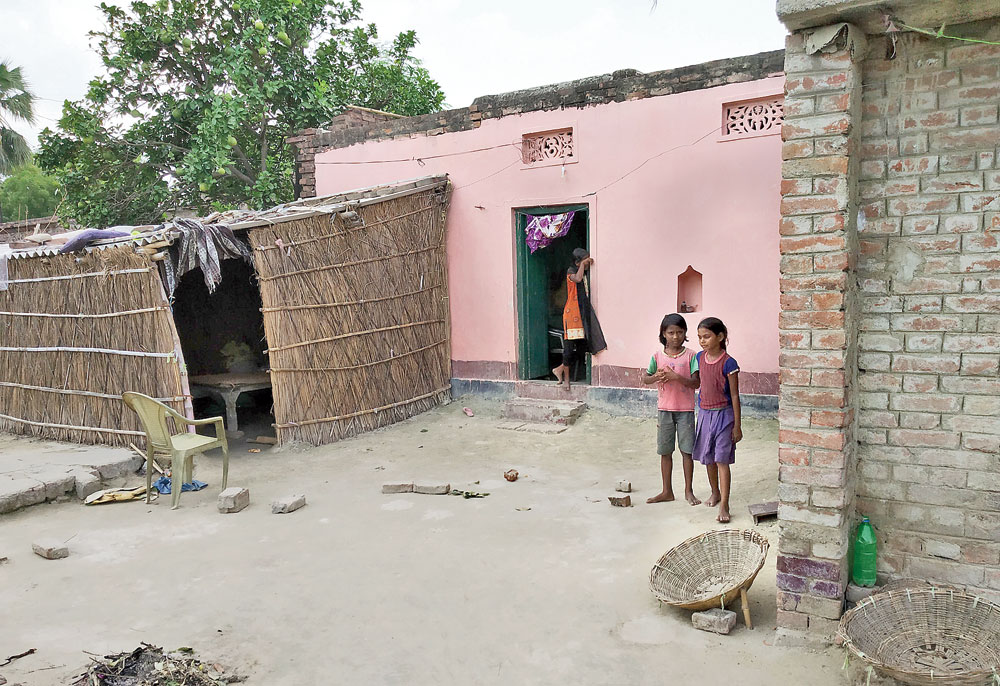 The spot where the three men were lynched in Pithauri Nandlal Tola (Telegraph picture)
Anxious village
Pithauri Nandlal Tola seems on edge. Small knots of women, children and youths are all talking about the lynching. They volunteer the information that Budh Ram's aged mother died on Sunday afternoon after a heart attack.
"Budh Ram and his wife have been arrested, and the other adult family members have been detained for interrogation. The old lady died of shock after learning about all this," says Narayan Ram, a resident.
Fellow villager Dharmendra Ram says people were angry because the theft of cattle and goats had skyrocketed over the past couple of years in the area.
"Everyone knows that the Nat community was behind the cattle thefts," he says. "Raju, Videsh and Naushad came around 2.30am on Friday. They were trying to load one of Budh Ram's buffaloes on their pickup truck but the animal was kicking out and making a racket. It woke the villagers."
Budh Ram has registered an FIR mentioning the time as 2am. The FIR says a fourth person was with the trio and escaped with two of his goats.
Villagers say they are spending sleepless nights fearing reprisals from the relatives of Naushad, Raju and Videsh. A police team has been deployed in Pithauri Nandlal Tola.
Asked why the police haven't recorded the bereaved families' statements, Rai, the Saran SP, points out that the police were at the victims' homes in Paigambarpur during the funerals on Saturday. He promises to dispatch officers to meet the families.
At Baniyapur police station, sub-inspector Dayanand Sah says eight people have been arrested. "We are treating the incident as a theft that led to a thrashing and deaths."
He adds: "The demand for cattle has increased in this time of farm distress. Cows, buffaloes and goats help people survive when farm yields and profits are not good."