Old versus young: Transformation test for Congress
Rahul's letter seeking accountability sets up a challenge for Sonia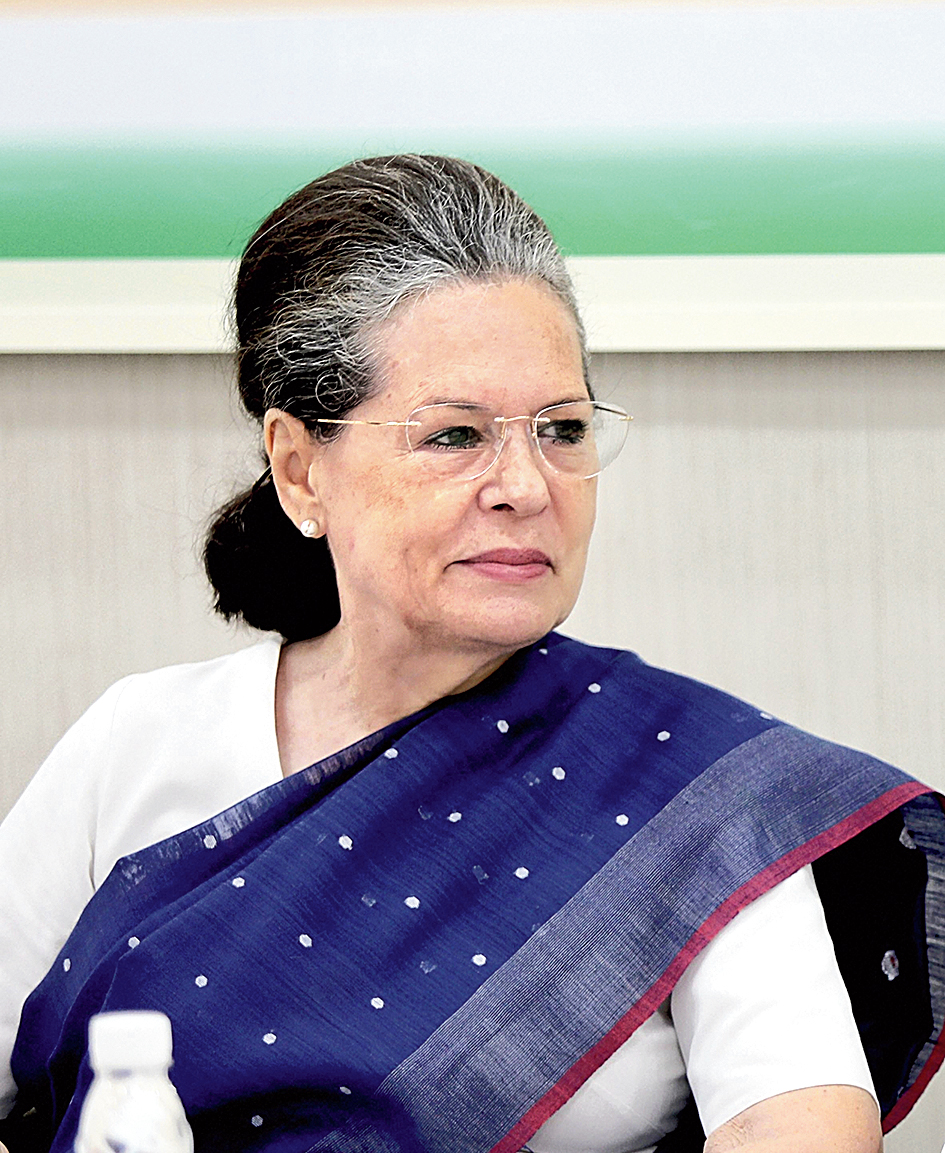 Sonia Gandhi during the Congress Working Committee meeting, at AICC HQ in New Delhi, Saturday, August 10, 2019.
(PTI)
---
New Delhi
|
Published 12.08.19, 10:11 PM
|
---
Sonia Gandhi's return to the helm has generated enormous relief in the Congress but what may become an albatross around her neck is her son Rahul Gandhi's resignation letter that called for a transformation of the party.
Sonia's appointment as interim president owes largely to the party's overriding feeling of disarray and impending disintegration, with most Congress leaders insistent that her intervention alone could offer a sense of stability.
Any other president would have struggled to muster legitimacy and authority, making it a daunting task for them to attempt the much-needed restructuring of the organisation.
Sonia's entry has instantly reduced the fears of internecine wars, desertions and eventual split. But it has also generated anxieties about the continuance of the status quo.
Many in the Congress foresee lobbies pressuring her not to attempt an overhaul, and advising her that this is the time to consolidate, not unsettle the existing structure. But such a stand amounts to discarding Rahul's prescription.
"As president of the Congress party, I am responsible for the loss of the 2019 election," Rahul wrote in his resignation letter.
"Accountability is critical for the future growth of our party. It is for this reason that I have resigned as Congress president. Rebuilding the party requires hard decisions and numerous people will have to be made accountable for the failure of 2019."
Some of those who played leading roles in Sonia's reinstatement were among the architects of the party's 2019 campaign, and Rahul would definitely have had them in mind while expressing his desire to enforce accountability.
Arguing that the Congress must transform itself, Rahul wrote: "It is a habit in India that the powerful cling to power, no one sacrifices power. But we will not defeat our opponents without sacrificing the desire for power and fighting a deeper ideological battle."
Rahul virtually put some of these leaders in the dock by confessing in his letter: "At times, I stood completely alone and am extremely proud of it."
If Sonia chooses not to enforce the principle of accountability, she would be failing not only Rahul but also the party ranks who are aggressively seeking change.
"Sonia will dilute her own legitimacy by maintaining status quo. Without an overhaul, no form of messaging will assuage the workers," a party veteran argued.
So, the main question is, can Sonia show the required toughness?
While both Indira Gandhi and Rajiv Gandhi had created new leaderships, Sonia had relied on the entrenched hierarchy to stem the rot between 1998, when she stepped in, and 2004 when her supremacy got established.
Rahul tried hard to bring in fresh faces but couldn't build a team that could be called entirely his own. After much internal tumult, he settled for a mix that he wasn't fully satisfied with.
Sources have indicated that the objects of Rahul's exasperation, which led to his exit, were not just the veteran Sonia loyalists but also some of his own picks who had failed to deliver.
He was, however, in no position to undertake a revamp after the debilitating defeat that also undermined his own authority.
Rahul, therefore, chose to resign hoping to encourage a complete purge, but the entrenched interests have so far shown no desire to aid the process of transformation.
Many party seniors admit that Sonia's return wouldn't automatically end the crisis. "The Sonia of 2019 isn't the Sonia of 2004; her capacity to take risks and tough decisions must have reduced significantly," a party veteran said.
"Also, the preferences and clout of Rahul and Priyanka (Gandhi Vadra) cannot easily be wished away. There will be countervailing forces tying up her hands. Poaching by the BJP will deter her from acting tough. She may prefer to buy time."
That, however, will not lift the sense of demoralisation that is enervating party workers.
Sonia has, in a sense, accepted the position of interim president in defiance of the wishes of Rahul, who had said that none from his family would accept the job.
There have been murmurs about differences within the family over Rahul's stand. While Sonia and Priyanka are said to have favoured a more pragmatic approach, Rahul has been seen as a man swayed by emotions.
Still, Sonia may find it hard to completely ignore Rahul's concerns if his services are to be used effectively in future political battles.
Rahul tends to be rigid about principles, and his interest in leadership is likely to diminish if his agenda of radical transformation gets buried. Sources say Sonia will have to make at least some changes, and sooner rather than later, to scotch any perception of "business as usual".
Despite being an interim president, Sonia will need to continue for some time, anyway. With Assembly polls due in Maharashtra and Haryana later this year, followed by elections in Bihar, Jharkhand and Delhi early next year, the party may not be able to hold organisational elections. So, a full-fledged president may come only after mid-2020.
But the desperation in the ranks suggests the party cannot wait till then to carry out the restructuring.