Odisha forest department deploys thermal drone to track tuskers
Our staff are acquainted with the movement of the 160 elephants that generally reside in the dense forests of the district: DFO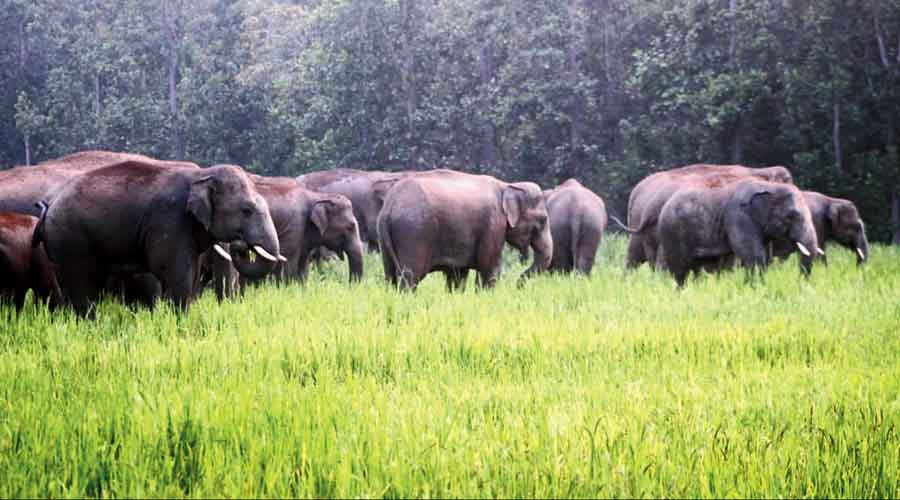 Representational image.
File picture
---
Bhubaneswar
|
Published 07.12.22, 03:52 AM
|
---
The Odisha forest department has deployed a thermal drone to track the movement of elephants in dense forests of the mineral-rich Keonjhar district at night in a first-of-its-kind experiment in the state.
Divisional forest officer (DFO) of Keonjhar, D. D. Hanumant, told The Telegraph: "Using drone-based thermal sensing, we can monitor the herd's movement. The drone detects the live objects and also records the temperature of the live objects. The shape of the object also flashes on the computer screen. So it's helpful for us."
While two drones are being used during the daytime to check the movement of elephants, the thermal drone is being used at night. "Our staff are acquainted with the movement of the 160 elephants that generally reside in the dense forests of the district. Elephants are mostly nocturnal animals. They move out of the forest at night and march towards human habitation in search of food. So using the thermal drone, the forest guards will monitor the movement of the elephants," Hanumant said.
Elephants move towards human habitation,  particularly during winter, to feed on paddy and other crops. 
The drones have the facility to put a spotlight from a height on the herd and can scare the herd. "We usually put a recorded message in the drone and play it from a height. With the help of the spotlight and the recorded message — be it the sound of a siren or the human voice that we play using the drone — we are able to scare the elephants. With this technology, we have been successful in stopping the elephant herds from moving towards human habitations."
He said drones were used to detect the exact number of elephants, their babies and the tuskers in a particular herd. "It's not easy to count the number of elephants manually but the drone reveals the exact number of elephants in a herd. Once we know the number, we can accordingly chalk out our strategy and deploy our officials to stop their movement towards a village."
Forest officials also pointed out that drones are being effectively used to detect poachers too. "Poachers will be scared to enter the forests once they know that they will come under vigil through the drone pictures."
The drone has the capacity to survey an area of 5km at a height of 300 metres.