Odisha bid to trace patient's co-passengers on train
33-year-old researcher, who returned from Italy, is state's first Covid-19 case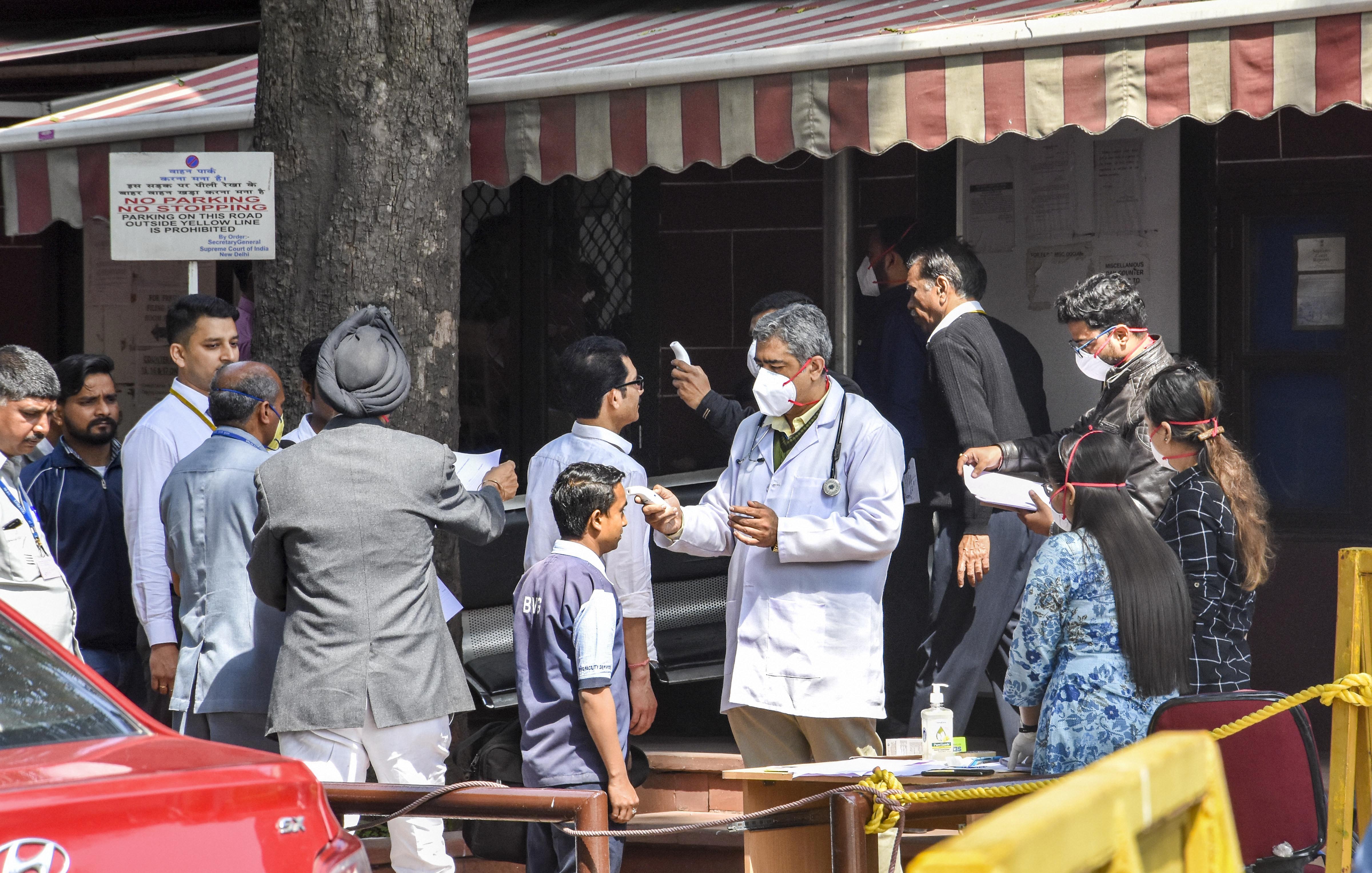 Members of Delhi government health department use screening devices on visitors in the wake of coronavirus, at the entrance of Supreme Court in New Delhi, Monday, March 16, 2020
PTI
---
New Delhi
|
Published 16.03.20, 07:34 AM
|
---
Odisha has initiated an effort to trace fellow passengers of a researcher from Italy, who tested positive for coronavirus on Monday after traveling to Bhubaneswar by train from Delhi, a state government official has said.
The man, believed to be the first confirmed case of novel coronavirus reported in Odisha, recently returned from Italy.
"The 33-year-old man is being treated at Capital Hospital in Bhubaneswar. His condition is stable and he is not showing any other complications," state government's chief spokesperson on coronavirus cases Subroto Bagchi told reporters.
The patient reached Delhi from Italy on March 6 and travelled to Bhubaneswar by train on March 12. He consulted a doctor on March 13, complaining of fever and headache, he said.
"The man then went to Capital Hospital on March 14 where he was admitted to the isolation ward. His blood and swab samples were sent for medical examination and tests confirmed he is infected by novel coronavirus," Bagchi said.
As the man travelled by train from Delhi to Bhubaneswar, the state government launched a "contact tracing exercise", Bagchi, also the chairman of Odisha Skill Development Authority, said.
Efforts are on to trace all the people who are suspected to have come in contact with him, the official said. His family members have been quarantined and kept under observation.
Data of all those people who travelled with the researcher on the train is being collected so that they can be tracked and quarantined too, Bagchi added.
According to the Union health ministry officials, the number of coronavirus cases in India has risen to 114.
Apart from Odisha, one new case each was reported from Ladakh, Jammu and Kashmir, and Kerala, officials said on Monday.
The number includes 13 people who have been discharged after they recovered and two fatalities, they said.
Delhi has so far reported seven positive cases, Kerala 23 and Uttar Pradesh 12. Karnataka has six coronavirus patients, while Ladakh four and Jammu and Kashmir has three. Telangana reported three cases. Rajasthan also reported two cases. Tamil Nadu, Andhra Pradesh and Punjab have reported one case each.

Other latest updates:
Prime Minister Narendra Modi says there has been a coordinated response to the coronavirus outbreak and asserted that "no stone is being left unturned" to ensure people are healthy
The ongoing budget session of the West Bengal Assembly has been cut short and there will be no sittings of the House after Tuesday, says Speaker Biman Banerjee
Delhi chief minister Arvind Kejriwal says religious, social, cultural and political gatherings comprising over 50 people will not be allowed in the national capital till March 31
Assam government orders shutting of protected areas in the state
A large oil and gas conference which draws tens of thousands of visitors each year from around the world, including India, postponed in Houston, US
The ongoing budget session of the Bihar Assembly has been cut short and there will be no sittings of the House, says Speaker Vijay Kumar Chaudhary
Pakistan and Bangladesh cricket boards postpone the upcoming One-Day International and Test in Karachi indefinitely.
Lawyers, litigants and media personnel were thermal-screened in the Supreme Court on Monday amid coronavirus scare
Due to coronavirus, most airlines in the world will be bankrupt by the end of May, unless there is coordinated govt-industry action, says global aviation consultancy firm CAPA
Three of the 236 people who were evacuated from Iran on Sunday were checked for coronavirus and tested negative, officials said
Ukrainian-born actor-model Olga Kurylenko says she has tested positive for coronavirus
The coronavirus death toll in China rose to 3,213 with 14 new fatalities, while the imported cases climbed to 123 after 12 new infections were reported
New York closes public schools, limits services at restaurants to combat Covid-19. Sylvester Stallone-starrer 'Samaritan' on two-week hiatus over coronavirus outbreak
US Center for Disease Control (CDC) recommends postponement or cancellation of events with expected gathering of 50 people or more for next eight weeks amid stepped up efforts to contain the spread of the coronavirus
Fourth batch of 53 Indians returned to India from Iran, taking the total number of people evacuated from the coronavirus-hit country to 389
Three of the biggest annual charity and cultural events in South Africa organised by the local Indian community cancelled
South Africa announces a National State of Disaster as number of people infected by coronavirus reached 61
US Secretary of State Mike Pompeo and India's External Affairs Minister S Jaishankar have held a discussion on the coronavirus crisis over the phone, the US State Department said