NRC: Amit Shah rakes up Mamata's Parliament paper-throwing spectacle
Shah calls for the dispatch of 'ghuspethis', says Mamata has changed her stand on Bangladeshi migrants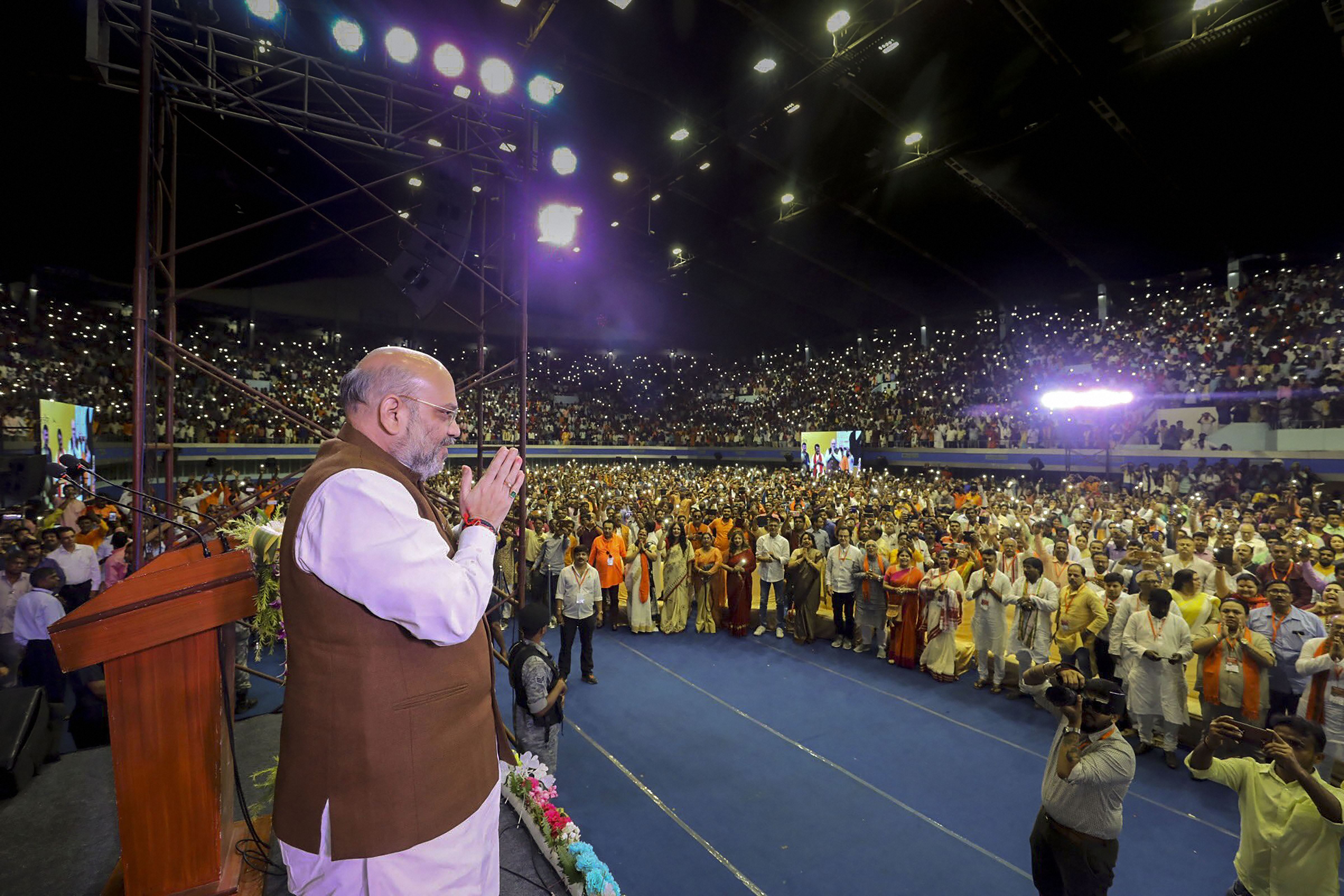 ---
---
BJP chief Amit Shah on Tuesday reminded Bengal chief minister Mamata Banerjee about her paper throwing spectacle in the Lok Sabha in 2005 and mocked her changed stand on Muslim Bangladeshi migrants.
"I just want to remind Mamatadi about her speech in 2005, on 4 August 2005. Ek baar aankh khol kar, TV chala kar, phir se aap ka bhashan dekh lo Mamatadi. Ghuspethiyon ke liye aap kya keh rahi thi aur aaj kya keh rahi ho (for once open your eyes, switch on your TV and watch your speech again, Mamatadi. Watch what you had said about infiltrators then and what are you saying today)," Shah said smiling.
"I have come today to assure the people of Bengal. I have come to assure all refugees – Hindus, Buddhists, Sikhs, Jains, and Christians – especially the Hindu refugees because their numbers are high, that they will not be asked to leave India," he thundered.

All through the speech, the BJP chief used 'sharanarthi (asylum seeker)' to refer to Hindu, Sikh, Christian, Buddhist and Jain migrants from other countries. The citizenship amendment bill will protect their rights, Shah assured them. But there were others - the 'ghuspethis (infiltrators)' - whom Shah did not name, but there is little doubt that he meant Muslims.
If it was unclear to anyone the 'ghuspethi' was, the context behind Mamata's rage in the Lok Sabha on August 4, 2005, made it clear.

That day, the Trinamul chief hurled a sheaf of papers at the Speaker's chair when she wasn't allowed to raise the subject of illegal Bangladeshi migrants. Deputy Speaker Charanjit Singh Atwal was in the chair when it happened.
According to a report by The Telegraph that same day, Mamata had said in the House: "Illegal migrants from Bangladesh are also part of the voters' list in West Bengal. The state government has done nothing about it. Therefore, the issue must be discussed."
Mamata then accused the Speaker -- the CPM's Somnath Chatterjee -- of being politically biased and said that "whenever I want to raise an issue, I am not allowed to speak." Her comment was expunged.

But what couldn't be expunged in the age of television was the visual of Mamata throwing papers at the Deputy Speaker. This led to an uproar in the House with protests from members of the Left parties, which is recorded in the session's archives on the Lok Sabha website.
"She should come and apologise before the House," CPM leader and then Jadavpur MP Sujan Chakraborty said, calling her action a deliberate insult to the Lok Sabha.
Mamata later 'resigned' and left the Lok Sabha. She told reporters that there was no point in being a member of the House if she was not allowed to raise people's issues.
Later, Somnath addressed the issue from the chair. "I was not here when some incident happened but I had the occasion to see the television footage on this," he said. "It has been attributed to me that I have taken a decision on the basis of my political affiliation. I wish to strongly refute it." He also rejected the resignation because it wasn't a proper quit letter.
Shah today claimed Mamata was misleading Hindu refugees by saying that they would have to leave if the NRC was implemented in the state. Mamata has publicly opposed an NRC-like exercise in Bengal. Recent deaths in some Bengal districts have been attributed to the dread surrounding the NRC, a citizenship verification exercise done in Assam that has left 19 lakh people there stateless.
Since the release of the NRC, a view has gained ground that many who are not on the list in Assam are Hindus and the citizenship amendment bill would be brought by the Centre to safeguard their rights, but at the same time it would leave out Muslims facing banishment to detention camps.
Shah today said there cannot be a greater lie than Mamata's stand on the NRC.