Nirav faces long stretch
Wandsworth prison is likely to be Nirav's home for months, possibly a year or even longer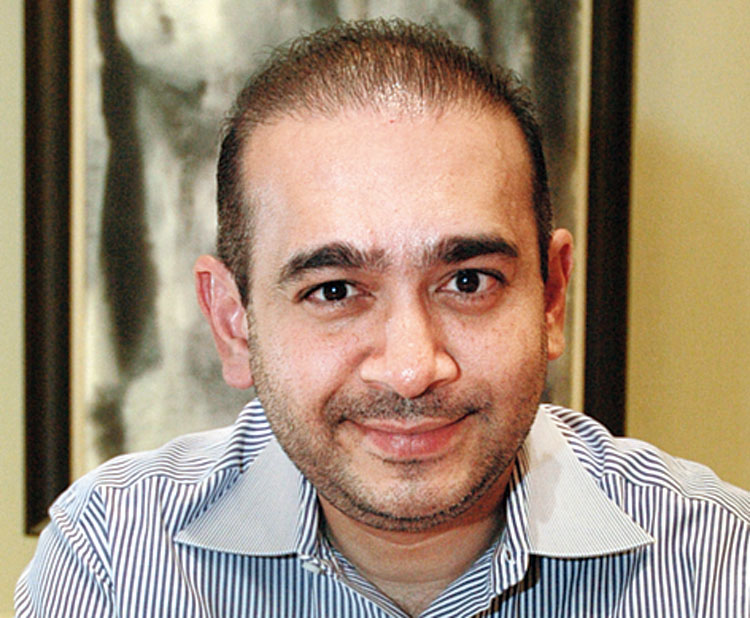 ---
|
London
|
Published 29.03.19, 08:53 PM
---
Nirav Modi returned to Wandsworth prison in southwest London on Friday afternoon after being denied bail at the Westminster Magistrates' Court.
This is likely to be his home for months, possibly a year or even longer.
"I find that there are substantial grounds to fear failure to surrender," ruled chief magistrate Emma Arbuthnot, who had spent a year presiding over Vijay Mallya's case and can now look forward to a similar period dealing with the 48-year-old diamond jeweller.
Toby Cadman, a barrister appearing for the Crown Prosecution Service on behalf of the Indian authorities, argued that Nirav could not be granted bail because he might interfere with witnesses and destroy evidence.
Nirav's counsel, Clare Montgomery, QC, had also represented Mallya, who was given bail.
She has the option of appealing in the next two weeks to the high court against Friday's bail decision but for now it looks as though Nirav faces a long stretch in Wandsworth, which Montgomery described as a "difficult" prison.
Arbuthnot said she had no power to send him somewhere less disagreeable.
Nirav's next appearance will be on April 26 by video link from Wandsworth. He will be allocated only 15 minutes for what will be a routine session.
Another important date is May 24 for a "case management" session. This is the deadline set by the chief magistrate for the Indian government to submit its documentary evidence against Nirav in better shape.
They were sent in such poor order that "it made me want to cry", she confessed at stage. "Real tears," Montgomery agreed.
At one stage, Arbuthnot joked with Nirav's lawyer that if he was extradited to Mumbai, he might find himself in the same prison and cell as Mallya.
Such was the crush in Court No. 3 that Arbuthnot moved the Nirav hearing to the more spacious Court No. 1 where she had presided over the Mallya case.
After nine days in custody in Wandsworth prison, Nirav appeared in a white shirt and dark trousers. There were no obvious signs of distress. He has retained his moustache but got rid of the unshaven look. All in all, this was the Nirav who had appeared with various models flaunting his diamonds.
Given the nature of his business, Nirav had in his possession "diamonds, gold and pearls", said Cadman, when presenting the prosecution case. Arbuthnot asked: "Of substantial value?"
Cadman nodded: "Of substantial value."
Nirav had applied for the citizenship in the Pacific island of Vanuatu in 2017 by offering $200,000 as a high value individual.
Montgomery said that Nirav had not left the UK since he arrived in the country in January 2018. Cadman contradicted this, saying Nirav had gone to New York in February last year. This could have been because his son had gone to the US for further studies.
Montgomery said it was Nirav's intention to establish a base for his business in London and he only found out that the Punjab National Bank had decided to deny him lending facilities on a routine visit to a London branch of the bank on January 16, 2018. This was confirmed on a second visit to the branch three days later.
She made it clear that Nirav had not fled India but was in London legitimately.
Montgomery said there was no evidence to support the claims of witness intimidation. He was willing to put up a surety of £1m, be electronically tagged and report frequently to his nearest police station in Savile Row (better known for bespoke tailoring).
Arbuthnot was not persuaded. She pointed to the figures involved in the alleged fraud — "one to two billion dollars" — plus the fact that Nirav had applied for citizenship in Vanuatu.
Nirav stood up as she told him with her customary politeness that she was denying him bail. His access to his legal team would be restricted to three one-hour sessions a week.