Neta gag: Supreme Court begins hearings
Court to decide if politicians can speak on pending cases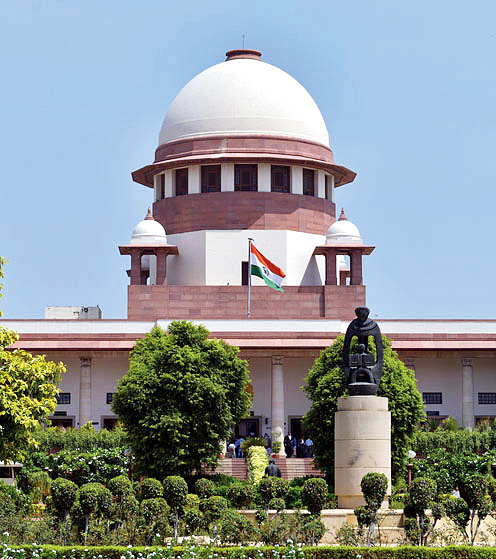 The Supreme Court of India
The Telegraph file picture
---
New Delhi
|
Published 23.10.19, 11:59 PM
|
---
A five-judge constitution bench on Wednesday commenced hearing on the question whether elected representatives and politicians can be restrained from making statements in pending criminal matters and, if so, would it affect the fundamental right of free speech.
The issue has arisen for consideration after then Samajwadi Party minister Azam Khan claimed in 2017 that the July 28, 2016, gang rape of a woman and her teenaged daughter in Uttar Pradesh's Bulandshahr district was "politically motivated".
The crime had been committed in front of the older woman's husband and had triggered tensions in the area as the victims and the accused belonged to different communities.
Aggrieved by Khan's statement, the victims' family had moved the top court in 2017 alleging that the comments had prejudiced the case against the prosecution. The case was subsequently transferred to the CBI.
The apex court had decided to examine the larger issue relating to an elected representative making such controversial statements during the pendency of criminal matters. It had appointed two senior advocates, Fali Nariman and Harish Salve, to assist the court as amicus curiae.The following questions had been framed for consideration by the five-judge bench on the suggestions of the two advocates:
 Whether any restrictions can be imposed on the right to freedom of speech and expression, excluding Article 19(2), and if so, to what extent
(Article 19(2) grants the government the power to impose reasonable restrictions on this fundamental right.)
Whether greater restrictions on Article 19(1)(a) (freedom of speech) can be imposed on persons holding high office
Whether Article 21, relating to protection of life and liberty, can be imposed on individuals and private corporations. The provision can now be invoked by a citizen only against the State
Whether the State can proceed against individual politicians/public representatives under other statutory provisions for making inflammatory speeches.
Appearing before the bench of Justices Arun Mishra, Indira Banerjee, Vineet Saran, M.R. Shah and Ravindra Bhat, attorney-general K.K. Venugopal on Wednesday said the court must examine whether the State's power to impose reasonable restrictions under Article 19(2) should be expanded.
"Should ministers in position of power restrict their right to free speech, especially in a sensitive probe or trial? Can we introduce further restrictions? Can restrictions on people holding high positions be introduced?" Venugopal asked, arguing that restrictions can be imposed only through a separate statutory provision. Alternatively, he said, an aggrieved person can file a civil or defamation suit.
Justice Mishra asked whether a public representative's right to free speech can be restricted by invoking Article 21. "Can a person's right to free speech be curbed on the ground that it affects another's right to lead a dignified life under Article 21?" Justice Mishra asked.
Venugopal replied: "According to me, without a law, (Article) 21 cannot come into play. So far as (Article) 21 is concerned, your lordships have declared that it is a right which entails living a life with dignity, not merely animal existence."
Justice Bhat wondered as to how the State can impose restrictions on the freedom of speech of public figures without any specific law governing the issue. Alternatively, Justice Bhat pointed out, an aggrieved citizen can invoke other remedies available under general civil and criminal laws.
The arguments will resume on Thursday when senior advocate Harish Salve makes his submissions.