Neglected shepherds ask: Kuchh milega kya?
'Actually we never get anything from the government, but the hope is always there that someday some official will come to us, ask about our problems, and give us something to make us happy'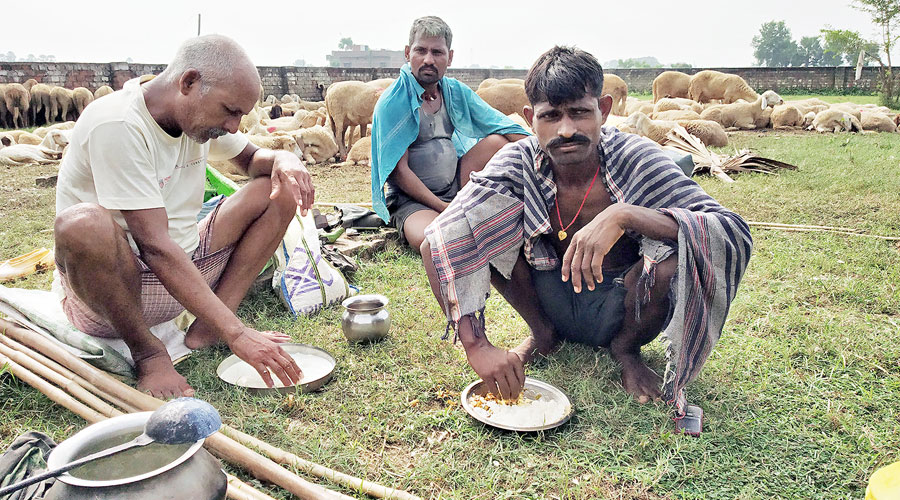 ---
---
Away from the cacophony of highways and the Assembly elections in Jehanabad district of Bihar, a small group of shepherds, locally known as gareria, was having an early lunch. Their flock of around 300 sheep was ruminating nearby after grazing the entire morning on fields sporting a fresh coat of monsoon green.
It is a part of their lifestyle to cook on the go and camp under the open sky or a tree, or beneath a shelter of polythene sheets. They could return to their villages only after a gap of several days while moving with the herd.
As we approach, they stop eating for a while. One of them, Raj Kishore Pal, eagerly asks, "Kuchh milega kya? (Will we get something?)"
He guffaws when the answer is negative.
"Actually we never get anything from the government, but the hope is always there that someday some official will come to us, ask about our problems, and give us something to make us happy. Our sheep die without treatment, but no official or doctor ever bothers," said Raj Kishore.
These shepherds are from Ainma and Nizamdipur villages in Kako and Jehanabad blocks, respectively. They team up while going out to graze the sheep. Theirs is a hard life for they have to take out the flock every single day of the year, be it rain, shine, or winter — living on the fringes of the society.
Raj Kishore's comments opened a Pandora's box of complaints. The shepherds rued their fate and life.
"When these animals fall ill, the veterinary doctors do not come despite sending messages. We just use some medicines adopting a trial and error method. The sheep survive if the medicines suit them or else they die. The number of stray dogs has increased phenomenally over the last couple of decades. They attack and kill sheep, especially lambs," Pramod Kumar Pal, 56, told The Telegraph.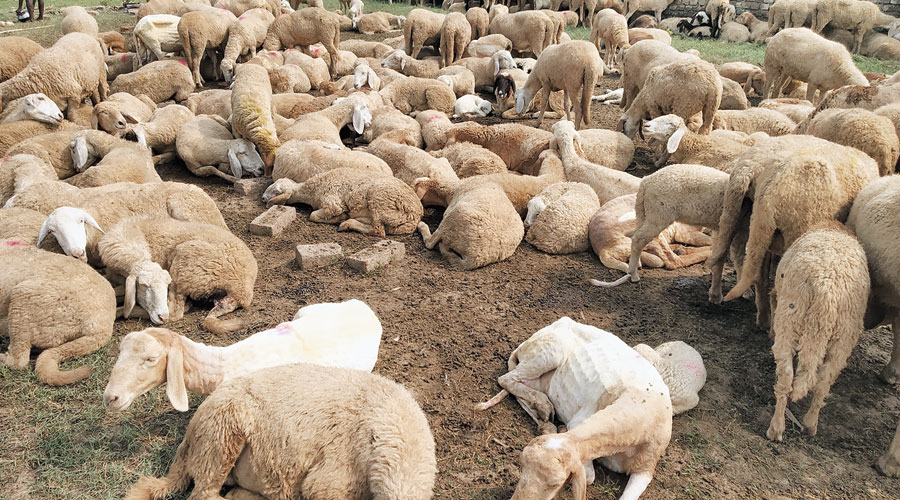 "The polls have no meaning for us, but the hope for betterment encourages us to vote. Governments have come and gone, but our problems kept on increasing. When the RJD was in power and Lalu Prasad was the chief minister, some people used to say that he was from our caste. But he did not do anything for us. Then Nitish Kumar came and nothing improved. We are slipping behind every passing day," said Munna Pal.
Jehanabad and Ghosi constituencies vote on October 28.
But Munna or the shepherds in his group have no idea about who all are contesting from the constituencies. The Jehanabad seat is going to witness a fight between Nitish's Janata Dal United MLA and minister K.N. Verma and Opposition Rashtriya Janata Dal leader Suday Yadav. Rambali Yadav of the CPI-ML and Rahul Kumar of the JDU are pitted against each other on the Ghosi seat.
However, Munna has a point. The economic system in which the shepherds survived has collapsed, leaving limited avenues of income.
Till a couple of decades ago, farmers all over Bihar used to invite the shepherds to rest their flocks in their fields before the sowing season in lieu of foodgrains or some money. Sheep manure is rich in phosphorus and potassium, and serves as an excellent organic, slow-release fertiliser. It is also low in odour. However, this custom is over because of inorganic, synthetic fertilisers and their easy to use method.
The system of wool collection is over and blanket weaving is also plummeting. Earlier, traders from different parts of Bihar and other states would come to buy wool, but they have vanished now.
"We used to sell wool at Rs 50 per kg till around 15 years ago. But with no buyers, we now just shear the sheep and leave the wool on the ground. Each grown-up sheep can yield up to 200-250 grams of wool every time it is sheared," said Chandrika Prasad, a shepherd from Sarthua Sarai village in Nalanda district. He and his mates were cutting the wool in a low-lying grass field near Ekangarsarai.
Earlier, the shepherds used to weave blankets on rudimentary looms kept at home, and sell them at fairs or in the market. But the demand is gone.
"People prefer synthetic blankets because they are soft and colourful. Moreover, weaving blankets has become unprofitable for us. It takes a person five to six days to weave a pure wool blanket, but it fetches just Rs 500-700 in the market. If the same person works as a labourer, he could earn Rs 300-400 in a day," Chandrika said.