Navy ex-chief Ramdas rebuts Modi's charge of Rajiv Gandhi's holiday on warship
No ships were specially diverted for the personal use of the Gandhi family, said former navy chief Admiral L. Ramdas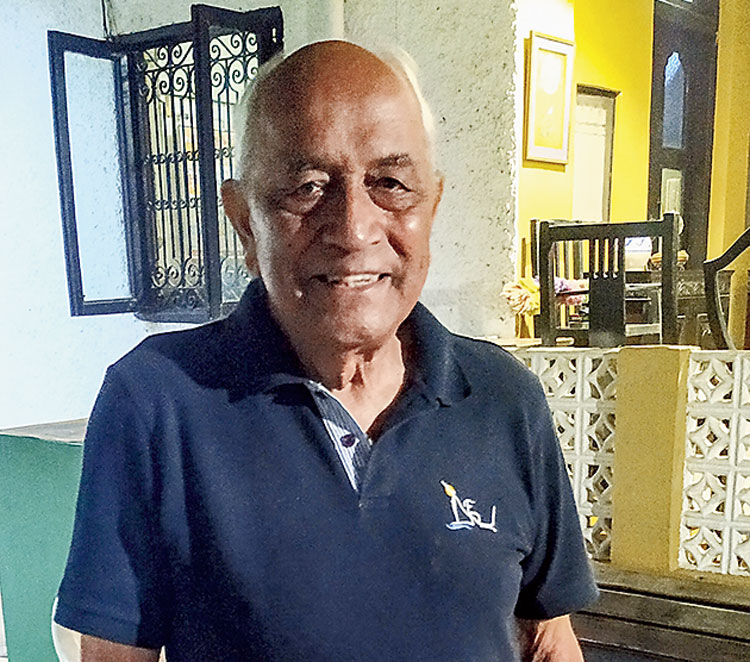 ---
---
Former navy chief Admiral L. Ramdas on Thursday contradicted Prime Minister Narendra Modi's claim that late Prime Minister Rajiv Gandhi had used the aircraft carrier INS Viraat as a "family taxi" with his in-laws during a vacation on the Lakshadweep islands.
"No ships were specially diverted for the personal use of the Gandhi family. Only one small helicopter was left at Kav(a)ratti (one of the islands) to meet any emergency medical requirements of the PM and his wife," Ramdas said in a media statement, describing the events of December 1987.
At a rally here on Wednesday, Modi had accused Rajiv of using INS Viraat for a holiday trip to Lakshadweep with his family and Italian in-laws.
"I am drawing on written responses from V(ice) Admiral Pasricha — then Capt and commanding officer INS Viraat, Admiral Arun Prakash — commanding INS Vindhyagiri, which was accompanying INS Viraat, and Vice Admiral Madanjit Singh — commanding officer of INS Ganga. I am also referring to a note from an officer who was then the Naval Officer in Charge of Lakshadweep islands," the statement said.
Ramdas said that Rajiv and Sonia had got on board INS Viraat off Trivandrum (Thiruvananthapuram). "There were no foreigners with them," nor was it a private holiday trip, the statement said.
"The Prime Minister was at Trivandrum as chief guest for the National Games prize distribution. He was going to Lakshadweep on official duty, to chair a meeting of IDA (Islands Development Authority). This meeting is held alternately in Lakshadweep and in (the) Andamans."
Ramdas added: "I, as Flag officer Commanding in Chief, Southern Naval Command, based in Cochin, also boarded INS Viraat. Four other ships were with INS Viraat as part of Fleet Exercises. As FoC in C, I hosted a dinner for them on board INS Viraat. There were no other parties held on board INS Viraat or for that matter any other ship in our fleet during that time."
The statement said that Rajiv and Sonia had visited some of the islands "on short trips by helicopter to meet local officials, as also the people there", adding: "(The) PM is authorised to travel along with his spouse by service aircraft on official duties."
Ramdas added: "From what I know only Rajiv and Sonia went ashore by helicopter and Rahul never accompanied them. During his visit to Bangaram on the last day, a few naval divers had been sent ashore for the PM's safety.
"These meetings and functions were in December 1987. The Western Fleet had planned its naval exercises with the aircraft carrier much in advance in the yearly exercise programme to be held in that part of the Arabian Sea. This was an opportunity for the officers and men to interact with their PM. He addressed the men, had 'bada khana' as per naval custom.
"I then hosted a dinner for the Prime Minister that night. And there is a photograph to confirm this."
In response to reporters' questions whether there were any people from Italy on board INS Viraat, Ramdas snapped: "Laddu the, Laddu. Laddu jaante ho? Pede the. Aur kuchh nahin tha. (There were laddus, do you know laddus? There were pede (another sweet). Nothing else."
"Presumably", Ramdas suggested, Modi's "comments were based on a report by Anita Pratap on (sic) India Today" at the time. In his media statement, Ramdas has provided a link to an Internet copy of the report.
Wajahat Habibullah, who was the Lakshadweep administrator at the time, too rebutted Modi's claim.
"As the administrator, I had to organise a meeting of the Island Development Authority in Kavaratti…. During this visit, the former Prime Minister also had to inaugurate the Island Development Council, followed by (a) meeting of the Union cabinet. The entire cabinet had come down. Since all the Union ministers were on the island, the INS Viraat was stationed in the waters around for national security," Habibullah said.
"None of Rajiv's friends went on the INS Viraat. After the meeting, Rajiv Gandhi decided to stay on for a couple of days to take a holiday with his family. After the meeting was over, Rajiv's relatives, that is, Sonia Gandhi's sister and her husband, friends, including Amitabh Bachchan and Jaya Bachchan, came to Lakshadweep.
"None of them even went to Kavaratti. They took the helicopter services from Kochi to Bangaram, where they were staying at the guesthouse. If anyone has any doubt, they should check with Amitabh Bachchan."