Nation now known for conflicts: Rahul Gandhi
Rahul has tried to contest the BJP's claim that Prime Minister Narendra Modi enhanced India's prestige in the world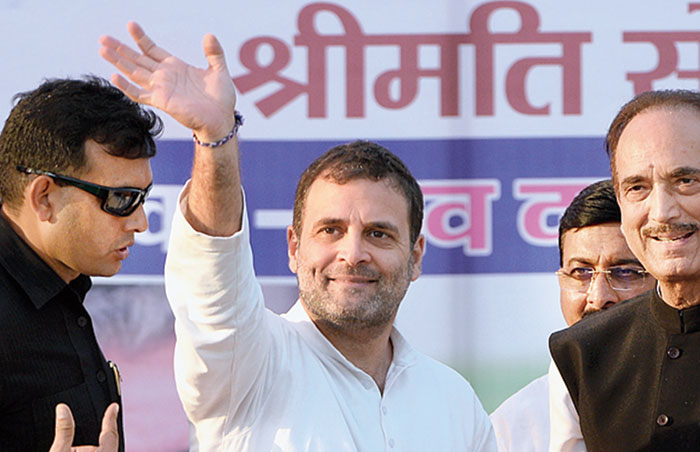 ---
---
Congress president Sonia Gandhi had to cancel her first election rally in Haryana, forcing Rahul Gandhi to step in to bolster the party's efforts a day before the campaign ends. Sonia is suffering from viral fever.
Addressing the rally in Mahendragarh, Rahul said India was becoming a mockery on the global stage because of what is happening today. "Puri duniyan mein Bharat ka majak udaya ja raha hai. India, which guided the world with the message of peaceful coexistence, is now known for conflicts on caste and religious lines. India's economy is ruined," the former Congress president said.
Rahul has tried to contest the BJP's claim that Prime Minister Narendra Modi enhanced India's prestige in the world. The Prime Minister himself has been saying in election rallies in Maharashtra and Haryana that the majesty of a resurgent India was now being manifested on the global stage.
He was particularly referring to the grand show at Houston, which was attended by President Donald Trump.
The Congress has often said that organising such events on foreign soil was not an essential or desirable aspect of international diplomacy and this has not yielded anything substantial for the country except serving the purpose of Modi's personal branding.
The Congress has also cited recent developments where Kashmir was discussed on international forums and concerns were expressed by some important countries, apart from the cloud on India's growth prospects and questions about the credibility of official data.
Warning against a deepening economic crisis in the coming months, Rahul said: "Manmohan Singh managed the economy so well for 10 years to sustain a high growth trajectory. Schemes like MNREGA and farm loan waiver increased the purchase potential in rural areas and triggered economic activities. But Modi has no understanding of economics. He snatches money from the poor and middle-level businessmen and gives it to 15-20 top industrialists."
Recalling how benefits of lakhs of crore of rupees were given to corporates, Rahul said: "There is no other way of reviving economic growth than putting money into the pockets of the poor. Nyay (minimum income guarantee scheme that the Congress proposed in parliamentary election) would have done that. But that did not happen because Modi won the election. You all know how he won by diverting the attention from real issues. Now don't repeat the mistake again in Haryana as they are trying to divert your attention to Article 370, moon and other irrelevant issues."
Rahul mounted a scathing attacking on the media, as he has been doing in the election campaign in Maharashtra and Haryana. "They are under pressure. They get scared. They will never discuss real issues. Have you ever heard on television India is reeling under an acute economic crisis, that the unemployment problem is at 45-year-high. They will not show these things and use every trick to divert your attention," he said.
Describing "divisive politics" as the worst thing, Rahul said: "The BJP instigates fights on caste and religious lines wherever they go. It should be clear to everybody that a divided India cannot progress. India has progressed with everybody's contributions."