Narendra Modi will be punished for Rafale: Rahul
He said Modi was a "chowkidar" for the rich like Vijay Mallya, Anil Ambani, Mehul Choksi and Nirav Modi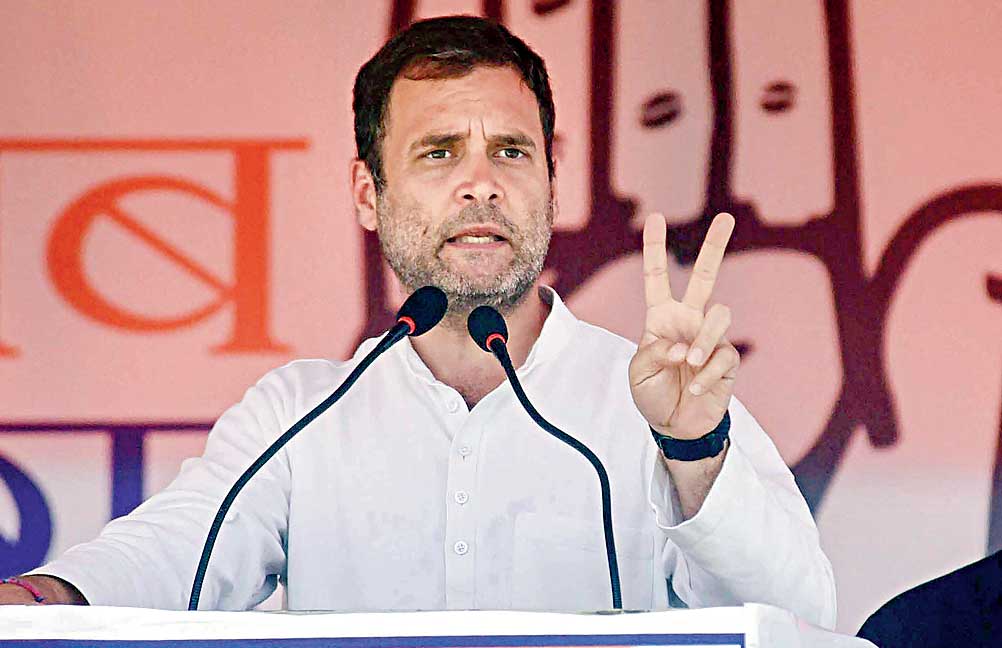 Rahul Gandhi at the Supaul rally on Saturday.
(PTI)
---
Patna
|
Published 21.04.19, 02:31 AM
|
---
Congress president Rahul Gandhi asserted on Saturday that Narendra Modi and Anil Ambani would be "punished" in connection with the Rafale deal, pledged 33 per cent reservation for women in the legislature and explained how the minimum income guarantee scheme he has promised would boost the economy.
"Nobody can hide from the truth. The truth in the Rafale case will also come out in a few days and the people of the country will know about the reality of Modi and Ambani. Action will begin against them, an inquiry will happen and they will be punished," Rahul told a campaign rally in Bihar's Supaul.
As Rahul campaigned for Congress candidate Ranjeet Ranjan, Modi held a rally 80km away in Araria.
The Congress chief said Modi was a "chowkidar" for the rich like Vijay Mallya, Anil Ambani, Mehul Choksi and Nirav Modi, and added that the BJP leader would not be able to save himself.
"Let Modi make all possible efforts, he would not be able to save himself in the Rafale case. The people of Hindustan will never let him become Prime Minister again," Rahul said.
The Congress leader reminded the people present at the rally that the UPA government had given an assistance of Rs 1,100 crore during the Kosi disaster in 2008, while Modi, who was Gujarat chief minister at that time, did not provide any help.
Rahul said the only way to save the country and its economy was to remove the present dispensation at the Centre and focus on development.
"As the Congress is yearning to work for our mothers and sisters, we will provide 33 per cent reservation to women in government jobs, state legislatures and both Houses of Parliament," Rahul said.
Asserting that the Nyuntam Aay Yojana (NYAY) promised by the Congress will benefit all families whose monthly income is less than Rs 12,000 irrespective of caste, community or creed, the Congress president said Rs 6,000 would be deposited directly in the bank accounts of women of such households.
Rahul said the NYAY scheme would reverse the flow of money from people to select industrialists.
The scheme would lead to an increase in demand, raise production and create more jobs, thereby kick-starting the stagnant economy, he added.
Rahul promised that no farmer would be sent to jail for failing to return bank loans.
Neither Rashtriya Janata Dal (RJD) leader Tejashwi Prasad Yadav, nor any other politician from his party, a Congress ally, was present at the rally. RJD flags were also not seen at the venue.
Tejashwi has not attended any of Rahul's four rallies in Bihar since the Lok Sabha polls were announced.
Among those present on the dais on Saturday were All India Congress Committee Bihar in-charge Shaktisinh Gohil, AICC state secretary Virender Singh Rathore, Bihar Pradesh Congress Committee president Madan Mohan Jha, senior leader Ramdeo Rai, Rashtriya Lok Samta Party (RLSP) chief and former Union minister Upendra Kushwaha and Hindustani Awam Morcha Secular (HAMS) founder and former Bihar chief minister Jitan Ram Manjhi.
"The presence of Manjhi and Kushwaha with Rahul shows that at least they are following the alliance dharma. We accepted the alliance whole-heartedly. But the worry is about the transfer of RJD votes in Supaul and one or two other constituencies where our party is contesting. Let us see what happens," a senior state Congress leader said on the condition of anonymity.
Though, some RJD leaders, poll candidates and supporters had turned up at Rahul's previous rallies, none was there on Saturday.
The RJD is against the candidature of Ranjan from Supaul because her husband and Lok Sabha member Rajesh Ranjan alias Pappu Yadav, who heads the Jan Adhikar Party (JAP), is contesting from adjoining Madhepura against veteran socialist leader and Grand Alliance candidate Sharad Yadav, just like in the 2014 general election.
Moreover, Pappu has been criticising RJD chief Lalu Prasad often, which has not gone down well with former chief minister Rabri Devi and Tejashwi.
Sources in the Congress said Tejashwi had at first tried to prevail on the party to avoid demanding Supaul during seat-sharing talks. When this did not cut ice, he unsuccessfully tried to suggest that the ticket be given to anybody other than Ranjeet.
However, the Congress nominated Ranjeet as she is the sitting MP. The RJD then demanded that no top leader from the Congress should campaign for her, but this too was not accepted.
Local leaders staged protests against Ranjeet's candidature in Supaul and threatened that their party supporters would not vote for her if Pappu did not withdraw his candidature from Madhepura.
The Congress high command took note of the developments and hardened its stand on the RJD's demands.
Ranjeet on Saturday mentioned the names of all prominent alliance leaders, shouted "Grand Alliance zindabad", but left out the name of Tejashwi.