When he had come here in 2014 in his newly minted "chaiwala" avatar, Narendra Modi had grandiosely declared that the next time he comes he'll sit down for tea with a spoon of sugar from the Motihari sugar mill. The mill had been closed for decades, but Modi was a man of his word; if he had said it, he would do it, ran the belief.
Modi can make that promise once again. The Motihari sugar mill remains what it was in 2014: shut. The periphery and the insides have been colonised by wild overgrowth, the mill itself is a rusted carcass of ironwork; it's a miracle the shell hasn't begun to fall off. This mill isn't the only one wasting away on the promise of revival. The Chakia sugar mill not far away remains shut. The Motipur sugar mill a little further down remains shut. East Champaran is also abundant in litchi; a processing and market complex had been promised by Modi in 2014. That promise too can be made by the Prime Minister again.
This stretch, like scores of others across the nation, is littered with the debris of promises forgotten or forsaken. The absence of public toilets and the preponderance of public filth. The persisting drought of opportunities that drummed-up projects like Make in India and Startup India had promised to bring. Struggling, subsistence farm holdings. Most of all, raging unemployment whose symptoms are the droves of youngsters batting flies at every crossroads, every village adda you come to pass: "Kya karte ho?" "Abhi to kuchho nahin." (What do you do? At the moment nothing.)
But Modi-bhakti is a marvel stupefying after its own fashion, a plague fallen on reality and reason alike, a submission almost imperforate. It will not admit to the most flagrant lapses of its adopted deity, it will in fact argue back in defence.
No jobs. "But so what, if everyone gets a job who will till the fields?"
No industry. "And show me one industry that was here before Modi came?"
No impact of Swachh Bharat. "Do you expect the Prime Minister to clean your toilet? If people have filthy habits, what can Modiji do?"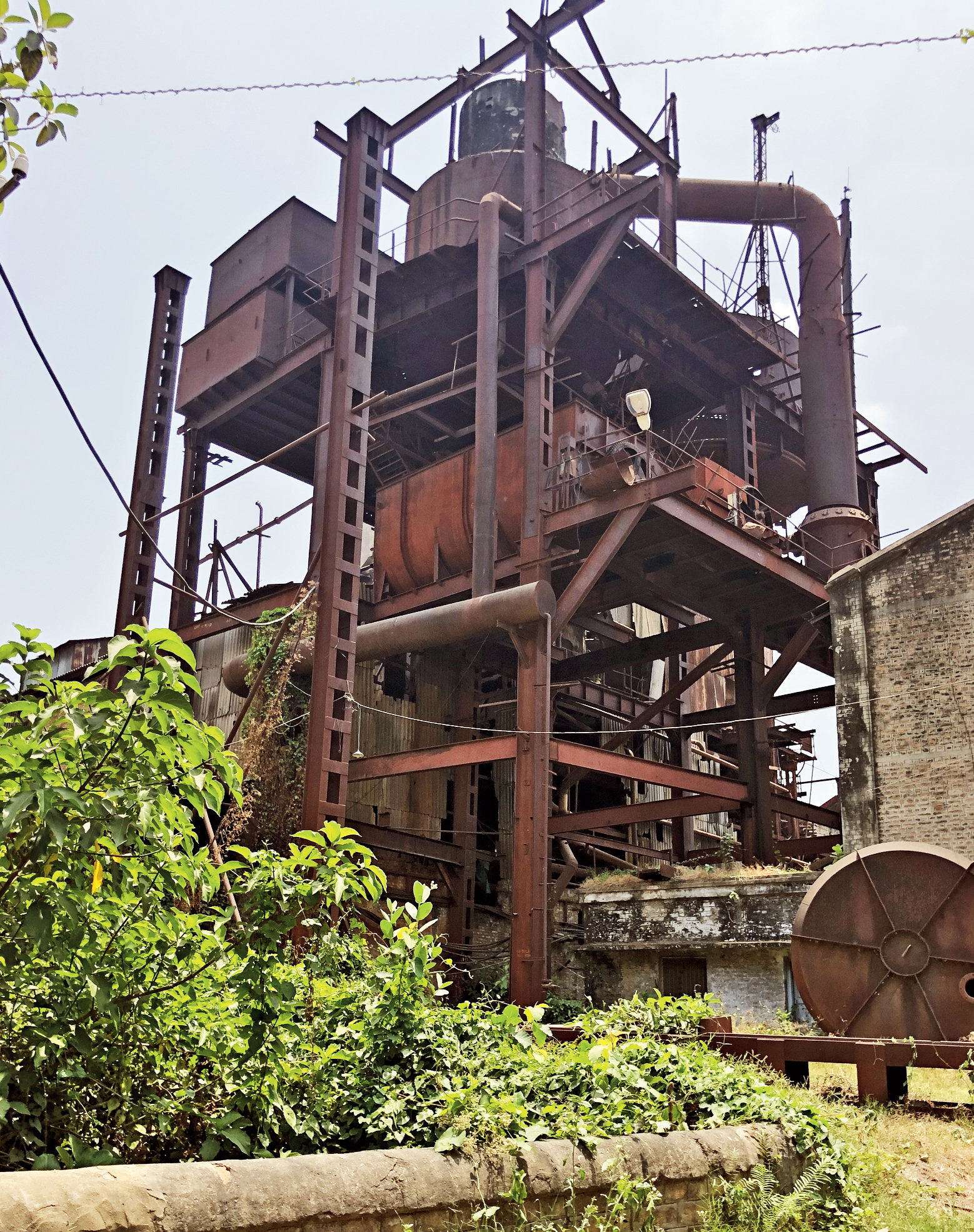 The rusted carcass of the Motihari sugar mill. Picture by Sankarshan Thakur
The ransacking of public money by corporate carpetbaggers. "Arrey, it is because of Modiji's fear that people like Nirav Modi and Choksi have run away, or else they would still be looting us."
The mutilation of institutions such as the Election Commission, the CBI and even the Supreme Court? "Modiji ne sabko seedha kar diya." (Modi has straightened everybody).
You might have expected the lone and despairing man posted to guard the wilderness of the Motihari sugar mill to be a little annoyed Modi hasn't bothered with his promise. But he isn't. "Agar iss mill kaa koi kuchh uddhaar kar sakta hai to Modiji, lekin unpar aur bhi badi-badi jimmewari sab hai. Desh surakshit rakhna hai," he says. (If anyone can revive the destiny of this mill, it is Modiji, but he has more onerous responsibilities to fulfil. The country has to be kept safe.)
But it is not as if other voices do not populate this geography; very often they are forceful and girded for a fight. On our way back to Patna we halt at a tea stall. It's raining fire from the skies, a dozen or so men are sheltering under the shade of the peepal. One of them is on his phone and laughing.
"Modiji ne sabka hawa phuss kar diya hai, social media par to ekchhatra raaj hai.… Facebook par bhi Modi-Modi hai." (Modi has punctured the opposition. On social media he rules unopposed, Facebook is all Modi-Modi).
Another joins in: "India Modiji ke wajah se hi bacha hua hai, nahin to Pakistan kabjaa kar leta." (India is safe because of Modiji, else Pakistan would have captured us).
This is too much for Bindeshwar Das, a wizened villager sitting nearby, to stomach. "2014 ke pehle humlog Pakistani kabja mein thhe kya? 1971 me Bangladesh Modi ne banwaya? 1965 ka ladai Modi lada? Yeh desh Modi ke baap ka hai kya?" (Were we under Pakistan before 2014? Did Modi create Bangladesh in 1971? Did he fight the 1965 war? Does this nation belong to Modi's father?)
For a moment everybody is staggered. Then the Modi apologist responds angrily: "Don't raise your voice against Modiji, he is our tallest leader, our Prime Minister."
"You can't take away my freedom to speak, nobody can," Das shoots back, "I am not going to lose my rights at this age, many Prime Ministers have come and gone; it is we who make and remove them, don't forget. Don't take anything for granted, Modi ke naam par sab pagal nahin hain (not everybody is mad after Modi)."
We are in Vaishali, north of the Ganga from Patna. RJD veteran Raghuvansh Prasad Singh, in probably his last electoral contest, is pitted against Veena Devi of the LJP. Even detractors concede that Raghuvansh has the "chhavi" (image) advantage — a clean leader who as rural development minister in the UPA government built a reputation for nursing the constituency. Veena Devi, on the other hand, suffers for reputation. Her husband is a tainted contractor, and she herself has not much to go by in terms of what she may have contributed to Vaishali, an entirely rural belt.
Even those who ride the Veena Devi bandwagon aren't able to defend her or her husband. But they have a fallback: "Modiji hain naa, Modiji ke wajah se jeet jaai Veena Devi taa jeet jaai... khali agar Modiji kaa jaadu chale." (There's Modiji, if Modiji becomes a factor Veena Devi may win, but if Modiji's magic works."
East Champaran, West Champaran and Vaishali vote on May 12